James Marvell Performs Hippie Show, Border Theatre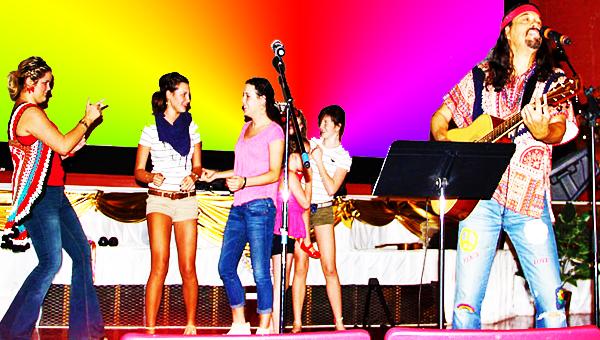 James Marvell Performs Hippie Show At Border Theatre – Kathy Olivarez
Things change as people come and go. And as the younger Winter Texans come, the music that accompanies their youthful memories is different from that of the older generation of Winter Texans. With the coming of the Beatles and the protests of the Vietnam War, music became less innocent and started expressing opinions opting for peace instead of war. James and Faye Marvell have captured that "Woodstock" generation's music and put it into a show, complete with costumes of that era.
James comes out with a hippie-style shirt, a headband, several strands of beads, and torn jeans bearing peace signs, while Faye favors long flowing skirts and shirts covered with scarves. The couple encourages their audiences to dress in hippie attire when they come to the show, "because it makes the show more fun."
James scoffs the idea that hippies were not patriotic by singing "America" in a way that filled the Border Theatre in Mission where he performed recently.
He launches into a number of songs that were popular during the '60s, starting with "Henry the VIII I Am," "As Tears Go By," by the Rolling Stones, and "96 Tears."
Of course he sings several of The Beatles songs such as "Love Me Do," their most popular song and the song that launched them internationally. He sings songs written by John Lennon and Paul McCartney like "A World Without Love" and "Michelle." Other Beatles songs include "Got a Ticket to Ride," "Help" and "Norwegian Wood."
James also sings other popular hits of the era including "Runaround Sue" and "My Little Runaway" by Del Shannon. Dean Martin's "Birds and the Bees" and "Cherish" by The Association bring back memories. "Happy Together" by the Turtles and "American Woman" by Guess Who brought back still more memories of the '60s sounds.
Faye led members of the audience in a Conga Line when James sang "Do Wha Diddy."
Faye also gave James a little break by singing, "It's My Party."
During the second half of the show James had members of popular old groups introduce him on screen before he sang their songs. Tiny Tim introduced "Tiptoe Through the Tulips" and one of The Rascals introduced "Do You Love Me?" James paid tribute to Davy Jones of The Monkees by singing "I'm a Believer."
Film taken at Woodstock showed on the screen while James sang what he called the Woodstock theme song, "Love One Another Right Now."
Marvell's show is a forerunner of what will probably become a trend in music for Winter Texans as younger people from the Baby Boomer generation start retiring and moving to the Rio Grande Valley.
[youtube http://www.youtube.com/watch?v=VTK51C0uCiU?rel=0&w=465&h=262]