Garth Brooks Removes Himself From CMA Entertainer Of The Year
Garth Brooks Removes Himself From CMA Entertainer Of The Year Ballot
Last November, the 53rd Annual CMA Awards ended with an upset when Garth Brooks was named Entertainer of the Year for the seventh time, beating out predicted winner Carrie Underwood and capping a year that saw females fighting for their well-deserved place at the top of a genre that's historically been ruled by males. The unexpected win incited a mixed bag of reactions, including millions of opinions via Twitter. Yet, one tweet stood out from all the rest. One that posed a simple question: Why don't you step down and give the next generation a chance?
Over the past eight months, Brooks has wrestled with that question, and in a press conference held today (7/29), the bestselling artist announced he was officially removed himself from the CMA's Entertainer of the Year ballot moving forward. The second round ballot is scheduled to be emailed to CMA voters this coming Friday, July 31; and Brooks has politely asked the CMA to remove his name from this category should he be nominated.
"It's time for somebody else to hold that award and know what that feels like. That feeling is so great, so wonderful that I want everyone to feel that," Brooks told members of the press via Zoom. "It's the coolest nod from the industry that somebody can get. We've been lucky enough to carry it home a number of times. It's somebody else's turn."
Since last November's win in the coveted category, which marked the third consecutive year Brooks has taken home the award, he revealed he's been in talks with the Country Music Association to create an "Entertainer of the Year Emeritus" honor. Although he praised the CMA's efforts and said they were gracious and open to his idea, they were unable to make this a reality. So, Brooks felt the next obvious step was to take himself out of the running altogether. "We all witnessed what happened last year, and it made 'Entertainer of the Year' not so fun," Brooks admitted. "I just want it to be fun for everybody because that's what award shows should be." While Brooks is officially withdrawing his name permanently from the CMA Entertainer of the Year category, he's not opposed to receiving nominations in other categories.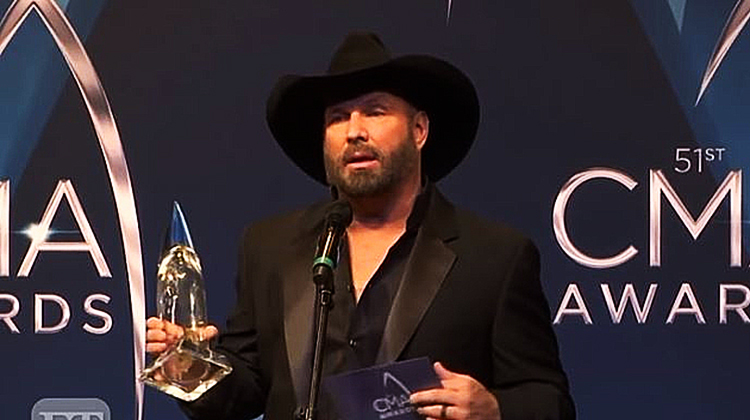 In the press conference, he also revealed how he's been stewarding his time during the quarantine. While he's been spending concentrated time with wife Trisha Yearwood, writing new songs, taking requests for his weekly "Inside Studio G" Facebook Live series, and entertaining fans on the big screen for a one-night-only drive-in concert, Brooks is champing at the bit to do what he does best—play music for throngs of fans in person.
"When things are at their worst, people turn to our entertainers. This ship never slows down," he said, adding that he and his team are ready to roll the moment it's safe to enjoy live music again. Though he admits, "I think concerts—especially stadiums—will be the last thing they allow. It makes me sad, but I respect that."
While his record-breaking stadium tour is currently scheduled to run through Summer 2022, Brooks teases even bigger things are in the works, including a possible bar on Nashville's Lower Broadway. Meanwhile, his crew is focused on their next three previously-announced dates in Charlotte, Cincinnati, and Las Vegas—now rescheduled for 2021 and all sold out.
"I could do this the next hundred years. We're going to be in this until nobody shows up anymore," he said. "When the flag drops, we'll go back to the original goal. When you come to a Garth Brooks show, we want you to leave loving the people around you more than when you came."