SA Boxing Champ Died A Hero Saving Daughter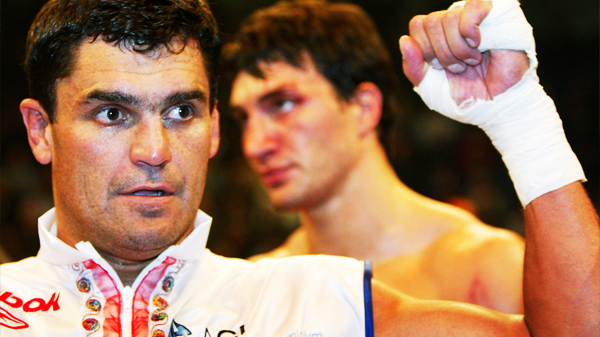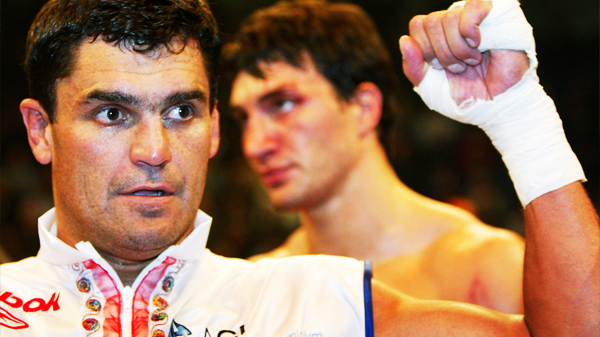 Latest Update On The Murder of Corrie Sanders by three Black Genocide Soldiers
Pretoria – Ex-world heavyweight champion Corrie Sanders died while shielding his daughter during a robbery at a restaurant in Brits on Saturday.Sanders, who was shot in the stomach, died in the Kalafong Hospital on Sunday after undergoing emergency surgery. He was shot while lying over his 15-year-old daughter Marinique.  He'd whispered to her to pretend that she was dead, Beeld reported.
His ex-wife, Sunette, said he'd been a world hero in his boxing heyday and he'd died one. She said Corrie had told her in the ambulance to take their children home, as he didn't want them  to see him like that. Corrie's brother, Mike, said the three robbers had fired indiscriminately. "They fired about 30 shots."
"There were 48 people at the restaurant, it's just off the main road. We arrived at around 16:00 on Saturday. At about 18:00, as it was getting dark, Mike [Corrie's brother] gave a speech. Then the grandfather stood up and offered a prayer. "That's when we heard three or four shots. At first we thought it was the kids playing around. Then we realised it was serious. "There were three of them. Armed with pistols. They were telling everyone to lie down and give them their wallets and cellphones. They didn't take much.
An eyewitness said, "I think they shot him as a lesson to the rest of us, to say they were serious."
A major South African Black TV news agency reported the genocide attack as follows:
"Corrie didn't try anything heroic, he was just in the wrong place at the wrong time," Sowetanlive reported
People express their shock and sadness at this senceless murder read below:
Olympic swimming champion Roland Schoeman expressed his shock on Twitter, saying "Can't describe in words how sad I am to hear about the senseless murder of my friend Corrie Sanders. RIP".
Recent Olympic gold medallist Cameron van der Burg, who along with Schoeman also hails from Pretoria – as did Sanders – said: "Rest in peace Corrie. A champion of the world".
Former Springbok captain John Smith in London tweeted: "Just woke up to news of Corrie Sanders having been murdered last night, what another senseless waste of life in SA. RIP Champion".
Springbok rugby player Breyton Paulse tweeted "Gone too soon" while ex-Proteas cricketer Pat Symcox said: "Feel sick to the core. Just so damn angry over Corrie's murder. A helpless feeling and one that wants to scream out".
Former Bafana Bafana and Orlando Pirates star Mark Fish said: "So sad to hear about the tragic death of SA boxing great and a true gentleman Corrie Sanders. Condolences to all his family".
Sports reporter David Isaacson said: "Trainer Harold Volbrecht had a small gym: Corrie and Msukisi Sikali were stable-mates and world champs together. Both murdered. Shocking". Three-time world champ Sikali was killed in a stabbing in Uitenhage in 2005. He died for his cellphone.
WHISNews21: This extermination of the White South African population happens everyday, this very same execution style murder at restaurants and even private home parties, happen very often in South Africa. This time it made world news because a famous and very popular South African sports hero was murdered, but be aware that this is not just a "One Hit Wonder" like they say in the music business, this kind of situation has had many "Hits" and this will not be the last one. The next one will probably just be an ordinary Joe and you will not even hear about him or her. One thing that happens is that the families of all victims suffer the same terrible loss and find it hard to come to terms with the violence that we all have to sort of accept while living in South Africa.
Police spokesperson Brigadier Thulani Ngubane said on Sunday night that no arrests had been made.

Original Report Below
Pretoria, South Africa – Former heavyweight boxing champion Corrie Sanders was shot and killed on Sunday during an armed robbery at a family style restaurant near Brits, a town in South Africa
Rapport a local South African Newspaper reported that Sanders was shot in the stomach and hand. Sanders later died of his injuries after being transferred from one hospital to another as most South African hospitals these days are not equipped to deal with serious wounds, and therefore regrettably died in the Kala­fong Hospital where he was finally transferred to.
Sanders was celebrating the birthday of his daughter when three armed men arrived in the restaurant and shot randomly on Saturday night, Brigadier Thulani Ngubane also confirmed that Sanders, 46, was shot in the hand and stomach. Ngubane said it appeared that gunmen went to the restaurant with the aim to rob it. What the police neglected to say was to rob and kill….as shooting of unarmed white people was obviously in the spirit of genocide. The wallets and cellphones were not enough, innocent blood had to be spilled. "They shot randomly at the families at the restaurant and took a cellphone of the daughter who was turning 21 years and they also took a bag of another patron in the premises," he said.
Thatch Haven Restaurant owner Johan de Jager told Eyewitness News that a group of men stormed into the restaurant and opened fire. "Three guys came inside and just started shooting. During the shooting, they shot Corrie."
Harold Volbrecht, who used to train Sanders, was shocked at the news. "It's very sad. My heart is broken. It's just terrible. I can't believe it happened," said an emotional Volbrecht.
Kallie Kriel of AfriForum who happened to be at the Thatch Haven restaurant at the same time, when his son with five of his friends narrowly missed the hail of bullets, came running to tell him that shots had been fired at the restaurant. Kriel found Corrie Sanders lying outside on the ground in a pool of blood. At that point Corrie was still alive and in lot of pain, from the fatal wound to his stomach.
.
The saddest part of all this is that yesterday it was a Boxing Champ,
today it will be a farmer, and tomorrow it will be a doctor, a nurse,
a pilot or even a homeless person, but the fact is it will happen.
It's just a case of whose number get's drawn today.
I almost forgot to mention that a police spokesperson
confirmed the robbery and said a man had been shot and no arrests have been made.
– And so it will be written and forgotten

Some comment on the local networks
Darren Simpson@WhackheadSimpson Corrie died saving his family at a 21st birthday party. Shot in the stomach and was moved from hospital to hospital because of medical aid. F$!K
.
DMoerin – September 23, 2012 at 10:26 Fortunately, according to the "statistics", murder is on the decline, so only 14700 people will be murdered in SA this year instead of 15000. Wow, what a relief, now we can all sell our guns, switch off the electric fences, cancel the expensive armed response units, and not have to worry about going to a birthday party without having to witness some cowardly, yellow belly excuse for a human being shoot a man that was brave enough to get in the ring with Mike Tyson in cold blood. Jaaa Jacob, ubhuntu baba….ubhuntu……
.
kim.buren – September 23, 2012 at 08:30 You died a Hero Corrie. Condolences to the families
.
Malcolm86 – September 23, 2012 at 08:32 Another day, another one of 50 murders per day. The ANC idiots won't lift a finger. They're too busy lining their own pockets to give a damn!
.
Arthur.salvado – September 23, 2012 at 08:42 RIP Corrie and thanks for the great memories. Condolences to the family. Sorry to say it, but this is Africa where life has no value and will never change.
.
One of the strongest reactions came from former Proteas cricketer Herschelle Gibbs (@hershybru): "Another gutless killing … RIP Corrie Sanders. Great memories chom. Time for death penalty to be instated! F**k this sh*t. #wakeupzuma."Current SA all-rounder Albie
.
Morkel (@albiemorkel) said: "Shocking! The guy who shot (batsman) Louis Vorster got released on bail last week! How does that work? RIP Corrie Sanders."
.
The Proteas' respective captains in Test and one-day cricket, Graeme Smith and AB de Villiers, also joined the tributes.
.
Smith (@GraemeSmith49) said: "Our thoughts with Corrie Sanders' friends and family! RIP Corrie"
.
De Villiers (@ABdeVilliers17) added: "Shocking news about Corrie Sanders' death. Gonna miss u Corras."
.
SA and Titans batsman Faf du Plessis (@faf1307) said: "RIP Corrie Sanders … was a good man. Knew him since primary school days. #shockingnews."SuperSport critic and former Proteas batsman HD Ackerman (@ackershd) wrote: "Please, please, please put an end to all this crime, it is destroying our country. RIP Corrie Sanders."Fellow pundit Jeremy Fredericks (@rhinocricket) also weighed in with: "I am so shocked. RIP Corrie Sanders. When will the violence stop in this country?"The rugby community's response was just as prolific."I think it's time people in SA said enough is enough on violent crime & start taking on the government. Nothing will change if people sit back," said former Springbok wing flier Tonderai Chavhanga (@TondiChavhanga).Currently injured Bok wing JP Pietersen (@jppietersen14) wrote: "Totally shocked about the news of Corrie Sanders. True legend of boxing. RIP."
Former Bulls and Springbok hooker Gary Botha (@gvgbotha2) said: "RIP Corrie Sanders. Great man, great legend. Thought and prayers to his loved ones."
Present Bulls and national team representatives Morne Steyn and Pierre Spies also expressed Twitter condolences.
SuperSport communications chief and long-time boxing writer and enthusiast Clinton van der Berg (@ClintonV) made a pertinent boxing point: "His 2003 KO of Wladimir Klitschko ranks as one of the greatest upsets in heavyweight history. RIP 'Sniper'."
I am of the opinion that 99% of what is left of the white population in South Africa would very much want to live in peace with all, but it seems that no matter how hard they all try they are being targeted and will be exterminated soon. If genocide in South Africa is not taken serious by the world very soon it will be too late. What every Christian in this world should perhaps be thinking is, that once evil is victorious in South Africa, who will be next, USA ?
As always dont take me serious these are just my thoughts,
every one on this earth is the master of their own destiny, or are they ?