Indonesia Cancels the Satanic Lady Gaga Tour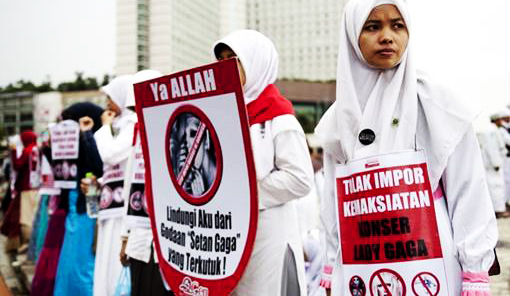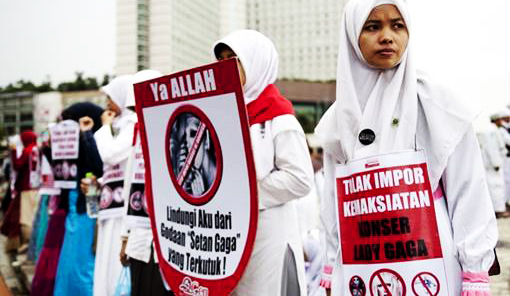 An Arab nation stopped the tour, would a Christian nation be able to do the same?
Indonesia Cancels the satanic Lady Gaga Concert
South African Christians Cry Out For Christians to Boycott Her satanic Tour
HELP US TO DO THE SAME!!!!!!!!!
We cannot allow Lady Gaga 2 enter this Country, and we CANNOT support her!
Fellow believers in Christ Jesus you may or may not know the seriousness of what I am saying, we need to stand firm against the Lady Gaga concert she is a confessed satanist and a bride of satan letting her in to SA for her concert will bring spells of evil.
Let this concert be cancelled in JESUS NAME.
The name Gaga is a name of a demon in case you did not know STOP LISTENING TO LADY GAGA!
BE AWARE! Romans 12:2 the Song "Alejandro" by Lady Gaga. Very subtly the devil sneaks into our … lives to steal and destroy souls! We don't even realize that just by singing the lyrics of a seemingly 'innocent' song with a nice tune, we open the door wider for his evil spirit!!
Alejandro' means: man's defender and protector' (GOD)
Now the lyrics again: "Don't call my name; don't call my name, Alejandro (GOD). 
Fernando' means: ardent for peace (JESUS).
Now the lyrics again: I'm not your child; I'm not your child, Fernando (JESUS).
Roberto' means: bright or shiningly framed (HOLY SPIRIT). 'Babe' is the same as 'child'
Now the lyrics again: Don't call my name; don't call my name, Roberto (HOLY SPIRIT)   I'm not your child; I'm not your child, Fernando (JESUS). Don't call my name; don't call my name, Roberto (HOLY SPIRIT) Alejandro; Alejandro (GOD) Just let me go." 
People; please stop listening to …Lady Gaga!
Her real name is Stefani Joanne Angelina Germanotta. 
She sold her soul to the satan for fame and fortune, and suddenly she has 8 million followers on Twitter and is the top selling artist in the world, and the top winner at the Grammys. That just cannot be a coincidence, she just ain't that good at all.
This is clearly the devil at work! Remember the images with her inside the egg carried on a cross? Hatching from an egg signifies the cold blooded rebirth. Implanted horns on her shoulders and cheek bone indicating the transformed BRIDE OF SATAN!
I'm a CHILD OF GOD and if you are then I guess you will also be concerned for the millions of young girls who idolize  lady gaga, I guess the question I should ask you is, is your child one of them? I have heard parents ask for lady gaga songs for their daughter, when they are told she is a satanist they just said they don't care they like the songs, well that's just the thing the songs are good and so is the end result for the devil. 
Husbands, love your wives, just as Christ loved the church and gave himself up for her to make her holy. Cleansing her by the washing with water through the word, In the face of widespread insecurity, fear, and hopelessness, our nation desperately needs your prayers. We have a promise from the Lord: "If my people, who are called by my name, will humble themselves and pray and seek my face and turn from their wicked ways, then I will hear from heaven, and I will forgive their sin and will heal their land" (2 Chronicles 7:14). Pray that those who don't know Jesus Christ, will turn and find forgiveness, hope, and peace in Him. Commit to join us today in concerted prayer, let's pray for our country and churches wherever your country or Church may be. Christians are under attack from all fronts and it is not a time to sleep for the devil does not, and his gaga's never sleep eiether, she fools you with her exposed flesh and poker faces .
This was a mail recieved at WHISNews21 this morning and find it hard to believe that Christians need to be exposed to this kind of total onsluaght. It seems that the more the days go by the more the world wants to get rid of Christianity, my question is Why? why is it so important, could it be that it is the only thing that stands in the way of the Antichrist to succeed. Is Lady Gaga just another one of the soldiers who will succeed in converting another 8 or 10 million Christians, I don't know what do you think ?
For me just to be safe, I will not buy or play another Lady Gaga song again, no matter what, and I will be tested during the coming tour, I know that for sure.
Oh and if you are laughing about this article, that's Ok you are the master of your own destiny.