Party like a Parrothead at Nashville Margaritaville Hotel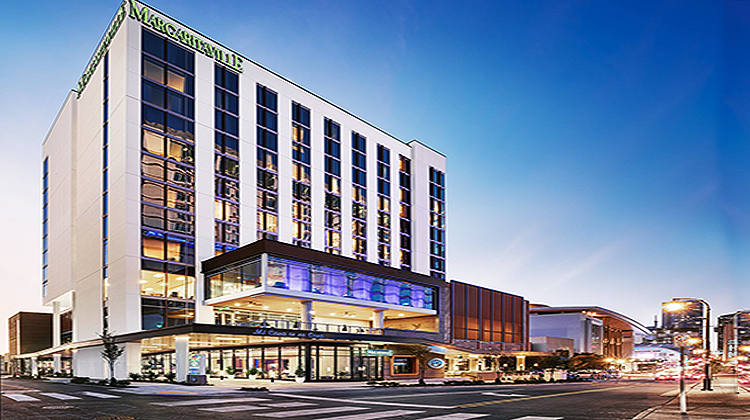 Party Like A Parrothead At The New Nashville Margaritaville Hotel
Parrotheads rejoice! After years of construction, the Margaritaville Hotel Nashville has finally swung open the doors to a tropical paradise smack dab in the middle of SoBro at 425 5th Ave North. The attractive and modern property is the first urban destination hotel in Margaritaville's empire of hotels. You have to hand it to Jimmy Buffett; for a singer/songwriter with only one top-10 hit to his credit, he has created quite an industry around himself and the Parrothead lifestyle.
Nashville has a particular soft spot in Buffett's heart since he cut three early albums in Music City when he was just starting out on his decades-long career. While most Margaritaville Hotels are attached to casinos, this newest one is just about fun and relaxation, with six stories of guest rooms featuring amenities like huge LCD Smart televisions, dedicated coffee bars, refrigerators and all the technical gadgets you could ever need.
The entire property is decorated in a laid-back island vibe with dramatic flourishes like a huge flip flop in the middle of the lobby and a chandelier made out of margarita glasses. The rooftop level features an outdoor pool, sundeck, fire pits and live entertainment, and the hotel is home to the two first-ever Margaritaville dining concepts, FINS Rooftop Bar and JWB Grill, in addition to an on-site Starbucks in the lobby for your caffenation needs.
Whether you're a fan of Buffett as a troubadour or as an entrepreneur, his new Margaritaville Hotel is a welcome addition to Nashville's stable of hotel options, and it definitely merits consideration when you next plan a visit to Music City. Even if you're not staying there, it's worth dropping in to soak up some of the ambiance and search for that lost shaker of salt!
Courtesy of Margaritaville Hotel Nashville
Courtesy of Margaritaville Hotel Nashville
Courtesy of Margaritaville Hotel Nashville
Courtesy of Margaritaville Hotel Nashville
Courtesy of Margaritaville Hotel Nashville
Courtesy of Margaritaville Hotel Nashville
Courtesy of Margaritaville Hotel Nashville
Courtesy of Margaritaville Hotel Nashville
Courtesy of Margaritaville Hotel Nashville
Courtesy of Margaritaville Hotel Nashville
Courtesy of Margaritaville Hotel Nashville
Courtesy of Margaritaville Hotel Nashville
Courtesy of Margaritaville Hotel Nashville
Courtesy of Margaritaville Hotel Nashville