Tracy Lawrence's about his Mission: Possible Concert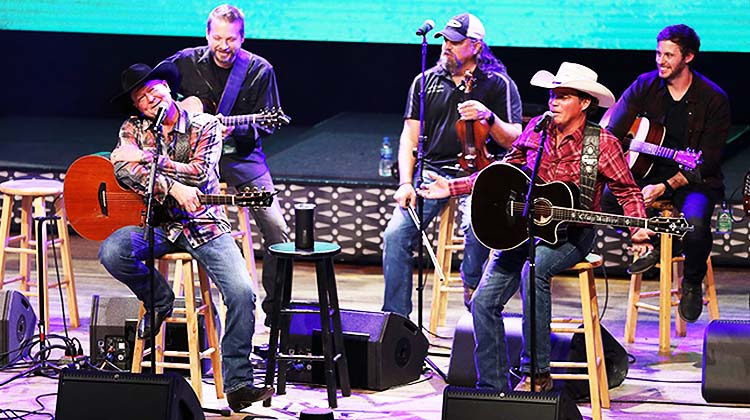 Our Five Favorite Moments From Tracy Lawrence's Mission: Possible Concert
Justin Moore and Clay Walker among the acts – with Randy Travis in attendance
Tracy Lawrence was full of Thanksgiving cheer as he celebrated his 14th annual Mission: Possible Turkey Fry & Concert, Tuesday, Nov. 26. It's a long but certainly fulfilling day for the singer, beginning with his early morning turkey fry at the Nashville Rescue Mission to help feed hundreds of homeless citizens. Later in the evening, Lawrence headed to Nashville hot spot the Wildhorse Saloon to host an all-star concert with his friends Justin Moore, Clay Walker, the duo Halfway to Hazard and ace songwriter Rhett Akins. Proceeds from the day-long event benefit the Nashville Rescue Mission, which works with the homeless in Nashville.
As Lawrence made his opening remarks to begin the concert, he told the sold-out crowd that, "It's probably the most exhausting day of the year" for him. But all the work is worthwhile. The Turkey Fry, which began in 2006, serves more than 7,000 plates of food to the homeless men and women in Nashville for their Thanksgiving meal. A few years ago, Lawrence added the concert to the day's activities. "That brought it to another level," Lawrence noted.
Lawrence and his musical friends gave the fans that next-level experience. He changed the format this year to an all-acoustic show with the performers seated on stools, similar to a typical "writers night" in Music City. But even without amps and pumped-up volume, the stars provided plenty of electrifying moments. Here's our 5 favorites.
1. Clay Walker's Anniversary No. 1
During one of the round-robin segments, Clay Walker reprised his smash hit, "If I Could Make a Living." After his performance, he provided this little nugget. "That song was number one 25 years ago today," Walker announced. And that was the literal truth. A quick check of the Billboard country chart history showed that the single indeed hit the top on Nov. 26, 1994, 25 years to the day. Walker also reminded the folks that "If I Could Make a Living" was co-written by Alan Jackson, who actually passed on it as a single. In the true spirit of Thanksgiving, Walker expressed his gratitude for Jackson's decision.
2. Justin Moore Takes Us Back
Justin Moore, rocking a stylish and nicely-trimmed beard, looked back on the time he moved from his native Arkansas to Nashville in the early 2000s. It took a few years, but he finally landed a record deal. In 2009, Moore scored his first No. 1 hit, "Small Town USA," which he sang for the audience. Could that really have been ten years ago? Moore also praised Lawrence for organizing the event. "What you've done with this is really inspiring," Moore said, "You certainly deserve a round of applause." Incidentally, Arkansas buddies Moore and Lawrence will be touring together in 2020.
3. Randy Travis Creates a Buzz
As folks gathered into their seats, one arrival stirred up a considerable buzz. Randy Travis and his wife Mary took their seats at a front row table, with Travis, still feeling the effects of a stroke, seated in a wheelchair. It was a treat to see the Country Music Hall of Famer bobbing his head to the music and mouthing the lyrics to the various songs from each artist. During an intermission, several fans came up to Travis to offer their best wishes and ask for cell phone photos. The couple obliged with smiles and grace. "Music is so good for him," Mary told Sounds Like Nashville. Obviously, the night showcased the therapeutic power that music can exact.
4. Passionate Performances
Halfway to Hazard, the duo of Chad Warrix and David Tolliver, cut it loose with a fiery performance of their tune, "Gettin' Lucky." Rhett Akins did a bit of time traveling as he played his first major hit, "That Ain't My Truck," which reached the No. 3 spot in 1995. Akins' rousing rendition reminded us that the single could be a smash in the present-day landscape.
5. An All-Around Good Host
Tracy Lawrence kept things moving as the evening's amiable host. He and Walker engaged in some colorful recollections about touring together, with Lawrence reveling in a particular tale about raiding a corn field in the middle of the night while Walker slept innocently in his tour bus bunk. A nice moment occurred when Glenn Cranfield, President/CEO of the Nashville Rescue Mission, took the stage to thank Lawrence for his ongoing efforts to help the homeless. On the song front, Lawrence performed his popular "Time Marches On" and later summed up the evening's theme with "Find Out Who Your