Rodeo Girls Presented 2012 Ernie Oldfield Award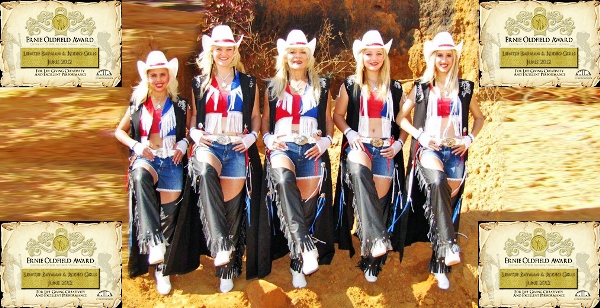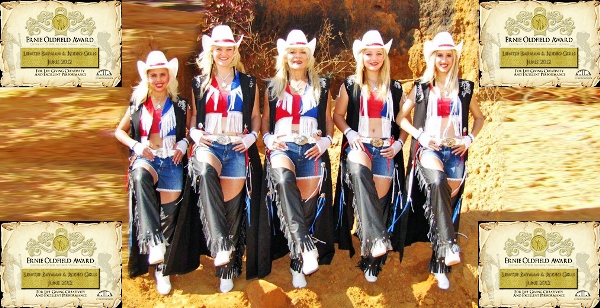 WIR Records honors artists with Awards
For excellent performance with The Ernie Oldfield Award.
AND THE AWARD GOES TO
Lientjie Bayman & The Rodeo Girls  (South Africa):
"My Guitar And Me"
For Line Dancers world-wide: Music of Ernie Oldfield
based on Ernie Oldfields Song My Guitar And Me (Album: My Guitar And Me)
FOR: Choreographed Line Dance
lientjie@linedancers.co.za
Lientjie & Rodeo Girls Line Dance Group
Hi Team Of W I R, Thank You, Thank You – it is such an honour for us here in South Africa
and we are very proud to be getting this award from you and ERNIE OLDFIELD.
Thank you also for our great DVD you sent us. We do appreciate this very much.
Greetings, Lientjie and the Rodeo Girls Linedancers.
CONGRATULATION to you all!
ERNIE OLDFIELD AWARD June 2012 Hall of Fame
Thank you so much for your really great support!
We invite you to have a look on Ernies website.
http://www.ernie-oldfield.com/index.asp?site=awards
Weve sent your certificate and hope youll enjoy your distinction.
Have further big success and a lot of joy with your great fantastic job!
Our best wishes to you and your friends!
Team of WIR
[youtube=http://www.youtube.com/watch?v=qDKGb0WDeDU&w=425&h=355]