New Opry Park Good News For Independent Artists?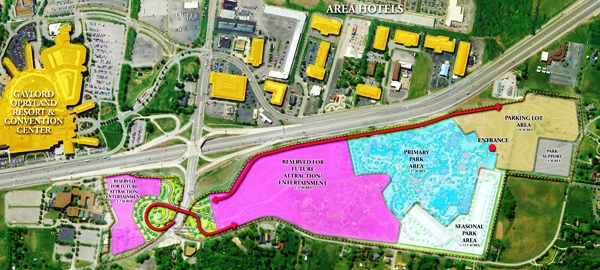 Dolly Parton, Gaylord Opryland announce new Nashville amusement park
Water, snow amusement park planned for land off Briley Parkway
(Nashville, TN) Dolly Parton & Gaylord Entertainment are joining together to build a new theme park in Nashville across from the Opryland Hotel.
On her birthday, Dolly Parton partnered with Gaylord Entertainment Co. to announce what they say will be a gift to Nashville: a new water-and-snow amusement park near Gaylord's Opryland hotel.
The park would replace the long-gone Opryland theme park and give a boost to Nashville's leisure travel tourism industry.
"This is going to be so special," Parton said at an early afternoon announcement. "It's a gift for everybody."
The facility will be a water park during warmer months and will manufacture snow in colder months, similar to the Snow Mountain attraction at Stone Mountain Park outside Atlanta.
Phase One will involve a $50 million development on half of about 110 acres into the first water and snow park in the country, officials involved in the project said.
The yet-to-be-named park would open no later than the spring of 2014, with a hope of employing up to 450 people and drawing 500,000 visitors in the first year.
Mayor Karl Dean, described by Parton as her "other husband" because the men share the same name, said the project demonstrates that Nashville is "unstoppable as a tourist destination."
Dean later gave Parton flowers for her birthday.
Asked about incentives, Gov. Bill Haslam said the state will look at road improvements and FastTrack infrastructure grants and Dean said the city will look at helping with infrastructure and marketing. Details are not finalized.
Gaylord chairman and CEO Colin Reed said closing the original Opryland theme park was a bad idea. He said he spent his first year as CEO fielding letters of complaint.
Herschend Family Entertainment, Parton's partner in the Dollywood theme park in Pigeon Forge, Tenn., also lists Stone Mountain Park as one of its properties.
Gaylord owns 129 acres near Two Rivers Baptist Church across Briley Parkway from the Opryland Resort & Convention Center. Metro government has already approved a special zoning district for the property, which Gaylord started acquiring more than five years ago.
Who is Herschend Family Entertainment?
It's unclear whether Atlanta-based Herschend Family Entertainment Corp. will have a role in the new park. The company bills itself as "the largest family-owned theme-park corporation" and owns, operates or manages 26 "themed entertainment properties" in 10 states. Among them are the Dollywood theme park and Dollywood's Splash Country water park in Pigeon Forge; Stone Mountain Park in Atlanta, including water and snow parks; Wild Adventures theme park, Valdosta, Ga.; Silver Dollar City, Branson, Mo.; and Elitch Gardens, a theme park in downtown Denver that the company manages. Herschend's first property in Tennessee was the Gold Rush Junction Park in Pigeon Forge, which it purchased in 1976 and reopened as Silver Dollar City. In 1986, Dolly Parton became a partner in that operation, which was renamed Dollywood. The company was founded in 1950 when Hugo and Mary Herschend leased Marvel Cave, near Branson, and opened it as a tourist attraction. In 1960, the company added the first Silver Dollar City park at the cave site, featuring an 1880s-themed village. Among the current owners are Jack and Pete Herschend, who both live in Branson. Herschend Family Entertainment already has a link to the Nashville area: Joel Manby, the company's president and chief executive officer, was a 20-year General Motors executive, and was part of the start-up team for the automaker's Saturn brand, which was based in Spring Hill. He was responsible for setting up Saturn's unique marketing and distribution system. Later, he became CEO of Saab Automobile USA, under GM's ownership. Besides the Dollywood site, there are Herschend-operated water parks in Valdosta, Denver, Buffalo, N.Y., and Branson, and a snow park at the Stone Mountain Park in Atlanta. The company also operates aquariums in Newport, Ky., and Camden, N.J.; tours in cable-car-style buses in San Francisco; and "duck" amphibious-vehicle tours in Branson, Newport, San Francisco, Atlanta and Philadelphia. The company now has about 10,000 employees.
The Tennessean was the first news outlet to break news of this new amusement park and will continue to update this story.
This article supplied by Marty Martel