Two G's Now Tennesseans Of The Year 2011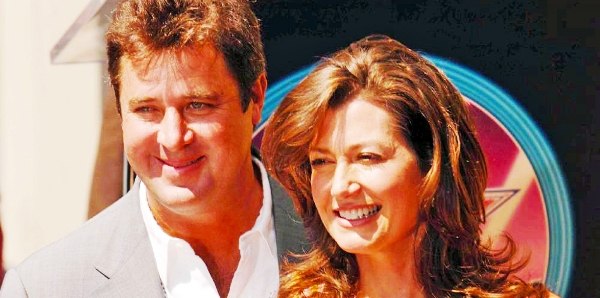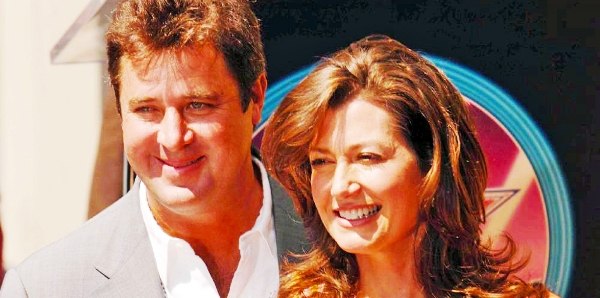 As a child in the 1960s, Amy Grant remembers a single pregnant woman staying with her family.Through a church-run program, "unwed mothers were just put in homes. That was a different time," said the lifelong Nashvillian. Grant saw her parents' care and concern for others from a young age. She also remembers her family bringing in a foster child when the girl was only 7, a girl the family tried, but failed, to adopt. "My mother loved people," Grant said simply.
Grant's husband Vince Gill loves his mother, but he concedes he might've been a bit more self-centered as a child than his bride. "My mom tells the story — I was a typical kid and she was harping on me all the time to cut the grass, cut the grass. And I never would," Gill said. "And she said, 'One day, I'm minding my own business and I hear the lawnmower start. And I thought, it's finally got to him. He's going to go cut the grass.' She said the lawnmower was on for about two minutes and it was off again. "I went out and cut about three strips in the yard to hit golf balls, so I could have a tighter lie," said the avid golfer, laughing.
No matter their starts, the country star and the Christian music icon — before and after they got married to each other — have grown into a couple on a lifelong mission to look for ways to help others, here in Middle Tennessee and around the world.
For this, The Tennessean has recognized Gill and Grant as the 2011 Tennesseans of the Year. Whether it's Grant hosting the Lipscomb University tree-lighting for the local food bank, Gill and Grant playing a fund-raiser show to battle depression, or the two meeting Make-A-Wish kids before the couple's annual Christmas concert, an Amy Grant-Vince Gill charity event is as ubiquitous here as Moon Pies. "My vote for Tennessean of the Year is Vince Gill because of his big-hearted altruism," newspaper reader Ann Frazier West wrote of the nomination. "He gives so much of himself and his talent to our community, raising funds for the betterment of those who might not have much quality of life otherwise, and just generally spreading happiness."
In choosing the couple for the annual award, The Tennessean editorial board notes, "Amy Grant and Vince Gill not only make a meaningful impact on the global stage through their music, but their philanthropy also helps people throughout Tennessee." "Their years of charity work reached a crescendo in 2011, from St. Jude Children's Research Hospital and American Red Cross to the Mental Health Association of Middle Tennessee and many, many more causes. That crescendo peaked this year when one of Nashville's largest charity umbrella groups, the Community Foundation of Middle Tennessee, gave Gill and Grant its 18th annual Joe Kraft Humanitarian Award.
The awards presentation happened at a typical Nashville hotel-hosted banquet, but it wasn't typical at all. "At the beginning, Vince walked out and he was already crying after going through the well-wishers in the lobby," foundation president Ellen Lehman said. A powerful video presentation moved the couple – and many in the audience – to tears. The breadth of the couple's work was represented in a quilt given to them that featured the 60 nonprofits and organizations they have supported. "Not a soul left early that day," Lehman said. "Not a soul. And that never happens." The honorees were also deeply moved. "I loved everybody in that whole room. That's how I felt. It made me so glad to have lived in the same town for all of my life," Grant said. "I knew we were not in New York or Chicago, because it was a whole room of people visiting, telling old stories, not in a rush."Gill added: "I'm proud to be a part of that [philanthropic] community. I'm proud that there's a whole side of Nashville that doesn't have anything to do with music at all that likes us. "Nashville, it's my hometown. It has a giving personality, and for a lot of people, [serving others] is a way of life."
Gill said that way of life started for him when his career took off in the 1980s, and he began to get invitations to play and host fund-raisers. "I think the very first thing I did was host a little golf tournament for Mercy Homes because somebody asked me. 'Really? You want me to host this? OK!'" he said. "If somebody thinks you can help, that's such a great feeling." And Gill, a Country Music Hall of Famer, hasn't stopped chasing that feeling. Longtime manager Terry Elam said that early on, he had to train Gill to ask folks who approached him about charity events to call his management office. But Gill went ahead and did plenty of events without managers ever knowing. "I'd get a call from Hendersonville or Madison: 'I just wanted to get a message to Vince, thanks for helping at our school or our event or charity,'" Elam said. "And I'll think, 'I didn't realize he did that Thursday night.'"
For Grant, every career move starts with serving others, her longtime manager Jennifer Cooke says. "When I bring her something that's a good financial deal, one of the first questions she asks is, 'What charity can we involve?'" Cooke said. One of the biggest is Compassion International, a worldwide Christian-based child-sponsorship program with which Grant has been affiliated throughout her career. Grant pays more than lip service to Compassion: She and her children went to Uganda for a week to see the program in action. And Grant often keeps up with the kids she meets on such trips, whether she's directly sponsoring them or not, Compassion senior vice president Mark Hanlon said. "It's more of a heart thing and not so much about 'just a charity' of some sort," Hanlon said. "I've seen it in Amy and Vince in their generosity with people, anonymous or not."That's an easy lifelong choice for Grant. "My mom used to tell me, 'If you'll get in the flow of listening to things around you and finding an honest way to be inspired, your life will be more interesting,'" she said. And it's an easy choice for Gill in his new hometown."Nashville. It's just my home. Why wouldn't you want to do everything you could to make your home better?"
The Community Foundation's Lehman says Grant and Gill do charity work with "the purest motivations." "They are not in it for credit; they're not in it for fame; they're not in it for what it can do for their careers," Lehman said. "They're grateful for the lives they have and want others to have better futures."
What makes service work even more rewarding is doing it with each other, the couple said. "It's always an honor for me to stand next to Vince," Grant said. "I feel that way in a movie line, I feel that way at an awards ceremony. I have so much respect for him."
John Partipilo/The Tennessean
By Brad Schmitt, For The Tennessean
This article sent in by Marty Martell Promotions email martymartel@earthlink.net