Blake Shelton and Gwen Stefani Are 'So in Love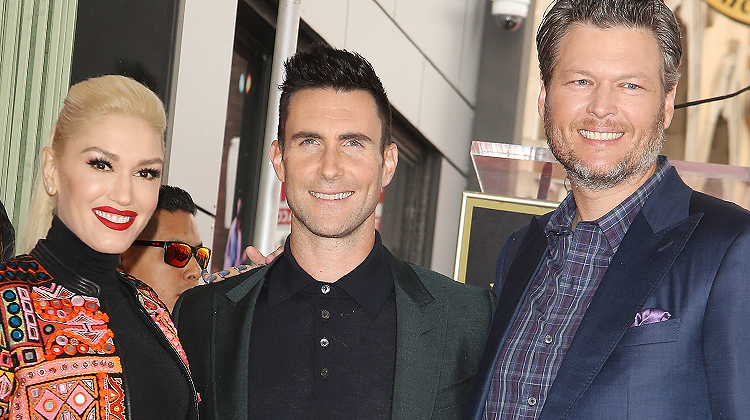 Blake Shelton & Gwen Stefani Are So in Love It's Disgusting According to Adam Levine
Take it from Maroon 5 lead singer Adam Levine: Blake Shelton and Gwen Stefani are definitely relationship goals.
Even after a couple years together, the country singer and his pop icon girlfriend can't keep their hands off each other. Expressing their love no matter where they are, Levine himself admits how tired he is of seeing them all lovey-dovey whenever they're together. "They're so in love it's disgusting," said Levine when he appeared on The Howard Stern Show Tuesday (Oct.31). "It's so funny. They found each other at really interesting times in their lives. It's really beautiful."
Although Levine joked about feeling weird over their close relationship, he truly remains supportive of the couple and reveals how real their romance truly is. Shelton and Stefani try to stay as grounded as possible, and Levine admires that for his own marriage. "Because [their relationship] is in the public eye, a lot of people want to have their own bulls– opinions about it, but I'm, like, there. I see it every day. I have a pretty unique perspective on it, and it's real, man. I'm so affectionate and gross with my wife — this is a whole other level of vomit. They're so in love. It's really nice," Levine explained.
Just like many others around town, Levine was shocked over their relationship—he found out through a random kiss he witnessed and couldn't believe his eyes. "They kissed or something — they did something crazy. Imagine if two of your friends who don't hook up started kissing," chronicle Levine on the radio show. "It was something that was a giveaway and I was like, 'I f—ing knew it!'
Shelton and Stefani got together after spending time together on NBC's The Voiceand became official back in November of 2015. The two have been inseparable ever since, planning lowkey dates at home and traveling to visit Shelton's ranch out in Oklahoma. Fans can see Shelton and his buddy, Levine, on The Voice, which airs Monday and Tuesday nights on NBC.
– SoundsLikeNashville