Kacey Musgraves Brings Christmas Spirit to Ryman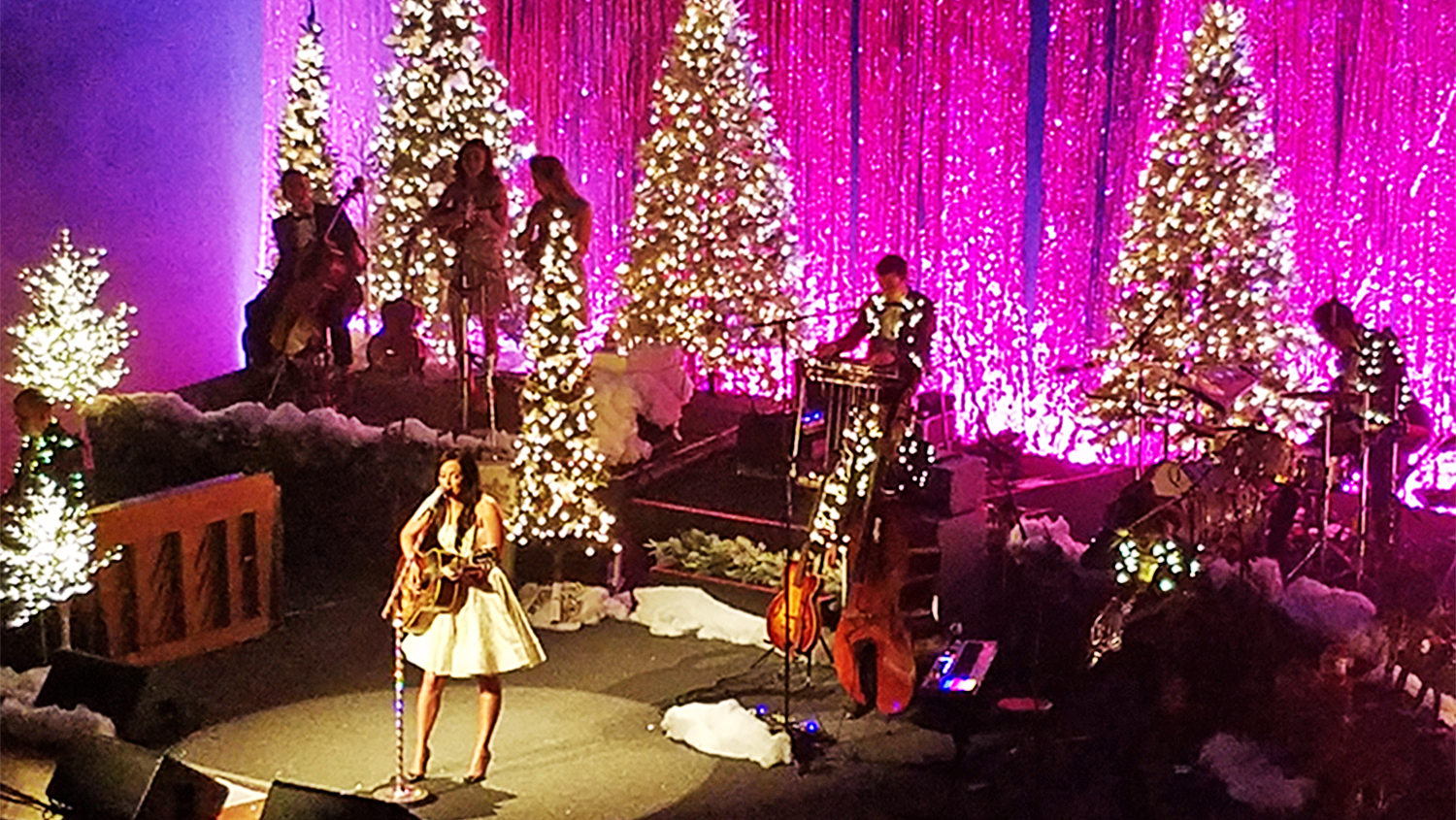 Kacey Musgraves Brings Santa
Snow and aWhole Lot of Christmas Spirit to Ryman Show
It was beginning to look a lot like Christmas Monday night (Nov. 28) when Kacey Musgraves and her band performed at the Ryman Auditorium in downtown Nashville as part of A Very Kacey Christmas Tour, which kicked off on Nov. 26 in Ontario, Canada.
The Ryman stage was decorated with Christmas trees all aglow in white lights and Kacey's band members dressed in suits draped in white lights. The "Follow Your Arrow" singer kicked off the show with the classic "Have Yourself a Merry Little Christmas," followed by "The Chipmunk Song (Christmas Don't Be Late)."
After the opening numbers, Kacey, who promised her family that she would not curse so much because it was a Christmas show, kicked the festivities up a notch. "I hope you guys are ready to get festive as shit tonight," she shouted to the crowd. And we were off.
Kacey kept the show fun and upbeat by singing songs form her Christmas album, A Very Kacey Christmas, including "Mele Kalikimaka," "Feliz Navidad," "A Willie Nice Christmas," "I Want a Hippoptamus for Christmas" and fan favorites "Let It Snow," "Rudolph the Red Nosed Reindeer" and "Rockin' Around the Christmas Tree."
[youtube https://www.youtube.com/watch?v=CqllWvVdsa0?feature=oembed&wmode=transparent]
Even the main man, Santa Claus, made an early appearance during the show, where he shared gifts of Kacey Musgraves merchandise with audience members by throwing them out into the crowd.
The 90-minute show did have its emotional moments when Kacey broke into a few songs that tugged at the heartstrings, including "Present Without a Bow" and "Christmas Makes Me Cry," along with non-traditional songs from her previous albums like "Fine," "Merry Go Round" and "Follow Your Arrow."
Kacey thanked the audience for its support. "I might cry if I talk about it, it just means a lot to me," she said. "I love this city so much. So thank you so much for your support. Whether it's Christmas music or country music or whatever, I'm happy to be here. So thank you." No, thank you, Kacey Musgraves.
 – NashCountryDaily