20 Years Without Maintenance SA Heads For Blackout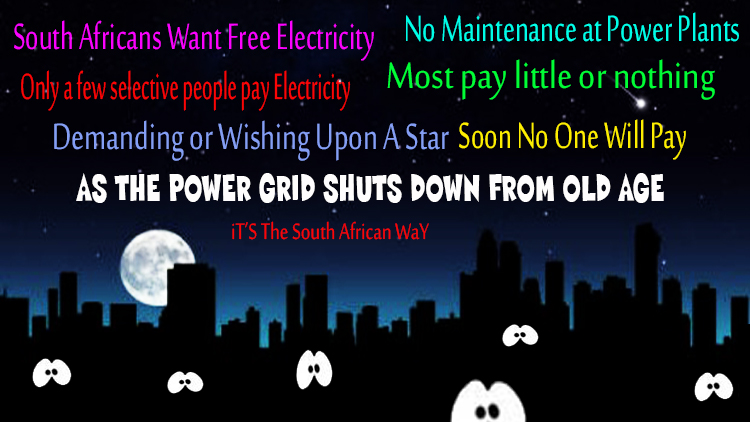 Will South Africa Be The First Country
To Experience the First Modern day "Dark Age"
As Power Reserves In South Africa Remain Low – Eskom 2014
Johannesburg – Eskom's electricity supply system remains under strain but the utility is not expecting further power cuts, it said on Saturday.
"The system is tight at the moment because our reserves are low. We don't, however, expect load shedding," spokesperson Andrew Etzinger said.
"At the moment we are replenishing our fuel supply to power stations. We are refilling the plants' fuel."
Etzinger said consumers would be informed on all developments regarding the supply of electricity.
The parastatal's CEO Brian Dames said on Friday that opting for staggered power cuts was a painful move, but unavoidable to save the electricity system.
"The decision was necessary to avoid a total blackout," he told reporters in Johannesburg.
He said a total blackout would have had significant consequences for the South African economy.
At 06:00 on Thursday, Eskom announced a power emergency caused by heavy rains, which wet its coal stocks.
Large industrial customers were asked to reduce consumption by 10% and the public were asked to conserve electricity to help ease demand on the power grid.
In Tshwane, power was cut for about two hours on Thursday in some areas. Power cuts were also experienced in Johannesburg.
The City of Cape Town initiated "stage three" power cuts and suburbs in Port Elizabeth were also affected.
Eskom urged the public to continue to use electricity sparingly although the emergency was over.
– SAPA