Mandela Movie Screened at the White House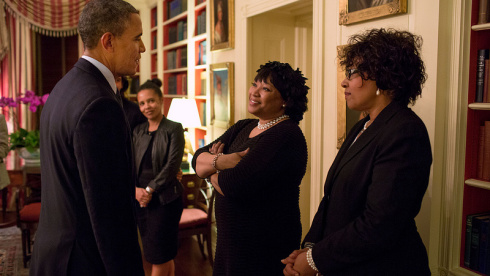 Mandela movie to screen at the White House, "Oh Happy Day"

"It Is An Ideal For Which I Am Prepared To Kill Die" – Nelson Mandela
.

BREAKING NEWS: US President Barack Obama hosted a White House screening of South African producer Anant Singh's Mandela: Long Walk to Freedom with cast members Idris Elba and Naomie Harris and Nelson Mandela's daughters Zindzi and Zenani in attendance.
Harvey Weinstein, American film producer and studio executive, says: "Knowing what a strong relationship President Obama has with former President Mandela, it's an honour for this film to be shown at the White House."
This film based on Mandela's life will probably not show how he masterminded the deaths of 1000's of white and black people by blowing up public places in and around South African cities. How he was caught and locked up because he was planning to blow up the biggest train station in South Africa, which would have been, if not caught, a bigger loss of life than the Twin Towers casualties in New York City. He was also offered a choice, to stay in jail or be  free man all he had to do was to renounce violence, even Osama Bin Laden was not given that choice.The FILM premiered in Johannesburg on Sunday 3 November and was attended by Mandela's wife Graça Machel and his former wife Winnie Madikizela-Mandela, who is portrayed in the movie by Harris.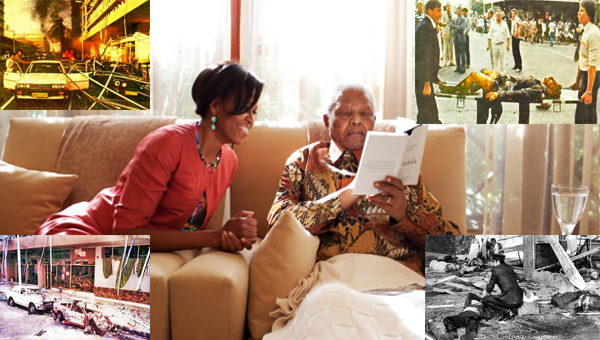 There is no way that Obama does not know the true story behind Mandela and the South Africa of today. Yet he will still think of Mandela as his Hero, which only makes me to believe that he is happy that genocide is in effect in South Africa against white people as he does not even breathe a word about the killings here.
If whats happening in South Africa happened in Iran he would already have had American Sons and Daughters fighting to liberate the Iranians but in South Africa he lets the whites die like dogs, and hails the South African leaders as heroes.
This is only the latest high profile event for the movie, as Hillary Clinton will also host a screening at the Kennedy Center on Nov. 20. Hillary also turns a blind eye on the white genocide in South Africa, she was in South Africa awhile ago living in only the best hotels with super security and had the audacity to say South Africa is just wonderful. Must all whites in South Africa die in one night for Obama, Hillary and the world press to lift an eyebrow ?
The movie is Directed by Justin Chadwick, Mandela: Long Walk to Freedom screens nationwide in South Africa from 28 November 2013 and will be distributed by UIP. Please view it with an open mind as it is full of propaganda and maybe you will believe all you see, but one day soon when you are in that place you will know the truth, unfortunately it will be too late for you too. The next South African President has already said whites can stay here as long as we do as we are told or else we will be driven into the sea. Looking forward to tomorrow is not a luxury we have in South Africa.

It seems that the world leaders are forever happily backing the wrong horse.