Another Major Film To Make a Terrorist Look Good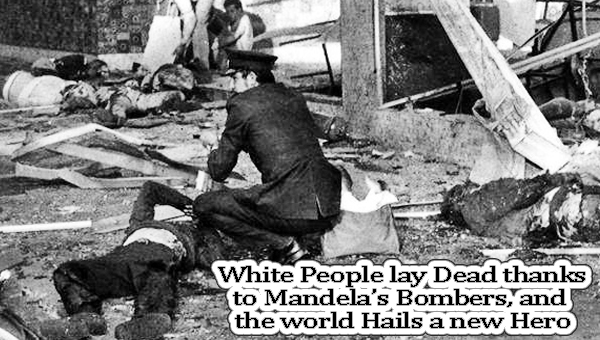 New Mandela Movie will Make sure that Whites Were Evil and Blacks Were Angels
Mandela was no different to Osama Bin Ladin, they both murdered for their so-called just cause.
An International Press Release:
The first image of actor Idris Elba in the long-awaited Mandela: Long Walk To Freedom,  which releases in South Africa later this year, was revealed at an event at the Cannes  Film Festival in France by producer Anant Singh of Videovision Entertainment and Harvey  Weinstein, co-chairman of The Weinstein Company which has acquired the film for  distribution in the United States.
Directed by Justin Cadwick (The First Grader, The Other Boleyn Girl), Mandela: Long  Walk To Freedom, is the big screen adaptation of the autobiography of former South  African president, freedom fighter and global icon, Nelson Mandela.
Starring alongside  Idris Elba (Luther), who plays Mandela, is  Naomie Harris (Skyfall, The First Grader).  Among the large South Africa cast are Gys de Villiers, Terry Pheto, Grant Swanby and  Carl Beukes.
A series of screenings will take place in the forthcoming weeks.
"Knowing what a strong relationship President Obama has with former President Mandela, it's an honour for this film to be shown at the White House." Harvey Weinstein
Some scenes you wont be seeing in the movie about the bombs planted by Mandela's ANC which the world applauded him for. Then again maybe they will not care as the liberal world press has done an excellent job over the past 50 years in making people believe this was a just cause. Even the leader of the so called free world openly hails the one behind these bombs as his hero.
And the world rejoiced in these killings, today these pictures look so similar to the recent bombing in Boston, yet some who plant bombs like these are made Gods of, like Mandela. Other's are hunted down and shot, like the Boston Bombers, strange world we live in.
"There is not much ordinary people can do about injustices, but to keep quiet, is what cowards do" Frans Maritz