A salute To Steel Guitar Pioneer Buddy Emmons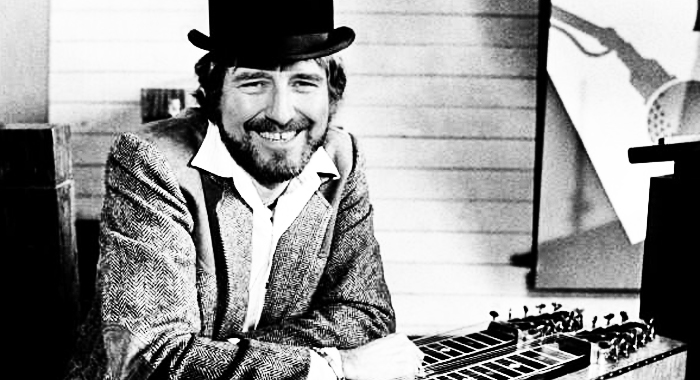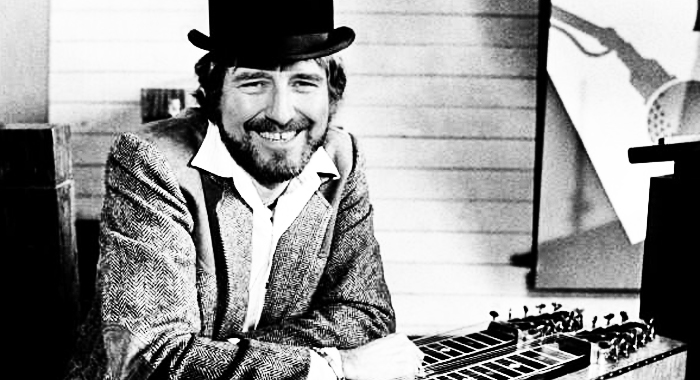 The following is one of the best stories that Peter Cooper has ever written, in my estimation, and it is about time that the country music industry and the world knew a more about the Big "E".  I know the word pioneer covers the definition of who Buddy was to the musicians world, but if you did not know Buddy personally, then you missed knowing first the student, then the teacher, the master, and the pioneer of the STEEL GUITAR.  He is responsible for many to try and copies but only one "MASTER," THE BIG "E" could be the king and he wears his crown proudly, and well he should.
 
A salute to steel guitar pioneer Buddy Emmons
Award-winning musician Buddy Emmons sits at the 1957 Sho-Bud steel guitar he donated to the Country Music Hall of Fame Nov. of 1983. A co-founder of Sho-Bud with Shot Jackson, Emmons originally came to Nashville with Little Jimmy Dickens, and has recorded with Ray Charles, Willie Nelson, John Anderson, Linda Ronstadt and John Conlee, to name but a few.
In June of 1955, the best band in country music belonged to one James Cecil Dickens, better known then and now as Little Jimmy Dickens.
On the first day of July 1955, that band got better, thanks to the addition of an 18-year-old, Midwest-reared hotshot pedal steel guitar player named Buddy Emmons. Dickens found Emmons while on tour in Detroit, and quickly hired him to replace another outstanding steeler, Walter Haynes, who had given notice that he wanted to get off the road.
Dickens sent a telegram to Emmons in Detroit with travel arrangements, flew the kid to Nashville, picked him up at the airport and took him out to WSM's Studio C for the "Friday Night Frolics." By the time Dickens played the "Grand Ole Opry" that Saturday night, word was out.
"It was like a lightning bolt struck," says Steve Fishell, the steel guitarist who has just produced a multi-artist tribute album called "The Big E: A Salute to Steel Guitarist Buddy Emmons." "You can see photos from that day with Dickens onstage and other steel players like Jimmy Day waiting in the wings, watching Buddy. His execution was flawless, and his ideas were brilliant. It was like nothing ever heard before on the 'Opry' stage. Buddy was dropped into the hottest band in country music, and it was an incredible launching pad for him."
Already, Dickens' Country Boys ensemble was known for its fleshed-out sound, its rhythmic presence and its virtuoso flights. But the addition of Emmons kicked things into another gear.
Emmons and guitarists Howard Rhoton and Spider Wilson created sophisticated, triple harmony instrumental arrangements of the likes that wouldn't be approached until The Allman Brothers Band came along in 1969.
And if Emmons' only contribution to music was elevating Dickens' Country Boys into the stratosphere, that contribution would be of significant value and import. But, as "The Big E" makes clear in its performances and in Fishell's extensive liner notes, Emmons was, and is, so much more.
Steel guitar pioneer
One major contribution benefits all steel players: Emmons re-imagined the pedal steel itself, and his name is on the patent for the complex, groundbreaking, "guitar tone changing device" that remains a staple for pedal steel design. And Emmons co-founded the now-famed Sho-Bud Guitar Company in 1956 and the Emmons Guitar Company in 1964.
Most of Emmons' other triumphs came on stages and in the recording studio.
He recorded the first serious steel guitar jazz album in 1963, he toured and recorded as a key member of Ernest Tubb's Texas Troubadours and Ray Price's Cherokee Cowboys.
In the late 1960s, he moved to Los Angeles and recorded with Ray Charles, Judy Collins (including her smash, "Someday Soon"), Gram Parsons, the Everly Brothers, Linda Ronstadt and many more.
Emmons and wife Peggy returned to Nashville in 1974, and in Music City he recorded with George Strait, Willie Nelson, J.J. Cale, John Hartford, k.d. lang, Trisha Yearwood and dozens of others. He also toured with the Everly Brothers for 12 years.
"If I were in charge of things, I would have a huge statue of Buddy Emmons carved in the finest granite and placed in a prominent place along Music Row in Nashville," slide guitar great Mike Auldridge once said. "I don't even have to mention his tone or taste or the fact that he's an actual musical genius. … All steel players know this is true, almost beyond belief."
An inspiration
Perhaps Fishell's "The Big E" is a more fitting tribute than a statue: Granite is impressive, but it makes for lousy listening.
Made possible by contributions to a Kickstarter campaign, the album features instrumental wizardry from steelers Fishell, Doug Jernigan, Greg Leisz, JayDee Maness, Paul White, Tommy Franklin, Roosevelt Collier, Mike Johnson, Randle Currie, Norm Hamlett, Gary Carter and Dan Dugmore, as well as electric guitar from Duane Eddy and Albert Lee and vocal turns from singers including Vince Gill, Emmylou Harris, Rodney Crowell, Willie Nelson, Raul Malo, Chris Stapleton and Joanie Keller.
Oh, and 58 years after their fabled first meeting, James Cecil Dickens. Little Jimmy sings "When Your House Is Not a Home," a song Emmons used to perform with Price, and one that reminds the steel player of his late and beloved wife, Peggy. (Proceeds from "The Big E" will go to the Country Music Hall of Fame and Museum in the name of Peggy Emmons.)
[youtube=http://www.youtube.com/watch?v=0BtaQq4ZhaU&w=640&h=480]
"Buddy refers to 'When Your House Is Not a Home' as his sentimental favorite," Fishell says. "He admitted to me that he became misty when he heard the track. It brought back a flood of memories."
One Kickstarter pledge came from Warner Music Nashville president John Esposito, who eventually set up national distribution through Warner. Esposito is, at heart, a music fan, and as such he's well aware of Emmons' indelible mark on American music.
Emmons, who was not involved in the creation or promotion of the tribute album, by all accounts remains thankful to James Cecil Dickens for bringing him into the big time. And the big time remains thankful to Emmons.
"He's always been poignant and heartfelt on ballads, and devastating when it's time to play those hot licks," Fishell says. "Buddy Emmons is someone we all look towards as inspiration, to be better at what we do."
Article sent in by Marty Martel