Barbara Rainey Quotes Elizabeth Taylor On Friends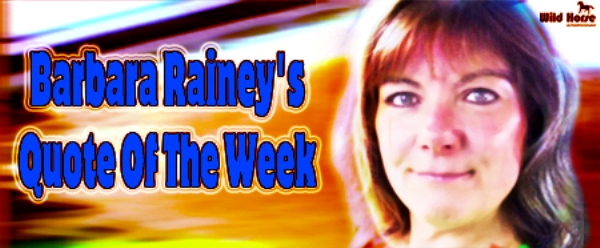 Wildhorse Entertainment presents our weekly
"Independent Superstar Quote Spot"
Brought to you by Barbara Rainey.
 o0o0o0o0o0o0o0o0o0o0o0o0o0o0o0o
"You find out who your real friends are
when you're involved in a scandal !"
Elizabeth Taylor
*-=-=-=-=-=-=-=-=-=-=-=-=-=-=-=-=-=-=-=-=-* 
Dame Elizabeth Rosemond "Liz" Taylor,
DBE (February 27, 1932 – March 23, 2011) was a British-American[2] actress. From her early years as a child star with MGM, she became one of the great screen actresses of Hollywood's Golden Age. As one of the world's most famous film stars, Taylor was recognized for her acting ability and for her glamorous lifestyle, beauty and distinctive violet eyes.
National Velvet (1944) was Taylor's first success, and she starred in Father of the Bride (1950), A Place in the Sun (1951), Giant (1956), Cat on a Hot Tin Roof (1958), and Suddenly, Last Summer (1959). She won the Academy Award for Best Actress for BUtterfield 8 (1960), played the title role in Cleopatra (1963), and married her co-star Richard Burton. They appeared together in 11 films, including Who's Afraid of Virginia Woolf? (1966), for which Taylor won a second Academy Award. From the mid-1970s, she appeared less frequently in film, and made occasional appearances in television and theatre.
Her much publicized personal life included eight marriages and several life-threatening illnesses. From the mid-1980s, Taylor championed HIV and AIDS programs; she co-founded the American Foundation for AIDS Research in 1985, and the Elizabeth Taylor AIDS Foundation in 1993. She received the Presidential Citizens Medal, the Legion of Honour, the Jean Hersholt Humanitarian Award and a Life Achievement Award from the American Film Institute, who named her seventh on their list of the "Greatest American Screen Legends". Taylor died of congestive heart failure in March 2011 at the age of 79, having suffered many years of ill health.
If you would like to comment on this Quote supplied to us by Barbara Rainey then you are most welcome to do so.