Obama Says S.Africa Proves People Can Change?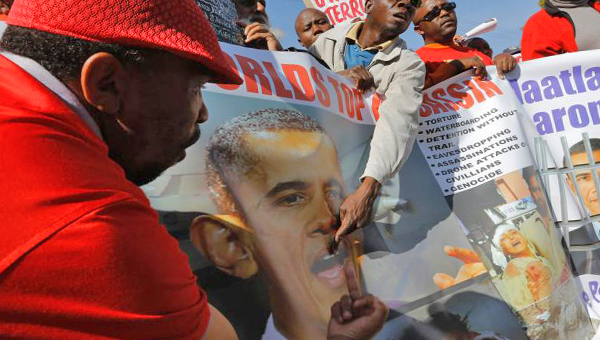 The United States President Barack Obama says if any country in the world shows how people can create change, it's South Africa.
South Africa is truly changed as not since the British invasion of 1899 has so many white and black people been murdered in their homes in South Africa as from the day Mandela was freed in 1994. The figure in the white population alone is now close to 100,000. Does President Obama think this is what change is all about, every person in South Africa right now at this very moment is in danger of being murdered in a cruel and inhumane way even as you read this.
Looking at the picture taken in South Africa recently it is also not clear which people in South Africa he is referring to as the ones in the picture don't look to happy with Obama.
I do however agree with Obama South Africa has changed from a peaceful country to the Crime, murder and rape capital of the world. It is not a statement made up here at WHISNews21 but if you have the time just google, "Farm Murders in South Africa". You will be shocked at what you see…….
But the Obama delegation is having a good time in South Africa, only the best of the best South Africa can offer is splashed out for the presidential party, after all why not, the average American will end up paying the bill one way or another. Oh and to the Republicans don't be upset as the liberals cannot wait to pay some of their hard-earned money towards this holiday extravaganza.
Be happy America your President and his whole family are having the time of their life.
I would like to wish President Obama and his family and all his bodyguards a wonderful stay in South Africa, but then I dont have to, he will enjoy it anyway as he knows, he can and will.