Tutu Receives R15 Million While Genocide is Alive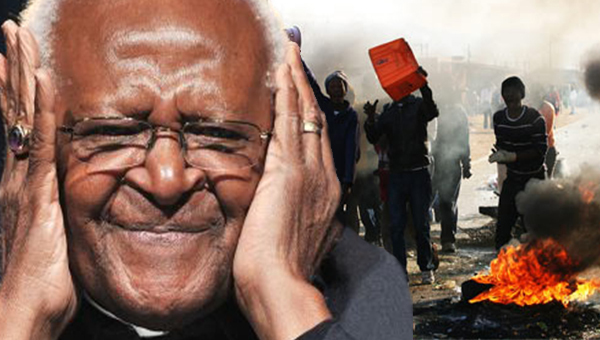 South African Archbishop Desmond Tutu has won R15m along with the Templeton Prize for his exceptional contribution to affirming life's spiritual dimension. Archbishop Emeritus Desmond Tutu claims that South Africa is one of the most violent nations in the world, according to acting Cabinet spokesperson Phumla Williams
Desmond Tutu on Winning The Templeton Prize
.
Speaking at a ceremony in Cape Town to celebrate winning the Templeton prize on Thursday, Tutu said South Africa had lost its sense of self-worth since the country became "flavour of the month" when apartheid was abolished in 1994, the Truth and Reconciliation Commission was set up, and citizens were riding on the victory at the Rugby World Cup.
Tutu was asked where exactly the country was failing and in his answer Tutu focused on violence and inequality.
"Very simply, we are aware we've become one of the most violent societies. It's not what we were, even under apartheid," he said at the time.
Williams said that according to police statistics, the level of violent crimes in the country has dropped significantly.
"Archbishop Tutu should be acknowledging the strides that government has made since the attainment of democracy, and also encourage religious leaders and other key stakeholders to work with government in combating crime," she said.
Williams added that the justice, crime prevention and security cluster ministers signed a delivery agreement with President Jacob Zuma in 2010, to help ensure all South African's feel safe.
– SAPA
.

WHISNews21: South Africa is far more dangerous today than it was 400 years ago, it may be safer for the privileged few who hide behind their privileged status, but for the normal South Africans black and white it is worse than at anytime in history. In fact as I write this, genocide is in top gear against the white population of South Africa. From the article above it is clear that the South African government is clearly in denial of the genocide taking place right here right now. You only have to google violent crimes in South Africa and you will see for yourself. But then evil is spreading like wildfire around the world too, so what can good people expect, their voices are silenced one by one, day by day till nothing good will remain. We were warned about this centuries ago. In South Africa people feel like they are standing at attention and hoping that today their number or one of their loved ones, will not be next. Some give up and some with the help of their faith in God are able to overcome the fear of being the next victim in the genocide against the white minority of South Africa. No one in South Africa expects to be rescued from the genocide as the world itself is in a really dark place at this time. Like the famous song made famous by Doris Day goes, "Que Sera, Sera (Whatever Will Be Will Be) Sad but true……..