Genocide Soldiers Kill Rugby Player Johan Kemp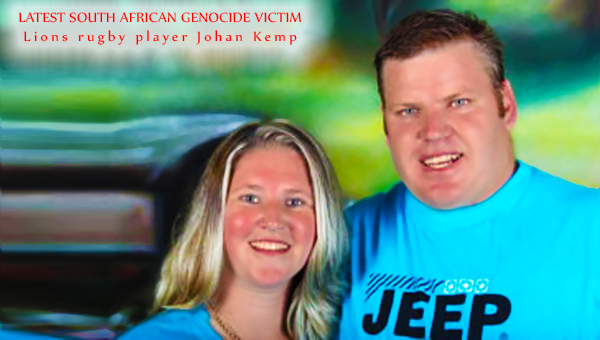 Former Lion Rugby Player killed in so called burglary
Johannesburg – Former Lions rugby player, Johan Kemp, was shot dead in his house in Fountainebleau, Randburg, Beeld reported on Saturday.Kemp was shot three times in the upper-body when three burglars broke into his house in the early hours of Thursday morning, Gauteng police spokesman Lt-Col Lungelo Dlamini told the newspaper.
"We do not know how the burglars entered. There is no sign of forced entry and the dogs did not bark.
"His wife, that was somewhere else in the house at the time of the attack, heard the shots, went to the bedroom and found him dead," Dlamini said.
According to the report, his wife, Elaine, was also threatened by the burglars.
She described her husband as a nature-lover and a peacemaker.
"He lived for his children," Elaine told Beeld.
Their two sons, aged two and four, were unharmed and the two dogs survived after they were stabbed with knives.
Her jewellery, two cellphones and a laptop were taken from the house. The burglars also asked for the keys to the car. They fled in the family Corsa.
Kemp's former team mate Cobus Grobbelaar, described him as friendly with a good sense of humour.
Kemp played six games at prop for the Golden Lions in the 2002 Vodacom Cup.
No arrests have been made.