Sangoma Found Cooking SA Farmer's Body Parts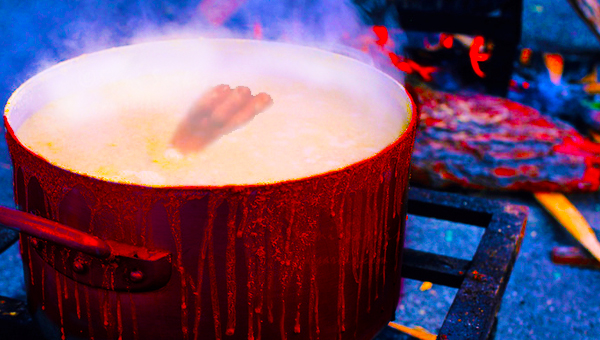 This Is What We Have To Put Up With In South Africa, I cannot Find A picture Of the 82 year old Jan Van Wyk the person Mokoena was cooking, anywhere.
Bloemfontein – A sangoma from Lesotho was caught cooking the body parts of a murdered farmer in boiling water when he was arrested.
This transpired at the trial of Moeketsi Hopolong Mokoena, 34, in the Free State High Court on Monday, reported Volksblad.
Mokoena stands accused of murdering Jan van Wyk, 82, from the farm Jakkalsfontein in 2009.
Court documents showed that some of his body parts were found in a pan in his farmhouse where Mokoena was busy cooking them.
Murder spree
Mokoena allegedly started his murderous rampage on the evening of 30 March 2009, killing Basie Venter, 65, after arriving on the farm Biesiesvlei asking for food.
While Venter's wife was busy making him something to eat, she heard dogs barking and saw Mokoena hitting her husband with an iron rod. He then ran away.
Security guards searching for Mokoena the following day were told to go to Van Wyk's farm, which was about 5km away.
When the guards arrived on the farm, they found Mokoena on the stoep, wearing only a shirt and underpants. His legs were covered in blood. He ran into the house and closed the door.
He attacked the guards, but they managed to overpower him and tie him up.
Van Wyk's badly mutilated body was found in the living room, and body parts in a pan in the kitchen.
A year after the murders, Mokoena was declared a patient of the president's  (in need of psychiatric help). The State now argues that he has been successfully treated and can stand trial.
On Monday, the judge postponed the trial to 22 April.
 – News24
Below is a Comment we found on the internet regarding the above horrific incident, thought it would make interesting reading:
Posted byLime Liteat8:40 PM South Africa: Sangoma found cooking farmer's body parts
 How delightful!

Another case of Black African culture to be celebrated. Come on over to South Africa liberals! Step on up and get you some of that Black culture you have held up to the world as proof of what the Black man is capable of.A Sangoma (witch doctor) from Lesotho was caught cooking the body parts of a murdered White farmer in boiling water in 2009 in Bloemfontein, South Africa. I'm pretty sure the family of the deceased farmer must be extremely traumatised and so our thoughts are with them at this time.

This is just another typical example of what the Whites in South Africa – and especially the White Farmers- have to live with on a daily basis. This inherent savagery and barbarianism from the African Blacks. I challenge anyone who thinks it's racist to say so to go and live a day as a farmer in South Africa. A job which is the MOST dangerous job in the entire world based on the murder statistics.

South African farmers live in constant fear for their lives. They know what has happened to other farmers – the torture, the rapes, the terrifying deaths. Some dragged behind their cars for miles; some made to watch as their children are killed in front of them, and then having to wait for death to come to them. The truth of what is happening to the farmers in South Africa is horrendous – too extreme to publish in most cases. Burned and tortured with hot irons; hot oil poured down their throats; limbs cut off while they're alive; disemboweled and raped while still alive; children drowned in boiling water. The horror goes on and on and the world LOOKS AWAY. Cowards.

As the saying goes: You want to know the truth?? You can't handle the truth!

And that is the fair-dinkum truth.

Hat tip: Chris S