Tuesdays Likileake With Keith Bradford: A White Out?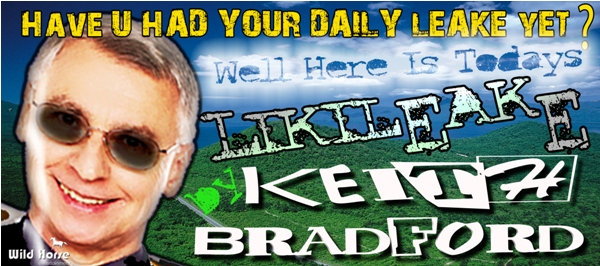 This Likileake wants to know if you have ever been wiped out by a "White Out" ?
.
Wite out: It is hard to believe I am old enough to know what wite out is.  Wite out or all-purpose liquid paper or correction fluid was an essential product on every secretary's desk. 
When typing up a document there was sure to be a typing error from time to time. 
You could simply apply the white paint like fluid with the supplied small brush, right over the incorrect word. 
Then after blowing on it to make sure it was good a dry you could re-type the correct word right on top of the white paint and this saved you from having to re-type the whole document. 
In some cases whole sentences were painted with this product and an entirely different thought was typed in its place. 
In today's word processors, options like find and replace, insert, select, and edit has eliminated the need for Wite Out. 
I keep a bottle of it on my desk right next to my Rolodex.  It reminds me of simpler times.
.
If you are an Independent Artist and would want your songs featured on one of "Keith Bradford's Likileakes Radio Shows" you are most welcome to contact him at kmarecords@aol.com This show is broadcast worldwide on various internet radio shows and you could be the featured artist on one of those special shows.
.
Likileakes Radio Show Translated for Our German readers by Patty Patrick
Ausweisseln (Überpinseln) 
Es ist kaum zu glauben, aber ich bin alt genug, um zu wissen, was ausweisseln oder überpinseln heißt.  Das Produkt "White out" oder das mit Flüssigkeit getränkte Papier sowie die Korrekturflüssigkeit gehörten zu der Grundausstattung auf dem Schreibtisch einer jeden Sekretärin.
Es gab immer mal wieder einen Tippfehler in einem Dokument. Dann nahm man diese Flüssigkeit zu Hilfe, und mit der kleinen Bürste wurde das falsche Wort überpinselt. Mit ein bisschen Puste trocknete man die Korrektur und schrieb dann die richtigen Buchstaben über den mit weisser Farbe überpinselten Eintrag. So mussten mit Schreibmaschine geschriebene Seiten nicht neu geschrieben werden.
Manchmal war es ein ganzer Satz, der überpinselt werden musste, um diesen mit einem anderen Wortlaut zu ersetzen.
Die heutige Schreibtechnik per Computer ermöglicht, Texte zu finden, zu ersetzen, einzufügen und zu überschreiben macht das Produkt "White Out", das Überpinseln, überflüssig.
Ich habe trotzdem immer noch eines dieser Fläschchen auf meinem Schreibtisch neben Rolodex, der Rollkartei, stehen. Das erinnert mich an Zeiten, als alles noch ganz einfach war.
© Patty Patrick
.
A Likileake by definition, is a word describing a story that was never intended to be published, yet found it's way to the editorial columns of an Internet Online News Paper namely WHISNews21 run by Frans Maritz out of South Africa. A Likileake is not to be confused with the now already famous Wikileaks, which divulges secret government and sometimes harmful information. A Likileake on the other hand is a name coined by Frans Maritz of Wildhorse Entertainment and WHISNews21 to describe situations and open up about information that people think about everyday but never really feel comfortable to want to talk about. Likileaks have become so popular on WHISNews21 that they have in collaboration with Keith Bradford of the Nashville Broadcasting Radio Network, created short 10 minute radio programs divulging Likileaks to the public. This show is now in syndication to Internet Radio Stations, AM and FM terrestial radio stations, as well as College Radio stations. It is worldwide and is so popular that WHISNews21 and NBRN.FM have decided to produce hundreds of these 10 minute radio shows about the Likileaks and call it The Keith Bradford Likileaks Radio Show.