John A. Hobbs Celebrates 85 With Friends This Week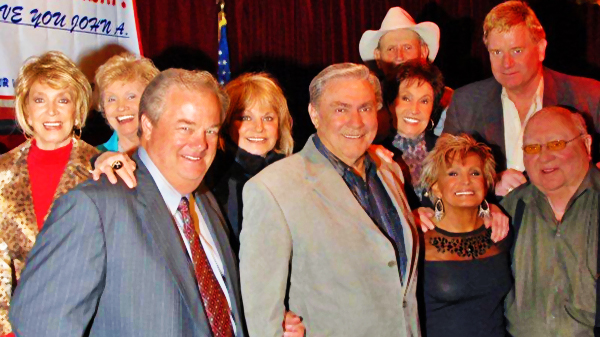 ROASTED AND TOASTED JOHN A. HOBBS CELEBRATES BEING 85 YEARS YOUNG
John A. Hobbs turned 85 years young yesterday and he was treated to a Roast and Toast that he will never forget. As you can see by the picture, these were some of his closest friends in attendance, and many calls, letters, and all kinds of congratulations to him throughout the day. In the picture are Jeannie Seely, Roni Stoneman, Joe West, Helen Cornelius, Jim Ed Brown, Jimmy C. Newman, Jan Howard, Dianne Sherrill, Johnny Counterfit, and The Man of the Day, John A. Hobbs. I was unable to get in the picture because Joe West pushed me out. (Hee Hee). Just kidding Joe. The Grand Ole Opry was well represented as you can see. We all know how much John A. has been involved in country music and how much he loves the Opry.
During the day John A received calls from Lorrie Morgan, Gaylord's CEO Colin Reed, Randy Travis, Sam Luvollo, a special note from his longtime friend Tom Powell, a gift and birthday congratulations from Alan Jackson, gifts from Ralph Emery, who was in attendance and many other calls that I do not know about. Mayor Karl Dean sent John A a proclamation for his birthday, and the list of family and friends goes on like the Who's Who's of entertainment, government, and his personal friends. John was very happy to see his longtime friend Ralph Emery.
John A was in great spirits for the entire night, and as each of his friends took the stage to either roast or toast him on his birthday. He has been a pillar in our community, both entertainment wise and in so many other ways, with his generosity, his business savy, and his generosity of friendship, advice, and not doubt in other ways. His friends number so many that I promise you in this article I will miss many, but only because of the number of friends who were invited to this private bash for this great man, and those I did not know.
The following is the list I have compiled of John A's friends to attend. First his family with three sons Joe, Ronnie, John C., his sister JoAnn, and their family members. John's friends from local, state, and federal government were in attendance, along with doctors, musicians, artists, and so many old friends who were there to let him know how much we all love him and wish him many, many more years of good health and prosperity, with many birthdays to come. His longtime friend Father Breen gave the invocation and spoke eloquently about his friend John A. One of John's closest friends Major League Baseball Umpire Joe West was in attendance and really gave John A the roast of all roasts. I am not sure if Joe remembers the rest of the night, but thank God he did not have to call balls and strikes last night. Westy was in top form, as he took the time to travel from his home in Florida to be with John for 2 full days, and John A enjoyed every minute of Joe's visit. BTW, West sang two songs last night???? I wish that I could tell all of the stories I heard, but it would take all day and night to remember and write them down, and some I cannot tell, but I laughed a lot.
John A received a DVD greeting from his great friend Sam Lovullo in California, who was unable to attend. My list is the best I can remember: David McCormick of the Ernest Tubb Record Shops was there and David looked great and we were all thrilled to see him, Trucker, Jerry & Georgia, Buddy & Jane, Tom Grant, State Rep. Kent Williams who gave John A one of the great roasts and toasts of the evening, Julie Harris reminded John A of when she first came to town, Steve Hill who worked for John A at the old Nashville Palace for over 20 years, Judge Donna Davenport, Reggie and Barbara from Canada, Dr. Ben Birdwell, Congressman Jim Cooper, Terry Cobb local government official, Nancy Quinn, Eddie Pascall, Eddie and Mary Bryan, Julie Richardson (my lady), Dana Cupp came in from Detroit, to be with his friend John A, Billy Galvin, Libby Griggs, Ruth Elkins, many of the Black Widows ladies were in attendance, L.D. Wayne, guitarist for Randy Travis got up and played with the band, and he was on his A game all night, Willie Rainsford, Shar, Randy, Jerry, and Mike of the Classics band. Jim Ed Brown, Dianne Sherrill, Julie Harris, Jimmy C. Newman, Tom Grant, and Johnny Counterfit entertained the crowd. Now that is as far as my memory will take me, but I give you my word that it was jammed packed with all of John A's friends who could attend, so there are many I did not know and I am sorry for that, but John A is a true celebrity who could have never held all that were invited if they had attended.
The mood of the evening was extreme happiness to celebrate John A's 85thbirthday, because at one time in the past, we were all concerned if John A would be with us because of his health issues, but you would have had to been there last night to witness this young man in spirit of life enjoying every minute of his celebration of all of these years. I hope he knows how much we all love him and are thankful for his friendship, and most of all that he has allowed us to be part of his life. I in some way have been allowed to join that special corner of John A's world every night I go to see him, and that in itself is worth every minute that Julie and I have to enjoy all of the special people in that corner.
When the final roasts and toasts were made, Joe gave the microphone to his Dad, and asked him to say a few words, which John A is never at a loss of words, but last night John A took the mic and said thank you to everyone but then said "but I gotta pee" and away he speedily traveled to the place of comfort. Then after he felt better, he proceeded to go to everyone that he could to thank them for making last night such a memorable evening for him and his family. I assure you there were many toasts that we all made to let him know how much he means to us, and what he means to us. Incidentally John C., Joe, and Ronnie spoke special words to their Dad.
A special, special thanks to manager Thomas Sellers and his complete staff for an evening which Thomas prepared to make sure that everything was in order for John A, and our great bartender Tonya. Great food, two beautiful cakes, and the super staff of gals and guys waiting on tables, and all the family of John A. Hobbs, for an evening that I hope someday I will be able to make it to 85 and enjoy life as John A does. One more thing about the food. There was enough to feed an army and no one went away hungry.
This article would not be complete without the above picture, and so many other pictures of John A's friends. John's family and all of us that were honored to help John A celebrate his birthday wish to thank Jerry Overcast for being there to take the photo's that will be a memory book for John A to look at over the coming months and years. Jerry has always been there to be of service as one of best photographers in the business and we thank you Jerry for sharing your time and talents to make John A's evening a great success. I am not sure of how many pictures Jerry took, but he left no one out, so maybe he will make a collage for us to see. You are the best Jerry Overcast and the Hobb's family sincerely thanks you for being there to make sure that their Dad will have a book of great memories to remind him of his 85th birthday.
In closing, I want to say that John A. Hobbs has been blessed with a great family, many dear friends in the entertainment and political fields. I know that he has a guardian angel that walks with him or tries to keep up with him, but seriously John A. Hobbs is one of the most sincere men that I have ever known. He has given so much to so many and he continues to go at full speed. May our Blessed Lord Watch over and keep him in good health and full of life as he is now. Thanks John A for allowing me the opportunity to be in your corner.
Marty Martel©