AMT Celebrates 10 Years Country Music Legends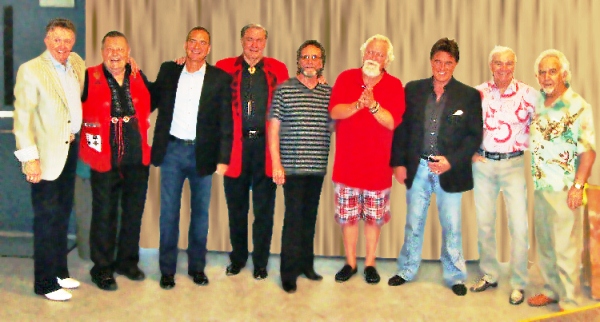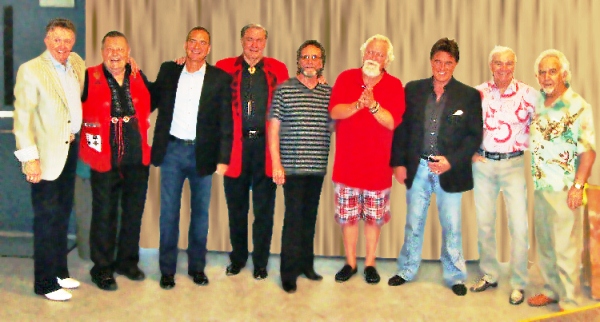 GOOD OLE BOYS CELEBRATE 10 YEAR ANNIVERSARY
Of Country Music Legend Shows
at
AMERICAN MUSIC THEATRE
American Music Theatre in Lancaster, PA is celebrating its 10th anniversary of bringing the Legends of Country Music to the theatre.  This past Saturday, July 14th was another grouping of stars and it was a super, super, success.  Jim Martin and myself have been working together packaging these great artists, and we both knew that the demographics of fans that buy tickets for these shows, is a very large fan base that will support their support traditional country music.  The fans of each of these artists get to see, hear, and talk to their favorites, shake hands, take pictures, and purchase the artists merchandise which is not being played on what they call today country radio.  That is a difficult thing to find with many of today's new artists.  Not all of them, but many do not take the time to meet their fans to build their fans base. You can find all of these legends music at the Ernest Tubb Record Shops, who are last remaining record store to stock real country music.
I will try to let you visualize this show because it had some kind of magic that was evident from the very first response of the fans.  Dickey Lee opened the show and since he had never performed at AMT, he was awesome, and the fans gave him a standing ovation.  His 5 song set was only 5 of his greatest hits, but his fans knew everyone of the songs and he set the bar high for the rest of the show.  Dickey still sings as great as the day he began recording.  What a treat it was to have this legend on the show, and the fans let him know how much they loved and appreciated seeing him.
Next came the soulful voice of T. Graham Brown.  This was also T's first appearance at the theatre, and he was in great form being a part of the package especially with all of his fellow artists friends.  He was as good as it gets singing with the heart and soul of one of the great stylist of all time.  His set ended with a song that he wrote, a true song about his life, "Would You Turn The Wine Back into Water."  What a super song and as he walked off stage at the end of his set, he was given a standing ovation for his performance.  He was superb and I knew right then that this show was as special as it gets.  There was a great feeling in the building.
This show was filled with legends as you can see from the pix.  And to continue on with legends was really easy because David Frizzell bears the legacy of the Frizzell name.  His brother Lefty was one of the greatest legends of all time, and David has no trouble carrying the torch of his name.  The flame burns brightly with David at the helm of the historic Frizzell name in country music.  He was greeted by his fans with an super ovation and after he played the music that gave him #1's including his two award winning super duet hits with Shelly West, and then his own #1 hits of his career, he completed his set with two of Lefty's songs, "Always Late and If You Got The Money."  He has the Frizzell look, the Frizzell voice, but he is David Frizzell with his own legacy being written as he continues to be one of country music's great legends.
I realized long before the show was ready to play, in fact months before, that it was going to be great, but I never realized how great it was going to be.  It was filled with legendary artists, super songwriters, a Hall of Fame member, three Grand Ole Opry members, and enough hit songs to start 10 new careers, and the show never missed a beat as I introduced T. G. Sheppard who with 20 singles and 56 albums, opened the flood gates.  T went right down into the audience as he always does and brought the fans into his show.  They loved him from the moment he came on stage to his standing ovation as he left the stage after singing his monster hit "Party Time."  He was awesome.
Talking about legends.  We closed the first half of the show with one of the great legends in country music, Stonewall Jackson, and even though he was in much pain from an accident from a fall at his home, he knew when he stepped out on the stage that the fans were ready to hear some of his greatest hit songs, and he did not let them down.  I can assure you that Stonewall should have been home recuperating from his fall.  I was with him the entire three day trip and I knew the pain this man was going through.  He never said a word about how much he was hurting, but it was evident.  He was as good as it gets through this adversity.  Stonewall Jackson brings to the music table the reason country music was so strong in the early years, and even now he is singing as good as ever, and enjoying it even more.  He told me on the way to the airport to come home, that even though he was hurting, he was so happy to be a part of the show, and to see his fellow artists and his fans.  His pain did not stop him from singing Don't Be Angry, Waterloo, and several others, which have become legendary songs of Stonewall Jackson and country music.  Another standing ovation.  Stonewall is surely headed for the Country Music Hall of Fame.
After intermission, one of the great names in country music, and one of the true legends in the music, Jim Ed Brown was as great as he always is.   He was there when country music needed a superstar and he filled that roll over and over again, by his first days of being a part of the super group The Browns', then he followed up with his own super successful career as a solo artist by recording great records, especially Pop A Top, and then if that was not enough for him, he took the duet awards with Helen Cornelius, and he is still Mr. Smooth with his great vocals.  Bunched together, they spell Hall of Fame, and I personally feel that he will be in the Hall of Fame with his sisters Bonnie and Maxine soon.  Jim Ed took the audience to a new level as he exited the stage with yet another standing ovation.
To close the show was in the hands of a Hall of Famer, Grand Ole Opry Legend, member of the Georgia Hall of Fame, Songwriters Hall of Fame, and so many other awards, and he is still moving in the loop of success with his great songwriting, Bill Anderson brought the show full circle with his super great performance of just a small number of hits he had time to sing.  Bill Anderson's performance is one of the reasons why "The Circle Will Never Be Broken," as he continues his journey to write great songs, perform super shows, and loving every minute of his career as it continually unfolds with new and great accolades.  Bill made his exit to another standing ovation and completed the first show as well as the second with everyone receiving a standing ovation.
Both shows were super and I wish everyone could have been out in the lobby of the theatre to see how crowded it was as the fans shook hands with the legends, took picture, got autographs, and bought each artists' merchandise.  This is one show that has left its mark on the American Music Theatre.  In fact I was told that the lobby had trouble moving the people between shows who had tickets to the second show, getting them in to their seats because it was impossible to move in the lobby area.  Most of the young country stars have forgotten what it means to build a fan base, but they would do well to have been there watching Dickey Lee, T. Graham Brown, David Frizzell, T.G. Sheppard, Stonewall Jackson, Jim Ed Brown, and Bill Anderson, tend to their flock of fans.  I was amazing.  What makes this show so great, is that each artist only had 20-25 minutes on stage and they conquered the fans in each of their show sets.
The sad news of this show was that our friend Freddy Weller who was scheduled to appear as a part of the show, fractured his leg and was unable to make the trip.  I know he was disappointed as were his fans, but we will make sure he is a part of the next Legends Show at AMT.
As I stood out in the lobby talking to so many of the fans that have supported the shows we have brought to AMT during these 10 years, I was thrilled to hear great exciting words of how much each of them enjoyed the show, and to please keep bringing the shows back, because they would be there.  They said there was no other place they knew of that brings the legends of country music to their venue.  What a shame that other venue's I have contacted do not understand that the fans are still out there and want to see these legends, but for some reason the ones that buy the talent are either afraid to have a show such as this or they really don't understand.  My hat is off to Jim Martin and The American Music Theatre for seeing that the support was there 10 years ago, and is just as strong if not stronger now as it ever has been.
Well I hope you get an idea of the magic of this show, and in some way can feel the excitement of the fans being able to see and listen to their favorites.  I enjoyed hosting the show as I have done for so many years, and I hope there are more shows to come for all of us at The American Music Theatre.
Marty Martel©