Grandmothers Song And Dance To A New Life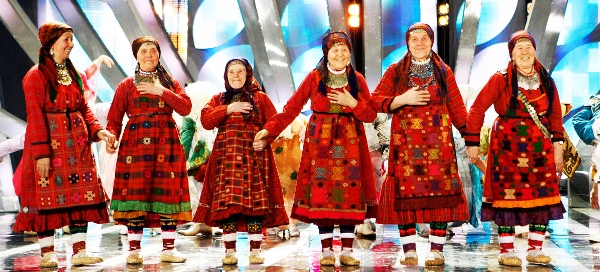 The Grandmothers Sang 'Come On and Dance!'
And A Village Got A New Life
BURANOVO, Russia — For years, Buranovo was a dying village, one of many in the Russian countryside left behind by an oil-driven boom that revitalized drab Soviet cities and drew the young away from the farms that had sustained their parents.In places like this, collective farms routinely go bankrupt, log houses tilt and sink into the soil, roads become muddy ravines and village stores make much of their money selling vodka. Breaking the cycle of decline is considered difficult, if not impossible.
But 300-year-old Buranovo is proving to be an exception, for the unlikeliest of reasons: a troupe of eight local women, many of them old and stooped, known as the Buranovskiye Babushki (or Grandmothers of Buranovo), who sang their way to instant fame in May during the pop music contest called Eurovision. The babushki, the oldest of whom is 86, came in second in the annual contest, which pits performers from European countries against one another and holds the Continent in thrall each spring. The little ladies in traditional dresses and kerchiefs put on a rock 'n' roll performance that invited the world to laugh at them, smiling slyly as they shuffled across the stage and belted out their version of a hard-partying anthem, complete with a chorus in English: "Party for everybody — dance! Come on and dance! Come on and dance! Come on and boom boom!"
A video of the performance became a hit on the Web, 100 million television viewers seeing their act.
Now, the women's good fortune is transforming not only their lives, but also Buranovo. In appreciation of the group's near victory, the local government is building a water pipeline, installing streetlights, and high-speed Internet for the village's sole school and laying new gravel on the main roads. "God forgot this place before the grannies sang," Aleksandr Malkov said in his front yard as he watched flatbed trucks roll down the street with pipe for the new waterworks. It is difficult to overstate the impact of such improvements.
Like so much of the Russian countryside, Buranovo is at once picturesque and a scene of rural penury. Residents subsist on dairy farming, garden plots, and food gathered in the forest, like honey and mushrooms. On a recent visit, the wind blew waves in a sea of green rye, and the front yards held gigantic stacks of split birch firewood. Olga Tyurikova, a neighbor who fed one of the grandmothers' chickens during the Eurovision contest, said the group saved the village. "If it weren't for the babushki, nobody would ever have noticed there was no water in Buranovo," she said. Most of the village never had running water. It all began with a miracle, said Olga N. Tuktareva, the leader of the singing group, who is 43 and in fact is not a grandmother yet. Ms. Tuktareva recalled strolling about the village with a friend in 2008 and lamenting a sad episode in local history: the destruction of the Church of the Trinity, taken down like countless other churches in Stalin's Russia. Built in 1901, it had three altars, devoted to the Trinity, Archangel Michael and the Prophet Elijah. Party commissars closed it in 1937; 12 years later, a crew drilling for oil in the upper Volga River basin knocked down the church and carted off the bricks to build barracks for workers. During that walk, Ms. Tuktareva recalled, her cellphone rang. It was a music producer in Moscow who had heard of the singing babushki — they performed locally — and had a proposition: if the troupe sang the Queen song "We Are the Champions" in their native language, Udmurt, to an audience of oil executives in Moscow, the producer would make it worth her time.
"I thought, 'This is strange,' " Ms. Tuktareva said. "I just said it is impossible to rebuild the church, and then my phone rang. This is not an accident." After that, the group won minor fame performing songs by the Beatles, Deep Purple and the Eagles in Udmurt as a novelty act. The members — all deeply pious women who had to hide their beliefs in the Soviet era — set up a fund to rebuild the church. The babushki competed to represent Russia at Eurovision in 2010 but, not yet fully transformed into a rock act, were not selected. They entered with a song called "How to Make Birch Bark Into a Hat." After that song fell flat, they realized that they needed more histrionics and more English. They performed "Party for Everybody," a song with lyrics by Ms. Tuktareva in Udmurt and by Mary Susan Applegate, a lyricist for Modern Talking and other pop acts, in English. While the women were in Baku, Azerbaijan, for this year's Eurovision contest, the laying of a church foundation was begun with the money already in their growing fund. When they returned — escorted from a regional airport by a police motorcade — the jumble of steel and concrete awaited them. "We prayed and we cried," Ms. Tuktareva said. Natalia Y. Pugachyova, one of two group members baptized in the original Trinity Church in the 1930s, worked at a pig farm for decades before finding fame. "Life was that way," she said.
The members made no money directly from Eurovision, for their church fund or for themselves. But they do earn handsomely from concerts and pay themselves bonuses. Back in the village, fame is changing their lives — after Eurovision, schools from miles around have taken to sending classes on field trips to visit their homes. The grandmothers say they remained secretly religious all their lives, but never expected the church to be rebuilt. "I had a vision that something would change in our village," one of the singers, Alevtina Begisheva, 60, said. "But I never imagined we would return our church in this way."
A video of the performance became a hit on the Web,
adding to the more than 100 million television viewers who saw their act.
Article sent in by Rhonnie Scheuerman and Kris Miller