Happy Birthday To A Legendary Music Promoter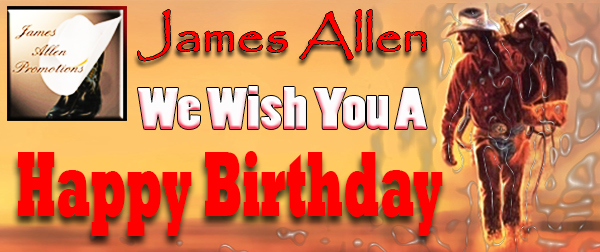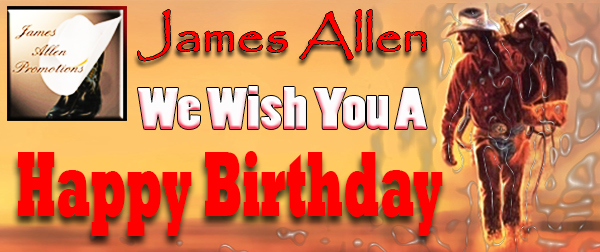 HAPPY BIRTHDAY JAMES ALLEN
A GREAT FRIEND a GREAT PERSON and above all GREAT at WHATEVER YOU DO
HERE ARE BUT A FEW WORDS FROM SOME OF YOUR FRIENDS WE COULD FIND
WISHING YOU ALL THE BEST ON THIS GREAT AND WONDERFUL DAY
WHICH IS YOUR BIRTH DAY
James Allen a man of courage many love him and call him friend. With his heart he promotes artists and to DJ's their songs he sends. Lately he's fought a BIG fight but has kept a great attitude. Not letting cancer defeat him or getting him down or unglued. Many are rooting daily for you and missing you and your cheery ways. We hope and pray James that you have a very special birthday. We ask God for a miracle attached to this birthday greeting. Special dear friend of many may he bless you with a healing. Dear wonderful James, have a happy blessed Birthday!  Having you in Bob's and my life has been awesome.  You are a terrific friend, and promoter.  You're an example to many of courage and will to go on and on. May you enjoy your special day with your dear family.  Feel blessed you came into our lives; you have made them richer by knowing you.  In friendship lots of love Rhon and Bob
Rhonnie & Bob Scheuerman of RhonBob Promotions
  James & I first met you at a Walmart doing some shopping in Puerto Vallarta! I love the way life has its ways of direction & opportunity. One must recognise the signs though!! I did not readily, but corrected my path after meeting such an exceptional person as yourself! James explained his "art of promotion" which I thought was a great analogy! Artists come in many varieties! I have had access to many excellent Big Time promoters, but James you have a way of getting to your bottom line quickly. It's a gift you share with your honesty. I like genuine people with positive morals, an abundance of honest energy unabated by political meanderings. That's you James Allen. You have mentored me in my promotional art for over two years now.  I have felt honoured to be in that position of responsibility & sharing your craft!! I wish you the Best Birthday possible & we hope for many more from you my fine talented artist I call MY friend.
Stephen A. Love – International Recording Artist
  A big happy birthday to you James. I am proud and honored to be sending Happy Birthday wishes to such a wonderful man and country artist promoter. Along with all the accolades that would be used to define you James, friend is the one that comes to mind, because, that is what you have been to me. James, I will always cherish you as my friend. Be sure to get a large piece of Birthday cake and maybe even a piece of chocolate pie. Happy Birthday my friend,
Allen Karl – International Recording Artist
  Happy Birthday James from Keith Bradford and everyone here at NBRN.FM Hope you have a wonderful birthday.
Keith Bradford – NBRN.FM and KMA Records Nashville
  Faye and I wish you a blessed birthday and pray that The Lord bless you with many more.
James and Faye Marvell – International Recording Artist
  Hello, James! Checking-in to wish you a Happy Birthday today. Have not heard from you in a few weeks, but we want you know, you're still in our thoughts and prayers!  We are blessed to have you in our world. Heat wave continues in middle Tennessee, as it is across a good portion of the country.  Upside is… we have electric power, air conditioning, and no fires raging thru the area. God Bless,
Loudilla and Kay – IFCO International Fan Club Organization
  Best wishes for a happy birthday James, and to your health, thoughts and prayers I wish you the best.
Lonnie Dean – International Recording Artist
  My very warmest and best wishes to you on this birthday. They say we are known by the company we keep – and you clearly have friends from all corners of this business. That speaks volumes for you as a person James. Again, my best, and thank you for all of the help you have given me in promoting my records. Your friend.   
David Wood – International Recording Artist
  Happy Birthday James. You are one very special Long Tall Texan. Though I've only gotten to know you through our love of music I certainly wish I had met you years ago. EVERYONE has only had wonderful things to say about you and I know they are right.  Allen loves you like a brother, and I have learned that he has great taste! I hope this birthday finds you feeling a little better and that you know that you have so many people who wish well. We all feel that the music world is a better place because of you. You have my love and admiration….have a wonderful birthday! Hope all your days are filled with music, love and laughter
Donna Jean Cunningham – International Recording Artist
  Dear James: As you know and as I always tell people. You took me under your wing. You then coached me and we changed my music style to a more traditional country sound. As a result I have had positive response to my songs. I will be forever grateful to you my friend. Have a wonderful birthday.
Steve Adkins – International Recording Artist
  "Hi James – Happy Birthday from everyone at UKCountryRadio.com. Thank you for everything you have done to enable UK audiences to experience some of the greatest American country music."
Allan Watkiss – UKCountryRadio.com
  Very Happy Birthday, James. You're the most successful independent country music promoter through the years. Glass up high and cheers!
DJ Tom – Real Country Radio Japan
  Below is a mail I received on the
12th March 2011
that started what has become a lifelong friendship:   Franz, congratulations on your new show. I am James Allen of James Allen Promotions based in Fort Worth, Texas. I was Box Car Willies promotions manager for many years until he passed away. I am now promoting Allen Karl, who has the #1 song "That Jukebox Has A Mind Of Its Own" on the Joyce Ramgatie International Top 40 Chart.  I would like to send you some material of Allen Karl's for your consideration. Thank You James Allen Promotions Fort Worth, Texas Lifetime Member CMA ECMA7   Thank you James you have always been nothing but good to me, you have my respect and I am honoured to be your friend. Thank you
Frans Maritz – Wildhorse Entertainment
Below is a Special Poem written by our favourite WHISNews21 Poet Patty Patrick
Roses From My Heart
Written for James Allen on his birthday July 7, 2012
Here is my heart of roses for this special day.
Knowing you, my dear friend James, you will give them all away.
So, give one to your sister – who to you is very dear
 in hopes that it will bring her a little floral cheer.
Take one to a friend who's not feeling very well.
The flower and the gesture will help more than you can tell.
Reserve one for a friend you haven't known for very long.
who struggles, so in some small way, this will help to carry on.
The rest give to your friends who've helped you in so many ways.
Who've been a cheerful presence on all your dreary days.
The roses were so pretty I know you will not keep them all,
except one single bud, standing beautiful and tall.
This one will be for our friendship, for the love we share,
for the comments and the laughter, as a sign how much we care.
I am sending you these flowers to brighten up your day.
The biggest joy I have received was – when you gave them all away.
Happy Birthday – James
I LOVE YOU
© Patty Patrick
International DJ from Radio St. Florian am Inn Austria
-=-=-=-=–=-=-=-=-=-=-=-=-=-=-=-=-=-=-=-=-=
If you still want to add your Birthday Wishes to the man of the moment "James Allen" you are most welcome to either comment here and send me a separate message by mail to francemaritz@aol.com and I will add it to this Happy Birthday Column for James above