Kenny Chesney Takes "Fishbowl" To The Top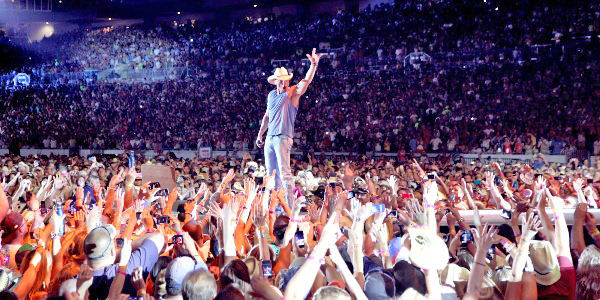 Wednesday, June 27, 2012 – Kenny Chesney's "Welcome To The Fishbowl" will debut at number 1 on Billboard's Top Country Albums Chart with more than 193,000 albums sold, according to Nielsen SoundScan. This is his 11th consecutive album to debut at the top. "Fishbowl" debuts at 2 on the all-genre Billboard 200 Chart behind Justin Bieber's "Believe." First-week sales of "Fishbowl" eclipse the first-week sales of Chesney's last three album releases, including the platinum-selling "Hemingway's Whiskey," which produced four number one singles and a top five song. "This dramatic increase in sales is a real testament to the strength of his new music, as well as the continued momentum of his career at every level," said Gary Overton, Sony Music Nashville Chairman & CEO "Fishbowl" has already yielded the Top 10 hit Feel Like A Rock Starwith 'Brothers of the Sun' Tour partner Tim McGraw, and his current single, Come Over.
Kenny Chesney is synonymous with all things summer and good times. "Welcome to the Fishbowl" is a radical departure. If you're going to drink a beer and listen to this album, you may need a Prozac chaser. It is a bit short on fun as Chesney deals with terminal illnesses, loss of privacy and lost love.It leads off with the catchy Come Over, which is in the same vein as Lady A's Need You Now. On Sing 'Em My Good Friend, a man selling an old guitar full of memories relates the story of a woman suffering from cancer. "She spends her days downtown hooked up to some machine They say time can heal, but time can't heal everything. The lord's gonna take her home real soon flyin' on, angels wings" Equally depressing is While He Still Knows Who I Am where a son vows to spend more time with his father before he slips into the inevitable grasp of Alzheimer's. The heavy-handed lyrics seem disingenuous, and he is not very believable delivering such sad material. Thankfully, there are a few reprieves from the melancholy with the stadium ready Tim McGraw duet Feel Like A Rock Star and toward the end on Time Flies which advises the freshly single…
"Sail Away the Captain
Feel The Jolly Roger
Talking to a Cutie
Heading for the booty"
Now that's more vintage Chesney. While it may be his standard party boy fare, it's the material he delivers best. The album doesn't feel like he's evolving, but rather like a diversion.