Sugarland Mum On Report It wanted Show To Go On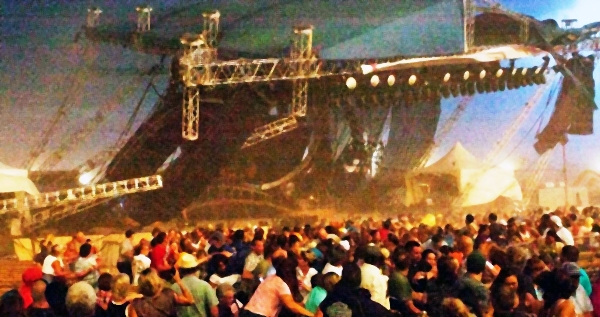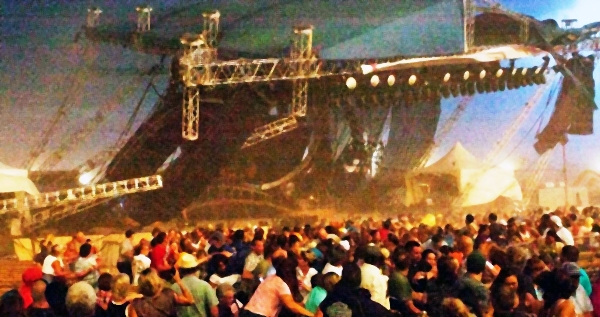 Sugarland stays mum on report it wanted Indiana show to go on  Let's hope that that the band, their tour manager, or promoter has no blame in this tragic happening. I hope that weather will be the entire blame. I would also hope that Jennifer Nettles and her warm-up routine has nothing to do with bad weather. I am a little amazed that a warm-up routine would have anything to do with the timing of a show. If I remember correctly, through the years, the artists who came up through the ranks never had a warm-up, and never had problems with the voices before they became successful. They were accustomed to singing in honky-tonks all night long, then traveling to the next show in all kinds of weather conditions, and never had a "warm-up routine." Sounds like some artists in today's music believe they are so special that they cannot go on stage and perform unless they have a warm-up routine. I wonder what course of action these allegations will lead to in the court system.
Country music duo Sugarland remained silent a second day Thursday over an assertion in a sworn deposition that it twice refused to delay an Indiana State Fair concert moments before high winds from an approaching storm caused a deadly stage collapse.The allegations surfaced in a court deposition released this week as state workplace safety officials announced more than $80,000 in fines for multiple violations leading up to the Aug. 13 collapse of a concert stage that killed seven people and injured dozens more in Indianapolis.The accident has spawned lawsuits, as well as a call for tighter regulation of outdoor stage safety.
The company facing the largest fine from the Indiana Occupational Safety and Health Administration as a result of the accident released portions of a Jan. 16 deposition given by Cynthia Hoye, the state fair's executive director, taken in a wrongful-death lawsuit. In it, Hoye said she twice sought to delay the show within an hour of its scheduled start because of an approaching thunderstorm. Both times, a concert promoter said Sugarland wanted to go on, she said. "They (Sugarland) were trying to get to Iowa to play the Iowa State Fair, and so they said they did not want to delay," Hoye said, according to the transcript. The promoter also said Sugarland was concerned a delay would disrupt lead singer Jennifer Nettles' voice warm-up routine, Hoye testified. According to a contract being negotiated by Sugarland with the fair, posted on the State Fair's website, Sugarland or its representative had the right to cancel the show because of bad weather.In the document, one paragraph says that the "artist or artist's representative" could call off the show "at his discretion," although the word "sole" is scratched out before "discretion."
Other news reports over the past six months said that the State Fair executive had the final say-so about whether to cancel or postpone the concert. Officials of Sandbox Management, Sugarland's Nashville-based manager, did not respond to emails or phone calls from The Tennessean Thursday. The fair declined to comment. Mid-America Sound Corp., which owned and supervised the construction of the stage scaffolding that fell, released the partial transcript of Hoye's deposition. The Indiana Occupational Safety and Health Administration fined Mid-America $63,000, saying the company did not inspect the rigging during or after construction. The scaffolding was not properly erected, and soil conditions at the site were not considered at key anchor points, the agency said. "The evidence demonstrated that Mid-America … was aware of appropriate requirements and demonstrated a plain indifference to complying with those recommendations," Indiana Department of Labor Commissioner Lisa Torres said at a news conference. Mid-America disputed that, saying it had consistently reminded fair officials that the stage shouldn't be used when winds were 25 mph or higher and should be evacuated if they reached 40 mph.
Union faces fines
The agency also fined an International Alliance of Theatrical and Stage Employees Local for $11,500 because of "serious" safety violations, and it cited the State Fair Commission for failing to "have conducted an adequate life-safety evaluation and plan prior to the event." The fair was fined $6,300, which it paid on Thursday.
William Groth, an attorney for the stagehands union, said it would challenge the agency's finding and will refuse to pay the fine unless ordered to do so by a judge.
"We don't control the premises, we are not the owner of the premises, and we have no power of decision-making," he said. "We are union laborers who do what they are told."
Many watching the case, including attorneys for those killed and injured, said it appears the blame game is at full tilt. "They're saying, 'That wasn't my job, it wasn't my responsibility,' or 'It doesn't meet the definition,'" said J. Norman Stark, an attorney and forensic architect. Someone has to take responsibility." With so many people involved in a show — venue officials, production managers, on-site security or police officials, and the artist or band, among others — it isn't always clear who has authority to cancel or delay events, those in the concert industry say. "It literally varies from show to show," said Larry Smith, owner and publisher of Nashville-based Mobile Production Monthly, a trade magazine. "Normally, it's collaborative. If everybody listens to everybody else, usually everyone comes to the same decision."
Kenneth J. Allen, a Valparaiso, Ind., attorney who represents the estates of four people killed, downplayed the significance of the IOSHA report. "It is an agency of the state of Indiana, and its findings are marked by political considerations," Allen said. "My sense is it's an attempt to shift focus to the workers at the bottom rather than people at the top."The Occupational Safety and Health Administration report did not find fault with Sugarland because its agreement with the fair left workplace issues to others, said Torres, the Indiana labor commissioner. Allen said the report has little bearing on his lawsuits. "My investigation includes people who weren't even mentioned in theirs," he said, including the band Sugarland.
The Nashville country duo, which consists of Jennifer Nettles and Kristian Bush, has been named in a lawsuit filed by 44 survivors and family members of four people who died. Concert promoters, stage companies and riggers, and other concert organizers also are named in the suit, which was filed last fall in Indiana's Marion County Circuit Court. The suit alleges the stage structure was inadequate, dangerous and overloaded with gear. The suit claims the weather wasn't appropriately monitored, no proper emergency plans were in place and no one took the proper steps to warn concertgoers. The suit singles out Sugarland, saying: "Sugarland was not required to perform if Sugarland determined their performance would be impaired or prevented due to inclement weather." IOSHA said its probe and report was limited to workplace safety alone. Two other state investigations, which could take several more weeks, are looking at structural and engineering issues and the fair's preparedness and response.
—By Duane Marsteller, The Tennessean and John Tuohy and Tim Evans, The Indianapolis Star
Stage collapse time line
Aug. 13, 1 p.m.: State Fair officials speak with an National Weather Service (NWS) forecaster by phone. Forecaster explains that a severe thunderstorm is expected in Indianapolis between 8 and 9 p.m. and mentions the possibility of up to 60 mph winds.
5:57 p.m.: NWS issues a severe thunderstorm watch lasting until 1 a.m. Sunday. A few minutes later, State Fair officials speak directly with NWS.
7 p.m.: Fair officials contact NWS and receive a prediction that a storm with strong winds will arrive at the fairgrounds between 9 and 9:30 p.m.
8 p.m.: Fair officials contact NWS and receive a prediction that a storm with 40 mph winds and small hail will arrive at the fairgrounds about 9:15 p.m.
Approximately 8:15 p.m.: Meanwhile, north of the fairgrounds in Fishers, Conner Prairie Interactive History Museum tells an outdoor concert crowd of 7,000 there to evacuate.
8:39 p.m.: Storms intensify. NWS issues a severe thunderstorm warning, its most serious classification, for Marion County. Forecasters warn of "a line of severe thunderstorms capable of producing quarter-sized hail and damaging winds in excess of 60 mph."
Approximately 8:45 p.m.: Sugarland is scheduled to take the stage but doesn't. The band's tour manager eyes the sky and holds the band backstage.
Announcer tells concertgoers that the Sugarland show will go on. He also tells them how and where to seek shelter if an evacuation is ordered.

8:49 p.m.: A gust of wind of up to 60 or 70 mph strikes; the stage collapses.
— Indianapolis Star
Read the allegations
For the Indiana report , go to http://1.usa.gov/qCB6s0.
This article send in by Marty Martel