Rodeo Girls Dance To Allen Karl's Hit "Butterflies"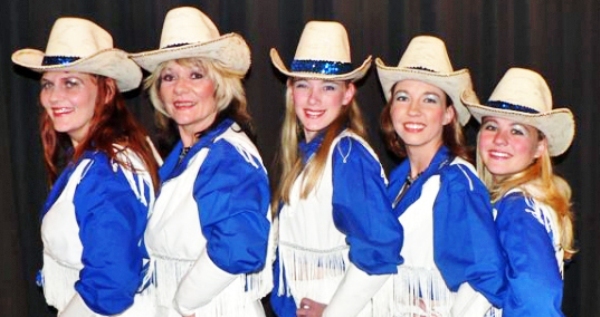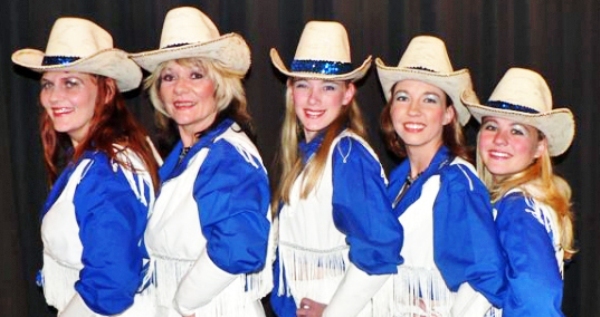 The Rodeo Girls run by Lientjie Bayman, are a group of ladies of all ages, the youngest being only 12 years old, who travel across South Africa entertaining the public with their professional and fun Linedance routines.
The Rodeo Girls have been performing at shows and offering tuition for the past 14 years and though the faces in the group have changed from time to time, their performances have always been of the highest standard. You will always find the Rodeo Girls on stage with different costumes but that will always include the theme of Blue Jeans, Cowgirl Skirts with waistcoats, Cowboy Hats and Boots to match. At Wildhorse Entertainment we believe that the "Rodeo Girls' are as Country as Country can be.
You can always count on the Rodeo Girls to get the party started, which they have done at Flea Markets, Casino's, Corporate Functions, Birthday parties, Weddings, Charity functions, Fashion Shows and not to mention being the preferred Linedance backup dancers for if not all, then most of the cream of the South African Country music stars live shows and TV performances. The Rodeo Girls have also appeared on dozens of Music DVD's by top artists. They have also amongst their long list of awards received them from places in the USA as New York, Florida and have had the privilege of dancing in Country Music's Dream City, Nashville, Tennessee.  
The Rodeo Girls have recently made headlines with their DVD recording of a Linedance for Independent Superstar "Allen Karl's" huge international hit "Butterflies" This video was sent to Wildhorse Entertainment and to the production team of Allen Karl, James Allen Promotions and RhonBob Promotions. Comments passed by these people have been most rewarding thus far as James Allen and Allen Karl have said the DVD was simply amazing. It is not sure yet what will be the outcome of this DVD as it may form part of worldwide promotional champagne promoting Allen Karl's 2012 European Tour. There are also rumors that Donna Jean Cunningham may accompany Allen Karl on this tour. But that will be another great story later this year
We at WHISNews21 wish the Rodeo Girls and Lientjie only the very best in their very bright future, and we are proud to know that they not only work with the major, local and International artists, but find the time to work with all Independent Artists worldwide too, who from time to time, may need a professional Linedance group backing up their performances.
Written by Frans Maritz of Wildhorse Entertainment for WHISNews21