Loretta Needs To Listen To Independent Country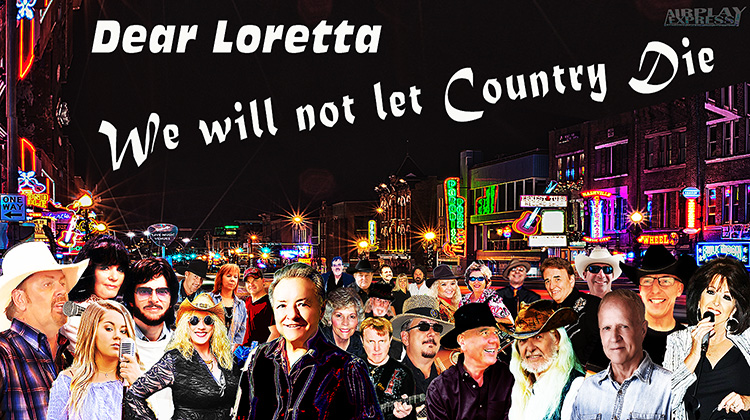 Loretta Needs To Listen To Independent Country
Hall of Fame Icon Loretta Lynn Has Pronounced Country Music "Dead,"
We all love Loretta but for her to say that Country Music is dead, it is like making a statement in a Box. "I'm not happy at all," she explained. "I think that they're completely losing it. And I think that's a sad situation because we should never let country music die. I think that every type of music should be saved, and country is one of the greatest. It's been around, as far as I'm concerned, longer than any of it." Loretta said.
With all respect to our Hall Of Fame Icon, Loretta Lynn, she needs to listen to Independent Country. The Independent Country artists have been keeping the Traditional Country and real Country candle burning for longer than we care to remember. While artists like Taylor Swift and so many others, not even worth mentioning have deserted Country to expand their fan or should I say money base, the Independent Artists have been working harder than ever to keep Country music alive.  The Independent Artists have been putting their money where their mouths are, by spending their hard-earned money to record their real Country music in expensive studios with top class musicians and producers. Some have even spent thousands of hard-earned dollars promoting themselves, with little or no return on their investment.
Loretta Lynn herself has wondered away from Country from time to time so she is no angel when it comes to adding a few nails in Country's coffin. However, it seems she has realized that something must be said and done about Country and especially about Traditional Country before its too late in her opinion.
It is my opinion and an opinion that I believe to be true that Country is being kept alive by the Independent Country Artists. If it were not for Independent Artists worldwide Country would truly have died a long time ago.
I know there are so many Independent Artists, I could fill a book with their names. However, here are just a few we are familiar with and please forgive me if I have left someone out as it would not have been intentional. It is also to be noted that these artists don't always stick to Pure Country either but they all support Traditional and Country music and their songs and songwriting mostly prove that point.
Below are a few of the Brave artists/songwriters fighting for Country Music, who deserve to be named for truly keeping Country Music alive in 2020, with their songs and songwriting:
Allen Karl, Donna Cunningham, Larry M Clark, Kent Gill, Dave Caley, Jack Blanchard, Misty Morgan, Rose Angelica, Richard Lynch, Rita Faye, Annemarie Picerno, Luanne Hunt, Keith Bradford, Pat Garrett, Bobby G. Rice, Barbara Blevins, Audre Belt, Mike Contoni, Marty Denton, Marge Miller, Dan Schafer, Wendy, Steve Zuwala, Donny Richmond, Marty Dunn, Terry Crabtree, Eddie Cunningham, Todd Barrow, Terry Lawrence, Dan Kouba, Connie Cassell Tuck, Mandy Barnett, Frank Howell, Jackson Nickels, Crazy Joe,  Shane Bates, James Marvell, Michael Parker, Brad Tucker, Suzy Dalton, Vic Holdroyd, Billy Mac, Steve Hunt, Ricky Johnson, Preston A Starks, Lajay Dailey, Paul Arman, Timothy Bennington, Richard Lynch, Bob McGilpin, Mick McMains, Anna Watkins Anawalt, Tattoo Billy, Pappy Jack Stracker, Tim Fogarty, Dennis DiChiaro,  Caleb Twidwell, Tammy Kendrick, Cowboy Lone,  Chris Loid, Ed Dailey, Dean Holman, Todd Souhrada, John McCabe, Wayne Jacobs, Fraser Newcombe, Steven K, and the Bounty Hunters.
Country music may really have died a long time ago if it were not for the dedication and loyalty of the artists and songwriters mentioned above. "We at AirplayExpress salute you and thank you for everything you do, and hope you will never stop our ongoing Crusade to save the music we all love so much, Country Music." Frans Maritz
If Loretta gets to read this article let it be known that Independent Country will never let the mainstream artists or major radio stations kill Country music. It will always be alive on Independent Country and Independent Country Radio. Long live Country Music as we know it.
 – AirplayExpress 2020