Latest at Pat Garrett's Amphitheater this Summer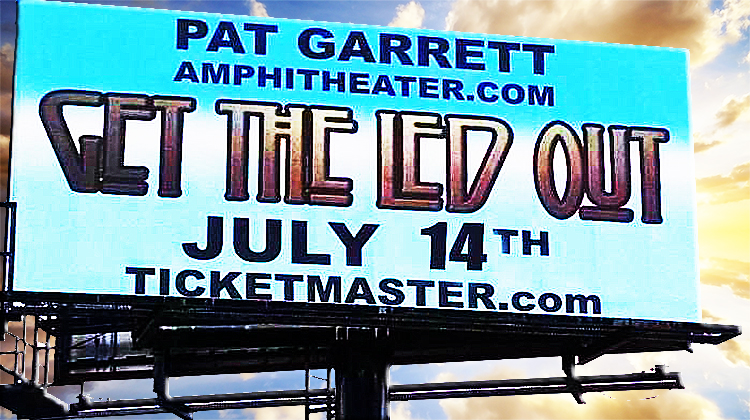 Get The Led Out at the Pat Garrett Amphitheater This Summer
Listen to music in the beautiful grassy fields at the foothills of the Blue Mountains
If you have never been to The Pat Garrett Amphitheater, we have a world class stage, 102′ Wide and 40′ Deep, with a 35′ High Roof. set in a beautiful well groomed grassy field, at the foothills of the Blue Mountains for your listening pleasure. Located at the intersection of Routes 78 & 183.
"Its a beautiful venue, in a peaceful well groomed country setting." Pat Garrett
Strausstown, Exit 19, just off Route 78, on the North West Corner. Entrance 500 yards North on Route 183. On Site Parking ! We have great variety tasty food an beverage vendors. Beer & Wine & Mixed Drinks served on premises, at reasonable prices, sorry coolers not permitted.
"Get The Led Out" Presented by Flagship Music Productions 
"GTLO" will be appearing again at the Pat Garrett Amphitheater this summer on July 14th. It is their 4th time back here, and the crowd keeps getting larger each time ! They are a great show, don't miss it. We are also looking forward to a new show, Tusk & Eaglemania On June 16th, Eagles and Fleetwood Mac tribute bands both the greatest ! Looking forward to hearing and seeing them. Also the Pinnacle Jam, July 28th, with bands " A Box of Rain" "Miz" and "MIstery Train" it will be Rockin' On September 15th "Echos" returns, a Pink Floyd tribute with a great light show. Awesome. The Berks Pepper Jam performed on May 26th & 27th and again on June 30th for The Berks Wine Festival.
You can save $5.00 on the Music show Tickets, buy buying advance tickets at the Sheepskin Shop, no service charge on tickets for cash sales, credit card sales $2.00 service fee.
On Stage VIP balcony Tickets Available too, which gives you a roof and chair on the stage, and free range of the entire Amphitheater. Folks sitting in the grassy field should bring a lawn chair.
To see more about the Amphitheater, ticket prices, and other ticket outlets, visit our web site at www.pgamp.com
Look forward to seeing you this summer 2018., at Berks County's WOODSTOCK.
We are at the Sheepskin Shop Everyday 8am to 6pm / Route 78 &183 Exit 19 Strausstown, PA / Gps Address: 8373 Rte 183 Bethel, PA 19507 / Call us at 610-488-1782 / Visit our Website www.sheepcoat.com Please share this email with your friends that love music in a peaceful setting.