South African Toll Gate Torn Down In Gauteng, S.Africa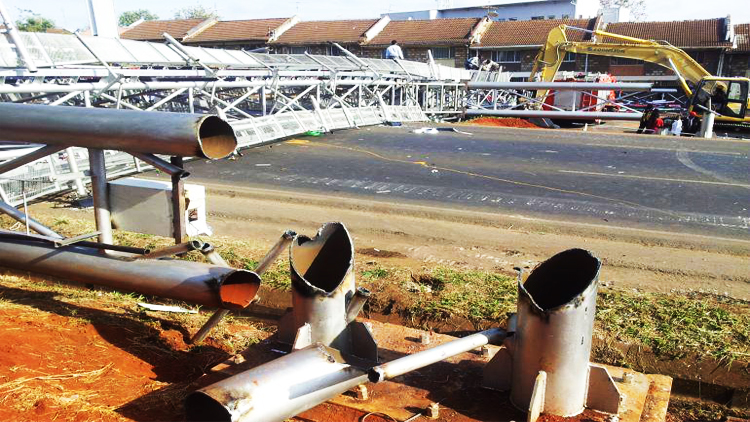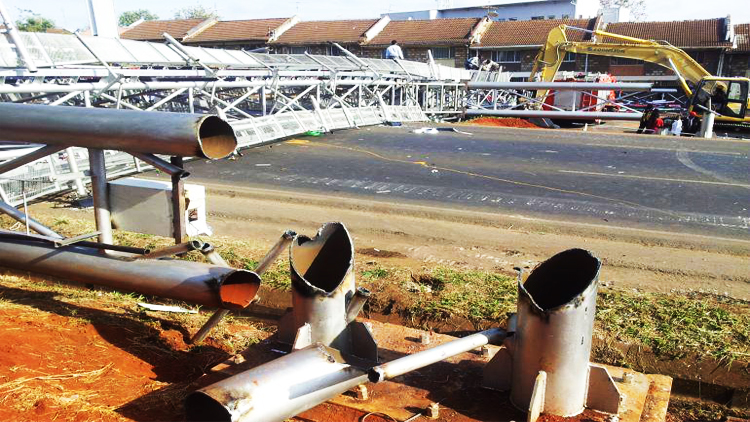 Rumors That A Toll Gate In Guateng South Africa Has Been Torn Down
We received this picture at our email outpost with the caption "One Down Dozens To Go" We cannot find any proof that this is a hoax or not. It certainly looks real, but there are no reports in the South African press to confirm that this picture is real or not. If this picture is in fact real then it seems as though the news is being hushed up for some reason or other. What we do know is that 90% of the majority of South Africans are against the new toll roads. There have been many violent and peaceful protest against the new toll roads. Below is a recent article published in BBC Africa News:
South Africa's contentious toll road system has opened around Johannesburg, with huge traffic jams after motorists flocking to use alternative routes.
Opposition parties, trade unions and churches are calling for a boycott of the much-delayed system, saying it is unfair and badly designed.
The "e-toll" system affects the ring road around Johannesburg and the motorway to the capital, Pretoria.
The government says the toll is need to pay for improved roads.
The BBC's Pumza Fihlani in Johannesburg says the issue has become increasingly political just months away from a general election.
'Highway robbery'
Traffic reports around Johannesburg and Pretoria said there were bumper-to-bumper jams on suburban roads.
Critics say the toll is unfair as South Africans already pay fuel tax and other tolls
A police spokesperson described the congestion as "chock-a-block" and added that it had not eased up since early morning, the Sapa news agency reports.
Our correspondent says that, in contrast, there was little traffic on the new toll roads.
Critics say the e-toll is unfair because South Africans already pay a fuel tax, VAT and existing tolls – some roads now have both e-toll gantries and a conventional, manned toll-gate.
The government say registered users would pay a "capped-fee" 450 rand ($43; £26) to use the roads each month, while those who do not register could pay up to three times as much if they do not pay within seven days.
Their car number plates are scanned by gantries over the toll roads and bills sent to their homes if they have not paid in advance.
Local organisations have campaigned unsuccessfully for several years to have the project stopped, even launching a last-minute legal case, which was rejected.
Critics have described the system as "highway robbery".
The government says the e-toll is the only way it could have afforded to improve the congested roads around the commercial capital, Johannesburg.
The South Africa National Roads Agency (Sanral) has urged motorists not to break the law or face living with a criminal record.