Was He Really Fired Or Put On The Kings Suspension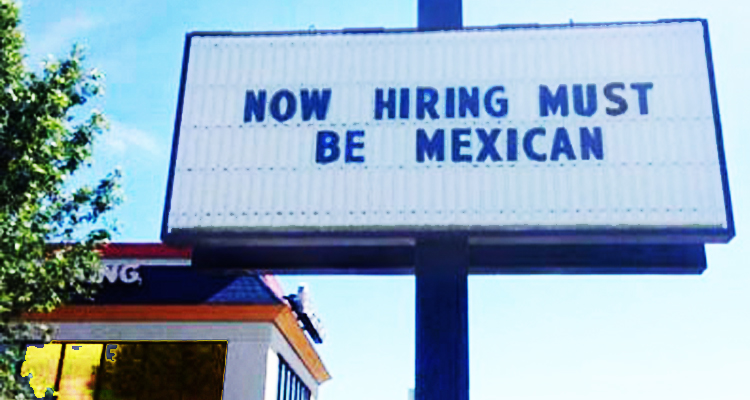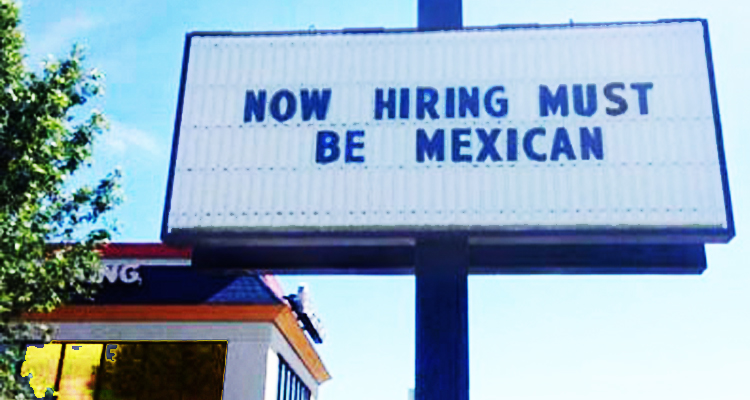 So the worker was Fired, that is a big surprise in this new Liberal America, maybe it's not True ?
I have been travelling around the USA recently and have frequented many fast food outlets and have seriously thought that what I have just seen on this billboard was the latest policy adapted by all fast food outlets across the USA. I have very seldom been in a fast food outlet that did not have the sights and sounds of a Spanish compliment of staff on hand. When I look around me in the US of A, I have to wonder if there are any more Mexicans or Cubans left in Mexico and Cuba. Maybe if the fast food outlets don't employ anyone other than Spanish speaking workers, which I believe is already their policy, then surely the Spanish is now the new Americans and the Americans as we new them are all just too scared to stand up and defend their rights and perhaps deserve to loose their way of life. In closing I should remind all red blooded Americans that the Spanish once conquered the world, America is only a small part of that world, and more than half is already conquered and secured by the Spanish. Maybe the Star Spangled banner will be sung in Spanish soon, I know Bush stopped that notion once but Obama will have no problem with that. Dont get cross with me I am only trying to open eyes and ears a little.
WELL BELOW IS THE ARTICLE THAT GOT ME TALKING TOO MUCH AS USUAL, I DONT EVEN KNOW WHY I WORRY ABOUT AMERICA SO MUCH WHEN I HAVE MORE THAN ENOUGH PROBLEMS IN SOUTH AFRICA RIGHT NOW, I HAVE BEEN TOLD I CAN STAY IN SOUTH AFRICA IF I DO AS I AM TOLD, IF NOT I WILL BE PUSHED IN THE SEA, YES SIR NO SIR THREE BAGS FULL SIR.
Burger King Worker Fired For Sign Saying, 'Now Hiring Must Be Mexican'
As countless Americans struggle to find work, many can't help but wonder — is the search all the more difficult because of competition with immigrants? The conflict may be irrelevant at times, but here appears to be an instance when the role of immigration in the workforce was forced under the spotlight. "Now Hiring Must Be Mexican," a billboard outside a Burger King in Ephrata, Washington, recently read, as was reported by local radio station KFFM.
KFFM also polled its readers on whether they found the sign offensive. Eighty percent have said yes, as of the latest tally. The incident has also touched a nerve among Burger King fans on Facebook. And even though it appears just one employee was behind the sign, people like Susie Carol Mallard Hortman are calling for a boycott of the company on its Facebook page. "I will not be your customer ever again," she wrote.
THERE WAS MORE TO THE ARTICLE, BUT LIKE HILLARY CLINTON SAYS, "WHAT DOES IT MATTER!" YOUR NEXT BURGER WILL BE HANDED TO YOU BY A SPANISH SPEAKING SERVER ANYWAY.