Challenges Of U.S. Female Veteran Amputees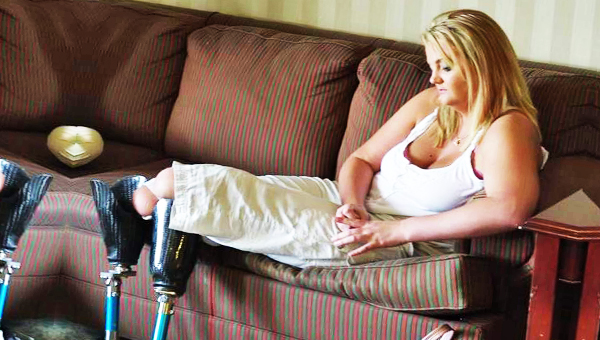 Film shows challenges of female veterans
Screening features amputee
 Written by Tom Wilemon-The Tennessean  Photo by Peter Williams
.
Sue Downes was a driver and gunner in Afghanistan." "Sue Downes, the first female double amputee from the war in Afghanistan, will drive five hours from the small town where she lives in East Tennessee so she can share stories with other female veterans on Monday during the screening of a documentary.
She is one of the stars of "Service: When Women Come Marching Home." The documentary chronicles eight veterans and the challenges they face — both physical and invisible. Fitted with prosthetics and able to fully walk, Downes said she is resilient but feels isolated living in her hometown of New Tazewell.
Other than family, church members and her service dog Lyla, she said, "I don't have any support really. The support that I have gotten has been from people outside the area, from outside the state to be honest."
Downes, who served as a driver and gunner in Afghanistan, had both legs amputated below the knee after her Humvee hit land mines in 2005.
From the beginning of her recovery, she has known that she would be different from the typical soldier amputee. Military doctors at first did not have expertise in fitting prosthetics for a woman. Special coverings to resemble a female leg had to be ordered. Then there was the issue of fluctuating weight patterns — something that occurs more often in women than men.
After coming home from Walter Reed ArmyMedical Center in Washington, D.C., she was barred from bringing her service dog into the VA hospital in Johnson City. Downes went back to Washington and testified before a congressional committee to get that rule changed. The film captures those moments.
People shopping for groceries at the Food City in New Tazewell would never know Downes is a double amputee on a good day. On a bad day, they don't see her.
"There's days I can't walk because I'm in pain," Downes said. "Lyla brings me things. She can cut lights for me. She's there for comfort."
As a soldier, she had a good rapport with the men in her unit who helped save her life. Other female veterans weren't so fortunate, said filmmaker Marcia Rock.
"No matter where we started in the conversation with women veterans, we almost always ended up with post-traumatic stress disorder and, unfortunately, too many times with military sexual trauma," Rock said.
Contact Tom Wilemon at twilemon@tennessean.com or 615-726-5961.
Article sent in out of concern by Marty Martel