Fought Barehanded Against two Men to Save Her Son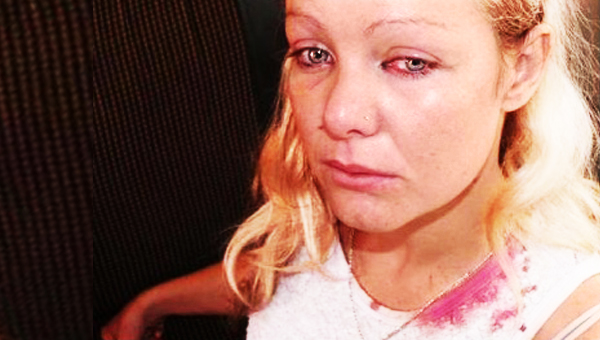 South African mom Theresa Engelbrecht (32) fought barehanded against two men and
saved her son from kidnappers 7 March 2013 Thelma Koorts writes:
32-year-old Theresa Engelbrecht fought fiercely against two black males who were trying to kidnap her two-year-old son Stefan Bates and hijack her car. Stefan was seated in his seat in the back when his mom was attacked at 6h30am when she pulled up in front of the house of her sister-in-law Corrie Oliveira near the kindergarten in Brakpan CBD on Thursday 7 March 2013.
She let Stefan sit on the front seat instead of his usual child-seat in the back because the kindergarten was just around the corner from Mrs Oliveira's house and she'd just stopped there to drop something off. "It was probably a wise decision to let Stefan sit in the front,' she said afterwards. "Stefan had started crying and so I let him sit on the front passenger seat.' She then stopped at the kindergarten and walked around the car to pick up Stefan from the passenger seat when a man walked up to her and said 'hello'.
"The next moment I saw his gun in his hand as he was grabbing for the car-keys. I told him I just wanted to get my child out but he was aggressive and told me to shut up. Meanwhile I was trying everything I could to stop him from grabbing my car-keys." She struggled bare-handed with the man and he was pistol-whipping her against her head.
He was joined by a second man who also joined in the fray. She was fighting to stop them from taking the car with her child inside. "While I tried to get Stefan from the car I was also pulling the kindergarten's front gate, everything went very quickly but I know I managed to get Stefan out of the car just as one man plucked the keys from my hand.
I shudder to think what would have happened if Stefan had still been strapped in his backseat, it would have been so much more difficult to get him out of the car,' she said. The two men jumped into her car and drove off while the kindergarten-owners rushed out to help her. Strangely, shortly thereafter her 'hijacked' car was found back in front of the Post Office Spar.
Only her cellphone was missing but her handbag was still in the car… She sustained cuts to her head which required stitching by a doctor. She told The Herald that it was important for her to talk about it. "Usually I will look around and make sure there are two or three other parents showing up at the same time to offload their children. This morning I was alone. I urge parents who offload or pick up their children at any school to please be cautious at all times.
I don't know what I would have done if those men had driven off with my child'.
http://www.looklocal.co.za/looklocal/content/en/brakpan/brakpan-news-crime?