Garth Brooks, George Strait And A Lucky Drummer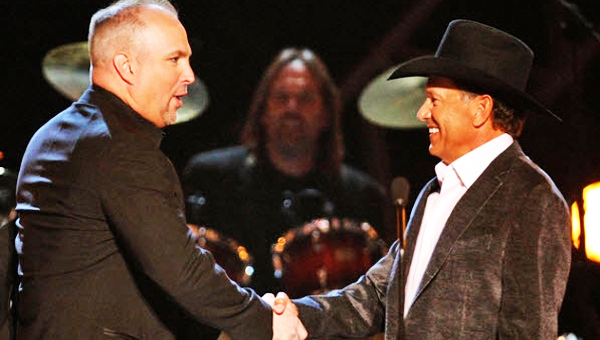 Superstars George Strait and Garth Brooks will pay tribute to iconic music business figure Dick Clark in a special performance at the 2013 Academy of Country Music Awards.
Clark was best-known for hosting 'American Bandstand' and his yearly gig on 'Dick Clark's New Year's Rockin' Eve,' but his production company produced the ACM Awards from 1979 on, helping turn the show into one of country music's biggest annual events. As a tribute to his lasting impact, Strait and Brooks will perform together for the first time ever. The two men are the most recent recipients of the ACM Artist of the Decade Award, which is being re-named the ACM Dick Clark Artist of the Decade Award in honor of the legendary broadcaster and producer.
"Dick helped make country music accessible to a larger fan base and his efforts will not be forgotten," Strait says in a press release. "Garth and I were so grateful when we each received the ACM Artist of the Decade Award, so it's only fitting that we'll be honoring him with this tribute performance at the ACMs."
Brooks adds, "I commend the Academy on naming the ACM Artist of the Decade Award after Dick Clark. Although there is no award the entertainment industry has that can match the magnitude of the star Dick Clark was, and still is, it is an honor to get to be a part of the Academy's tribute to him. There may be others who have contributed as much to the music industry, but there is definitely no one that has contributed more than Dick Clark. He was music's best friend, and a dear friend to me."
The 2013 Academy of Country Music Awards will air live from the MGM Grand Garden Arena in Las Vegas on Sunday, April 7 at 8PM ET on CBS.
Article TASTE OF COUNTRY