Within 24 Hours Two Buses Crash In Two Countries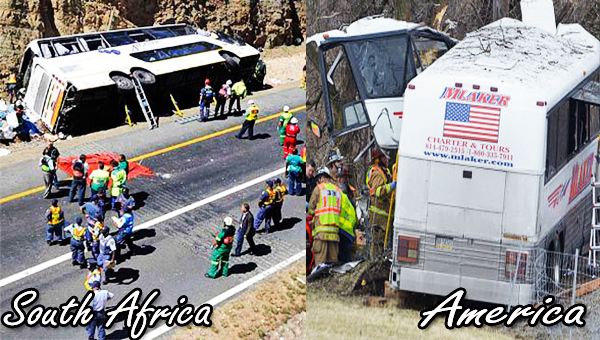 Two Busses Crash Tragically In Two Country's  Within 24 hours Of Each Other With Fatalities On Both Sides Of The World.
.
South Africa Bus Accident This Week: At least 22 people died when a bus veered off the Hex River Pass near De Doorns on Friday morning, Western Cape. ER24 spokesperson Vanessa Jackson said the double-decker bus was crushed against the side of the mountain along the pass. The South African Government calls this an unfortunate incident – News24
American Bus Accident This Week: Seton Hill Lacrosse Team Bus Crash Leaves 2 Dead, Including Pregnant Coach. A road trip by a college women's lacrosse team came to a horrifying end Saturday when the team bus veered off the Pennsylvania Turnpike and crashed into a tree, killing a pregnant coach, her unborn child and the driver and injuring numerous others. Seton Hill University team players and coaches were among the 23 people aboard when the bus crashed just before 9 a.m. No other vehicle was involved, and police couldn't immediately say what caused the crash.
Bus drivers the world over need to be careful with the passengers who entrust their lives to them on these trips that they take on the busses.