West Virginia Take Me Home Country Roads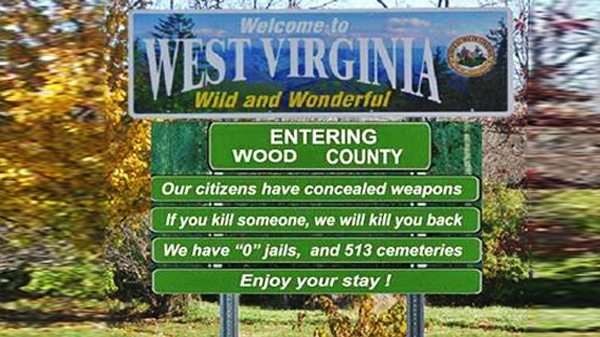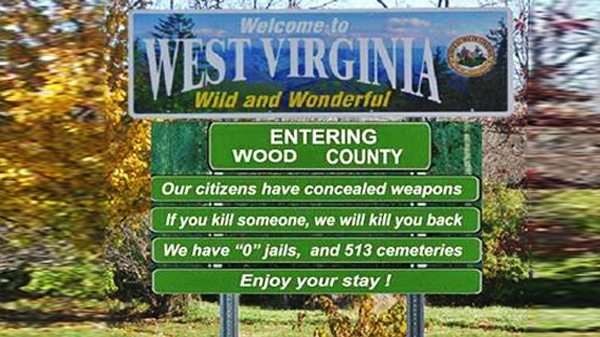 Some people may find this sign funny, but for me I would welcome it in my neighborhood. It may deter some of the senseless killings that are committed everyday in South Africa.
Welcome to West Virginia
Call us! We'll help make your West Virginia experience a wonderful one. The 1-800-CALL-WVA (1-800-225-5982) travel line is an information source, a reservation line, and a referral to other sources.
Toll-free connection to West Virginia – from anywhere in the continental United States and the Eastern Standard Time Zone of Canada.
Friendly travel counselors to provide you information about lodging, camping, fall foliage tours, highway maps, scenic travel routes, state parks, whitewater rafting, or other travel-related topics.
Toll-free reservations for some state parks and other lodgings and attractions through this number.
Timely response and directions provided to you through mail, e-mail or fax
Email a travel counselor at tourism.info@wv.gov
We look forward to sharing our beautiful state with you. We hope you will visit soon – and come back, again and again, to rediscover West Virginia's splendid rivers and mountains, its rich and engaging history, and its friendly people.
West Virginia celebrates its 150th year of statehood in 2013. The only state born from the turmoil of the Civil War today welcomes those looking for great outdoor adventure, scenic drives, unique culture and heritage, festivals, entertainment and fantastic food.