Does Kanye Feel Rejected By Swift & Can't Handle It ?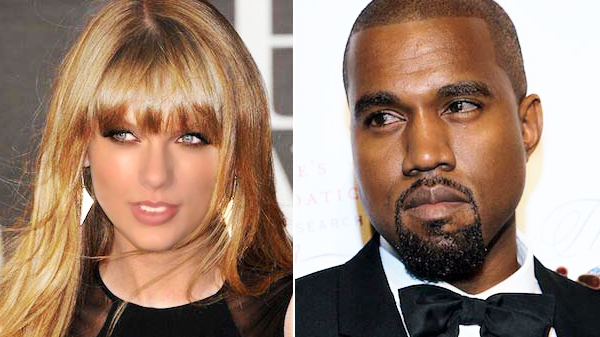 Kanye West Rips on Taylor Swift (Again) in Onstage Rant
It's been a few years since the 2009 incident when Kanye West memorably interrupted Taylor Swift during her acceptance speech at the MTV VMAs. Swift will probably never forget that awful moment, and apparently, West is determined to continue badgering the fan-favorite singer.
According to MTV, the father-to-be ripped on the 'Mean' singer while onstage during a headlining show in London. During his rant, he dug up his past comparison of Swift vs. Beyonce, saying, "Taylor Swift beat Beyoncé at the Grammys? Beyoncé be dancing in heels and s—." Swift probably sees West's name and automatically thinks, 'I Knew You Were Trouble.'
She shouldn't feel too targeted, as West was on a roll, blasting Justin Timberlake, the Grammys, corporations and just about any star who uses their status to sell drinks, mockingly asking, "Can I sell your drink for you please? So you can help me put on a better show." He may have heard that Swift signed on with Diet Coke, and Timberlake struck up a deal with Bud Light Platinum as their creative director.
Obviously, the rapper is not supportive of business-minded artists, as he thinks they should be focusing on their work and not on the ways they can add more money to their already-bulging bank accounts. He backed that ideology up with a question: "Since when was making art about getting rich?" While he may have a point, there is certainly a better way to voice an opinion than ranting onstage at your own concert for twenty minutes; the fans reportedly got a little testy, too, as they paid to hear West perform — not complain.
Picture: Eamonn McCormack/Steve Mack, Getty Images. Article: Taste Of Country
Kanye says, "Since When Was Making Art About Getting Rich" well I suppose if he really means that he should perform everywhere for free and give away his cd's for free. That way he is not making money out of his art dont you think ? Will he do that, NO!