Larry's Country Diner And Country Family Reunion TV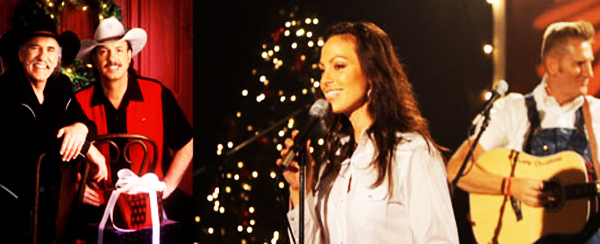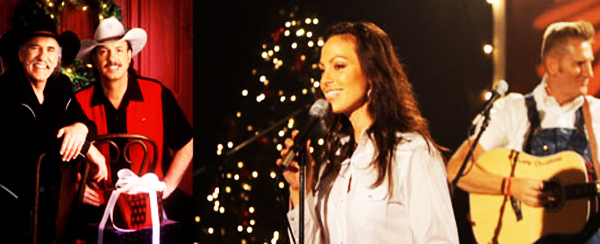 "LARRY'S COUNTRY DINER" AND "COUNTRY'S FAMILY REUNION"
TO HOST CHRISTMAS SERIES FEATURING THE BELLAMY BROTHERS
AND JOEY + RORY AT THE STARLITE THEATRE IN BRANSON
Nashville, TN  – Larry Black, host and creator of TV's programs "Larry's Country Diner" and "Country's Family Reunion" is pleased to announce he will extend his stay in Branson, MO with a series of Christmas shows to be held December 12-16 and December 18-23 at The Starlite Theatre (located at 3115 W. Hwy 76). The Christmas series, to be emceed by lovable host Larry Black, will feature Joey + Rory and The Bellamy Brothers.  Tickets can be purchased by calling The Starlite Theatre at 417-337-9333 or visiting starlitetheatre.com.
Black's highly popular shows, which air weekly on RFD-TV, pull an estimated 1.4 million viewers each and every month and continue to grow in popularity, giving rise to a successful line of "Larry's Country Diner" merchandise and an annual cruise that has sold out for the second consecutive year.   For more information on "Larry's Country Diner," or "Country's Family Reunion," please visit larryscountrydiner.com or www.cfrvideos.com.
Joey+Rory took third place in CMT's "Duets" competition and were immediately signed to Sugar Hill/Vanguard records.  Their 2008 debut "The Life of the Song" featured the hit single "Cheater Cheater."  They followed up in 2010 with "Album Number Two" and "His and Hers" was released in July of this year.  The duo hosts a weekly variety show on RFD_TV, "The Joey+Rory Show" filmed entirely on their Pottsville, Tennessee farm and community including their family-owned café Marcy Jo's Mealhouse.  "Joey and Rory's A Farmhouse Christmas" was filmed on a set built in their barn and was a featured holiday show on RFD_TV last year.  The show was so popular a DVD was released and a Christmas tour followed.  Joey and Rory will re-create "A Farmhouse Christmas" for Starlite Theatre audiences this December.
With a career that spans well over 30 years, The Bellamy Brothers have charted twenty Number-One country hits and more than fifty hit singles, starting with their first big hit, "Let Your Love Flow," which topped the charts in 1975.  Other notable hits include "If I Said You Had A Beautiful Body Would You Hold It Against Me," "You Ain't Just Whistlin' Dixie," "Sugar Daddy," "Dancin' Cowboy," "Do You Love as Good as You Look, "They Could Put Me in Jail," "For All the Wrong Reasons," "Get into Reggae Cowboy," "Old Hippie, "Kids of the Baby Boom," and "Cowboy Beat."  Raised in Florida, The Bellamy Brothers incorporated the sounds of their environment into their music, adding strong elements of rock, reggae and even rap.  While the brothers both graduated from the University of Florida (David with a degree in psychology and Howard with a degree in veterinary medicine), they played their first paying gigs for fraternity parties and decided to pursue music as a career.  David enjoyed early songwriting success when he met Jim Stafford, who recorded David's "Spiders and Snakes," which sold over three million copies providing enough money for the duo to move to Los Angeles and concentrate on their careers.  The rest is history…and today, the successful duo is still going strong, with over 200 tour dates a year and millions of fans across the globe.
Starlite Theatre Managing partner John Ghirardelli said, "The Starlite Theatre is pleased to continue its successful partnership with Larry Black of Larry's Country Diner/Country's Family Reunion fame.  Fans are packing the theatre for these shows and we are delighted to extend this series for the holiday season."
ABOUT GABRIEL COMMUNICATIONS: Larry's Country Diner and Country's Family Reunion are both products of Gabriel Communications started in 1996. Owned and operated by long-time disc jockey, Larry Black, the company specializes in reunion videos, including the popular Country's Family Reunion.  The success of this series spurred the creation of more than a dozen more projects featuring hundreds of songs and stories as well as Country's Family Reunion News, a monthly newspaper which highlights the music of yesteryear.  For more information, please visit www.cfrvideos.com. Since its initial airing on August 3, 2009, Larry's Country Diner has produced over 100 episodes and has become one of the most popular shows on RFD-TV, garnering 1.4 million viewers monthly.  Larry's Country Diner is a unique down-home variety show which integrates entertainment, interviews and music in a weekly format.  The show is taped LIVE in front of a studio audience in a country diner setting.  The show features regular characters including Black, Keith Bilbrey, Sheriff Jimmy Capps, waitress Renae and avid church lady Nadine, along with special guest appearances by country music artists of yesterday and today.  For more information, please visit www.larryscountrydiner.com.
---
For further information, contact: Webster & Associates Public Relations & Marketing Shelly Mullins /615-777-6995 x235 / shelly@websterpr.com
For Joey+Rory: Sugar Hill Records Donica Christensen/ 615-915-3049 x16 / donicac@sugarhillrecords.com
For The Bellamy Brothers: Don Murry Grubbs / 615-275-8380 / don@absolutepublicity.com