Glen Campbell's Last Studio Album It's Like My Way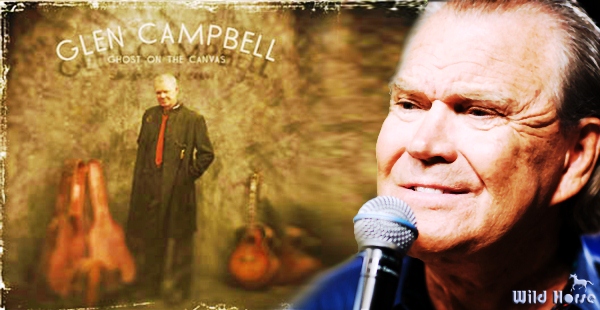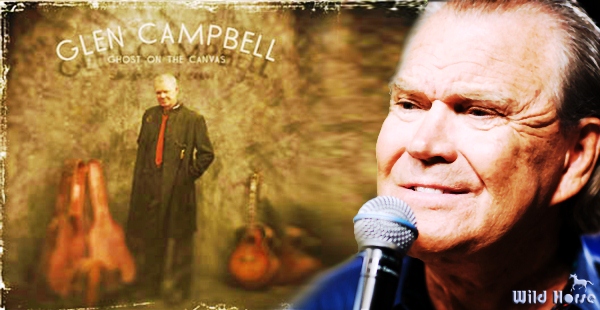 GLEN CAMPBELL'S ACCLAIMED FINAL ALBUM RELEASED NATIONWIDE
Ghost On The Canvas sees Campbell capping his brilliant career with one of his most moving and energized works to date, a powerfully emotional song cycle that sees him accompanied by a truly dazzling line-up of songwriters and musicians.
Nashville,  TN (September 10, 2012) – Surfdog Records has announced "A Better Place," the second video from Glen Campbell's critically acclaimed album Ghost On The Canvas, featuring a special guest appearance from Joshua Homme (Queens Of The Stone Age, Kyuss, Them Crooked Vultures) and directed by Kii Arens and Jason Trucco is being released to media nationwide.  This farewell video showcases Campbell looking back at his life and career. He also sends a personal message to his wife, Kimberley, a former Radio City Music Hall dancer that the Rhinestone Cowboy met on a blind date in 1981. "My love goes out to Kim, my amazing grace. You've been by my side through these changing times, and it means the world to me."

Ghost On The Canvas – the final studio recording of the iconic eight-time GRAMMY® winning singer/guitarist/songwriter – entered the SoundScan/Billboard 200 at #23 and the UK album chart at #27.  USA Today declared the record "a museum-quality masterpiece," extolling it as "not simply a coda to an impressive career but also the sort of artistic swan song that might receive serious consideration for album of the year come Grammy Awards time."  The Boston Globe called Ghost On The Canvas "gorgeous and charming" while Pitchfork noted that "Campbell conveys a certain nostalgia for that defining sound of his prime…His voice remains strong enough that he doesn't need your pity to put these songs across." "The years have added an edge to his singing," said Rolling Stone, noting "Dude's definitely not going out softly." The Village Voice perhaps summed it up best: Ghost On The Canvas is "maybe the finest album (Campbell's) ever made." The collection has met with similar acclaim across the Atlantic, where BBC Music declared it to be "the real deal, musical and emotionally true and sometimes devastating, on a par with (Johnny) Cash's performance on 'Hurt.'" Uncut awarded Ghost On The Canvas four stars, applauding Campbell's "majestic storytelling" while Mojo praised his "glorious undiminished tones, particularly his reckoning with the hereafter on 'A Better Place.'" Campbell has charted 13 albums in the UK in just over four decades, reaching #1 with the 1976 compilation, Twenty Golden Greats.
In addition to Paul Westerberg, Ghost On The Canvas features original songs by Jakob Dylan, Robert Pollard, and Teddy Thompson. Campbell is backed by a roster of players that includes Chris Isaak, Dick Dale, Billy Corgan, Brian Setzer, Rick Nielsen, Roger Manning, and The Dandy Warhols.  The album was produced by Julian Raymond, who also co-wrote a number of new songs with Campbell.
[youtube http://www.youtube.com/watch?v=JMh78jF-fMQ?rel=0]
About Glen Campbell:
For more than fifty years, Glen Campbell has been among popular music's most successful and significant artists, a multi-talented superstar who can rightfully be declared a living legend and a true American treasure.  The Arkansas-born Campbell took up guitar at an early age and in 1958, relocated to Los Angeles where he immediately became an in-demand session musician.  He joined forces with the legendary Wrecking Crew, a group of session players whose work can be heard on a stunning range of recordings spanning from the 1960's thru the seventies.  The Wrecking Crew played with such artists as Frank Sinatra, The Beach Boys, The Monkees, Simon & Garfunkel, Elvis Presley, and most famously, Phil Spector, with whom they helped create the famed "Wall of Sound." In 1964, Campbell was invited to become a touring member of The Beach Boys, playing bass and singing falsetto harmonies, then later contributing guitar to 1966's seminal Pet Sounds.
Campbell achieved his first major success as a solo artist with "Gentle On My Mind," which proved a crossover smash upon its 1967 release.  He followed it that same year with "By The Time I Get To Phoenix," marking the first in a string of collaborative hits penned by renowned songwriter Jimmy Webb that also includes such classics as "Wichita Lineman," "Where's The Playground, Susie," and "Galveston."
In addition to hit singles, Campbell also released a remarkable run of gold and platinum certified albums, including 1967's Gentle On My Mind, the first of seven consecutive collections to hit #1 on Billboard's "Country Albums" chart.  Among them are full-length favorites like 1967's By The Time I Get To Phoenix, Bobbie Gentry & Glen Campbell and the 2x-platinum certified Wichita Lineman (both released in 1968), and 1969's Galveston.
As if his musical career weren't enough, Campbell also drew acclaim as an actor and TV personality, with credits that include 1969's True Grit (earning him a Golden Globe nomination as "Most Promising Newcomer") and four seasons as host of CBS' The Glen Campbell Goodtime Hour.  The highly rated variety series saw Campbell joined by a spectacular assortment of stars – including John Wayne, Dean Martin, Ray Charles, and Cream – while also introducing some of country music's greatest artists (Johnny Cash, Willie Nelson, Merle Haggard) to a wide national audience.
1975 saw the release of Campbell's biggest crossover triumph, "Rhinestone Cowboy," which earned RIAA gold certification while topping both Billboard's "Hot 100" and "Hot Country Singles" charts.  Two years later saw Campbell repeating the feat with the gold certified, #1 smash, "Southern Nights," marking his fifth-ever country chart-topper as well as his seventh on Billboard's "Hot Adult Contemporary Tracks" tally.
Though Campbell's life has taken many difficult turns, his faith and family have long enabled him to keep pushing forward, both as a touring superstar and acclaimed recording artist.  In 2008, he united with Ghost On The Canvas producer Julian Raymond for one of the most unique albums in his canon, Meet Glen Campbell.  The album found Campbell putting his inimitable stamp on songs by such artists as U2, Green Day, Tom Petty, Foo Fighters, and Jackson Browne, supported by members of Jane's Addiction, Jellyfish, and Cheap Trick.
Over the course of his astonishing career, Campbell can lay claim to six Top 20 albums and 21 Top 40 hit singles.  His track record as one of country music's greatest stars includes 27 Top 10 country classics spanning 22 years, as well as nine #1 country albums.
Campbell has also received a stunning array of honors, beginning in 1967 when he made history by winning multiple Grammy Awards in both the Country & Western and Pop categories: "Gentle On My Mind" was honored as "Best Country & Western Vocal Performance, Male" and "Best Country & Western Recording," while "By The Time I Get To Phoenix" was named "Best Vocal Performance, Male" and "Best Contemporary Male Solo Vocal Performance."  The following year saw Campbell earning yet another Grammy when By The Time I Get To Phoenix was named "Album of the Year" – the first country album to win the top award.  What's more, "Gentle On My Mind," "By The Time I Get To Phoenix," and "Wichita Lineman" have all since received the "Grammy Hall of Fame Award."
Among Campbell's many other honors are seven Academy of Country Music Awards (including "Top Male Vocalist" and "Album of the Year" in both 1967 and 1968), three American Music Awards (celebrating "Rhinestone Cowboy" and the album that bears its name), three Gospel Music Association Dove Awards, two Country Music Association Awards, and the UK's Q Award for "Q Legend."  In addition, Campbell has received the Academy of Country Music's prestigious "Pioneer Award" and has been inducted to both the Country Music Hall of Fame as well as the Musicians Hall of Fame (honoring his membership in The Wrecking Crew).