15 Year Old Faith Christina Shirley Still Not Found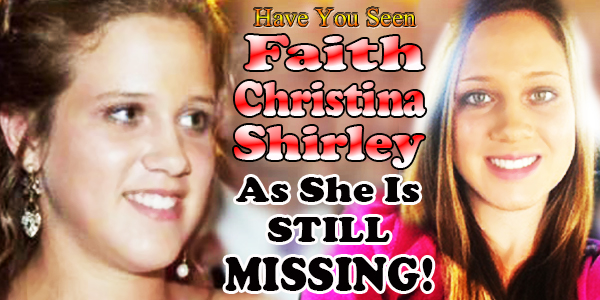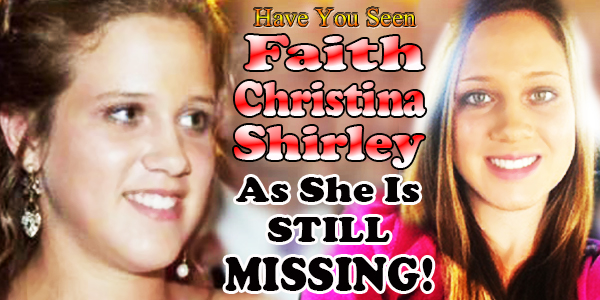 It was falsely reported last night that Faith Christina Shirley had been found safe and was on her way home,when she is in fact Still Missing and the rumors circulating on Facebook are untrue.
–
The FBI and Jacksonville Sheriff's Department are looking for Faith Christina Shirley (15) who vanished without trace on 7/18/2012 at 10:00pm from the Mandarin area of Jacksonville, Florida, specifically from the corner of Scott Mill Road and Kelsey Place. Nobody has seen or heard from her since, something which is totally out of character according to her family. Christina left her cell phone, backpack and ID at the house but may have taken her IPAD with her.  "Faith is a wholesome child, home schooled, very sheltered and as sweet and trusting as they come. Unfortunately in this case, that could be a double edge sword," Faith's big sister Ashley Wilson wrote in a Facebook message to the administrator of Seeking The Lost.  Faith was last seen wearing a purple v-neck shirt and navy blue shorts with flip flops.  She does not have any piercings or tattoos on her body and She is 5'7″ and 130 pounds with brown hair and hazel eyes.
If you have information to help locate her
please call the Jacksonville Sheriff's Department
at 904-630-0500 (or) 904-630-2627
and refer to CASE NUMBER: 12-5322105
–
Share the Jacksonville Police Department flyer on Facebook: https://www.facebook.com/photo.php?fbid=411447792225069&set=a.225056140864236.49739.222558184447365
Download the Jacksonville Sheriff's Department flyer here:
▬►1 per page: http://www.mediafire.com/view/?1bowy7647g6x46f
▬►4 per page: http://www.mediafire.com/view/?m3246qawmdcfbt4
================
NOTE: Faith's father has or will be contacting the National Center For Exploited and Missing Children to get Faith listed.
"Father God, we appeal to you now to supernaturally intervene and make a way where there may appear to be no way for this beautiful daughter to be returned to her family.  In Jesus name we pray." 
–
"I shall pass this way but once. Therefore, any good that I can do or any kindness that I can show, let me do it now, for I shall not pass this way again." 
John 3:16  "For God so loved the world that He gave HIS only son, that the world might be saved."  TODAY is the day of our salvation!  Make the decision TODAY to secure your eternal future.  Choose Jesus!
The information was sent in by Rhonnie Scheuerman for publishing on WHISNews21
*******