Carrie Cover's Non Country Song Is That Coldplay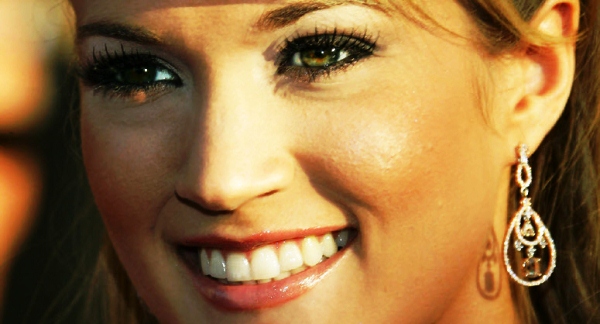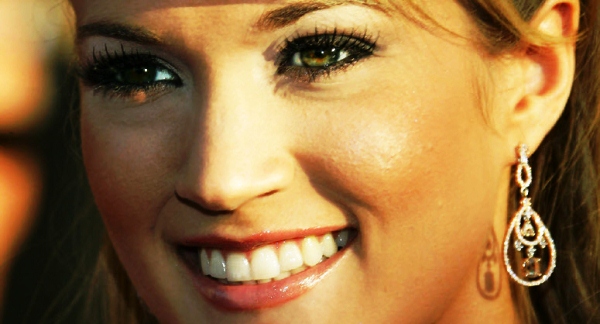 Carrie Underwood accentuated her first concert in the United Kingdom with a cover version of Coldplay's "Fix You," a track from the British band's 2005 album,X&Y. Tickets to her Thursday night (June 21) performance at London's Royal Albert Hall sold out within 90 minutes of going on sale. The concert promoted her new album, Blown Away, which was released this week in the U.K. Underwood also greeted fans Wednesday with an autograph session at the HMV Shop's flagship store on Oxford Street in London's West End. She travels to Australia for shows next week in Melbourne, Tamworth and Brisbane. She wraps up the tour with two shows in Sydney at the Sydney Opera House on July 2-3. Underwood appears Aug. 12 at the Boots and Hearts Music Festival in Bowmanville, Ontario, Canada, before launching her U.S. tour on Sept. 14 in Manchester, N.H.
The first country singer to win American Idol, Carrie Underwood grew up in the small town of Checotah, OK, and began singing with her church at the tender age of three. Throughout her childhood, she also performed at functions for the Lion's Club and Old Settlers Day, eventually grading to festival gigs in several states. Along with developing her singing, Underwood learned to play guitar and piano. She graduated from high school as her class salutatorian and majored in mass communication at Northeastern State College with an eye on a career in broadcast journalism, but continued her singing career throughout her studies. As a senior just a few credits short of her degree, Underwood heard about the auditions for the 2005 season of American Idol. She tried out for the show at the St. Louis, MO, auditions, and her innocent charm and pure, pretty voice ended up winning her not only a place among the 12 finalists, but the title of 2005's American Idol. Her debut single, Inside Your Heaven, was released that summer, and she began recording her debut album after completing the American Idols Live!tour. Some Hearts was released later that fall and became a smash hit, selling over 300,000 copies in its first week and eventually going platinum a whopping seven times. The album's lead single, "Jesus, Take the Wheel," was also a big success, topping Billboard's Hot Country Songs chart for six weeks.
Acclaim for the album and single spilled over into 2006, when Some Hearts re-entered Billboard's Top Ten after Underwood's appearance on the 2006 American Idol finale. Meanwhile, "Jesus, Take the Wheel" won Single Record of the Year at the Academy of Country Music Awards (where she also won Top Female Vocalist); a Dove Award from the Gospel Music Association; and Breakthrough Video and Best Female Video at the CMT Awards, making her the only double winner at the event. Despite her hectic career as a country music star — which included carrying her Some Hearts tour through the fall of 2006 — Underwood found the time to finish her degree and become a spokesperson for People for the Ethical Treatment of Animals (who named her 2005's World's Sexiest Vegetarian). "Before He Cheats" was released as Underwood's third single late in 2006, and became her third country number one and her fourth total number one hit. That December, she won five Billboard Music Awards: Album of the Year, Top 200 Female Artist of the Year, Female Country Artist, New Country Artist, and Country Album of the Year.
Early in 2007, Underwood began work on her second album, while "Wasted" became the fourth single taken from Some Hearts; she performed it on an episode of American Idol that March, and the following month, it hit number one on the Hot Country Songs Chart. Underwood gathered more accolades by winning three awards at the 2007 CMT Awards — Video of the Year, Female Video of the Year, and Video Director of the Year for "Before He Cheats" — and taking home two Grammys. She also took home three 2007 ACM Awards in May, which included Album of the Year for Some Hearts and Top Female Vocalist. She made another trip to American Idol late in the month for the sixth season finale, where she sang "I'll Stand by You" to a standing ovation. During the show, Clive Davis recognized Underwood's sextuple-platinum sales; Underwood was the first country artist to sell that many copies of a debut album since LeAnn Rimes' Blue in 1996. She also appeared on Brad Paisley's album 5th Gear, which was released in June 2006. Riding on that swell of support, Underwood released the sophomore effort Carnival Ride in October 2007. Four of the album's tracks hit the top of the country charts, pushing the album to multi-million sales and earning her an additional Grammy Award. Two years after the album's release, Underwood released her third studio effort, Play On, which found her devoting more focus than ever to her songwriting abilities. She co-wrote seven of the album's tracks, including the leadoff single, "Cowboy Casanova." Two years after the album's release, Underwood rolled out her third studio effort, Play On, which found her devoting more focus than ever to her songwriting abilities. She co-wrote seven of the album's tracks, including the leadoff single, "Cowboy Casanova." It and the two follow-up singles — "Temporary Home" and "Undo It" — all reached No. 1 on Billboard's country songs chart. In 2010, Underwood won her fifth career Grammy — the best country collaboration with vocal award — for her duet with Randy Travis, "I Told You So." Two months later she made her TV acting debut on the CBS sitcom How I Met Your Mother. The superstar wed professional hockey player Mike Fisher on July 10, 2010 Underwood continued to act between touring and recording and co-starred in the 2011 inspirational movie, Soul Surfer. Also in early 2011, the Hollywood Reporter declared her to be the top earner among American Idol alumni with well over 12 million albums sold. Underwood and Brad Paisley co-hosted the CMA Awards shows in 2008, 2009, 2010 and 2011. In May 2012, she released her fourth album, Blown Away, featuring the first single, "Good Girl." She also announced plans to perform her first concert in the United Kingdom with a June show at London's Royal Albert Hall before embarking on her Blown Away tour of North America.