Valentine Specials at a Cracker Barrel Near You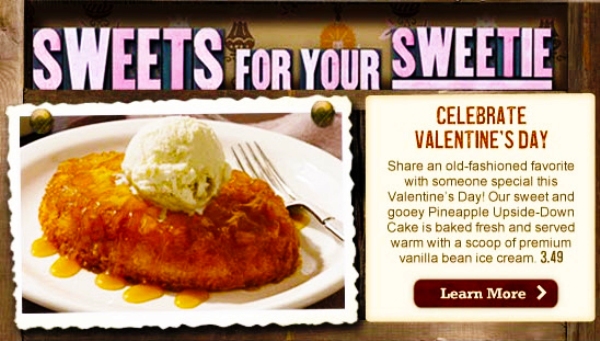 Seasonal Offerings at Cracker Barrel this Valentines Day, and just so you know, I am not being paid for this advert but I thought, seen that these special treats look so good I would tempt you all this Valentines Day. I am however nowhere near a Cracker Barrel, but I thought that you may want to join them, for some special homestyle offerings, for you and your Valentine on this special money making day…..oops did I say "Money Making" sorry I meant "Loving Day'
Sweet Potato Pancake Breakfast | 7.69
Three sweet potato pancakes topped with our brown sugar cinnamon butter and served with 100% pure natural syrup. Served with two fresh Grade A eggs* cooked to order, plus your choice of thick-sliced hickory-smoked bacon, smoked sausage patties, or turkey sausage patties. Pancakes Only 6.19
Wholesome Mornin' Sampler | 6.99
Start the day off right with low-fat vanilla yogurt layered with fresh blueberries and raspberries, topped with our honey oat granola mix with almonds. Served with a fresh-baked multi-berry muffin and two fresh Grade A eggs.* Plus, your choice of turkey sausage patties, thick-sliced hickory-smoked bacon, or smoked sausage patties.
Fresh Apple N' Homemade Chicken Salad | 7.99
Our homemade white-meat chicken salad sits on top of fresh greens tossed with apple strips, dried cranberries, and diced almonds. Served with a Colby cheese wedge, country pepper vinaigrette on the side, and a multi-berry muffin half.
Chicken N' Dumplins Country Dinner Plate | 7.39
Our signature Chicken n' Dumplins are made from scratch each day in our kitchen. We slow simmer chicken tenderloin and roll our dumplins by hand in our flavorful chicken stock. The dinner is served with your choice of two country vegetables, and buttermilk biscuits or corn muffins.
Roast Beef Dinner | 9.49
Our thick-cut USDA Choice Chuck Roast is slow roasted in the traditional pot roast style for up to 14 hours and smothered in savory brown gravy. Served with your choice of any three country vegetables, and buttermilk biscuits or corn muffins.
Pineapple Upside-Down Cake | 3.49
Share an old-fashioned favorite with someone special. Our sweet and gooey Pineapple Upside-Down Cake is baked fresh and topped with a brown sugar pineapple glaze. Served warm with a scoop of premium vanilla bean ice cream.
What are you doing today ?