Tri-Son News From Loudilla and Kay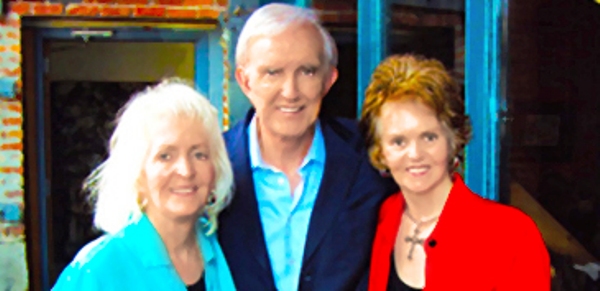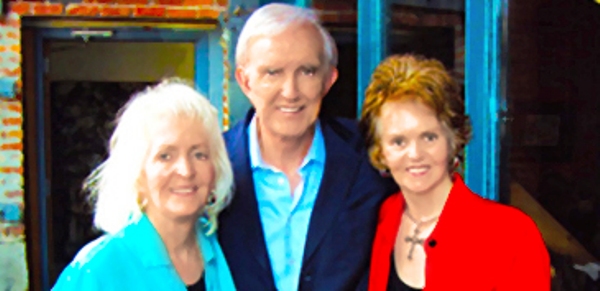 Pictured above are from left to right: Loudilla Johnson Ralph Emery and Kay Johnson
The Recording Academy has announced its Special Merit Awards recipients, and this year's selections are: Allman Brothers Band, Glen Campbell, Antonio Carlos Jobim, George Jones, The Memphis Horns, Diana Ross and Gil Scott-Heron as Lifetime Achievement Award recipients; Dave Bartholomew, Steve Jobs and Rudy Van Gelder as Trustees Award honorees. An invitation-only ceremony will be held on Feb. 11, and a formal acknowledgment will be made during the 54th Annual Grammy Awards telecast, which will be held at Staples Center in Los Angeles on Feb. 12, and broadcast live on the CBS Television Network.
In 2010, Jimmy Wayne ("Do You Believe Me Now") put his career on hold and walked from Nashville to Phoenix to raise awareness of at-risk and homeless teens. He found plenty of musical inspiration along the way, but since he lost his record deal on the walk, he had no outlet to share his songs with people. In 2012, Wayne resolves to continue his fight for at-risk teens and find a way for his music to be heard. "My New Year's resolution is to get my new music out, film a movie, attend the Super Bowl with the New Orleans Saints, drink less coffee, and get a bill passed in the state of Tennessee to extend aging out of the foster care system from 18 to 21," Wayne recently told The Tennessean.
News Briefs: Wynonna Judd
and
Cactus Moser
(
Highway 101
) are engaged. No wedding date has been announced. The two are presently touring together as
Wynonna
and
The Big Noise
.
•••
The 20th Annual
Tin Pan South Festival
will be held Mar. 27-31 in Nashville. Latest information…
www.tinpansouth.com
.
•••
Country singer
Wade Hayes
says
he's
"getting a little better every day"
following surgery Dec. 8 at Vanderbilt University Medical Center to battle liver and stage IV colon cancer. The surgery went well and Hayes, most known for his mid-90s No. 1
"Old Enough to Know Better,"
was released a few days later.
"Thank you all very much for your prayers and well wishes,"
Hayes said in a message on his website.
"I really appreciate it."
•••
Jessi Colter, Shooter Jennings, Josh Thompson
&
Hank Williams Jr
. gathered for the
Sirius XM
taping of the
Waylon Jennings Tribute
, for the
Vol. II
project to be released Jan. 24.
Emmylou Harris
will be honored by the
Grand Ole Opry
on her 20 anniversary as an
Opry
member on Jan. 21 at the historic Ryman Auditorium. Inducted into the
Opry
on Jan. 25, 1992. Her 20-year milestone will be celebrated with performances by
Vince Gill; Rodney Crowell
, with whom Harris is currently working on a duets album; and Grammy-winner
Shawn Colvin
, making her
Opry
debut that evening; and more.
Bluegrass dynamos, The Roys have signed a production deal with ValCom Studios for a new, weekly music-driven variety show. The duo will appear and perform on the 30-minute show titled, Roots And Music With The Roys, with the inaugural 13 episodes to be taped in Nashville early this year. The show has already been picked up by over 120 stations nationwide, landing The Roys a potential 40 million cable and broadcast household viewers.
Kix Brooks is the executive producer for Saving Santa, a feel-good Christmas movie scheduled for release in late 2012. In the movie, Santa comes under attack by a jaded U.S. Senator, and Santa and his posse end up stuck on a ranch where a couple of kids save the day. Trace Adkins and Jay DeMarcus (Rascal Flatts) spent part of this Christmas season acting in the film. There are some high-profile Hollywood types in the movie as well, including Joey Lauren Adams (Big Daddy and Chasing Amy) and actor/comedian Kevin Pollak (A Few Good Men and The Wedding Planner).
News Briefs: Janie Fricke's Country Side of Bluegrass album is set for release on Jan. 24. ••• Blake Shelton will set sail with some of his Country music friends on the Blake Shelton & Friends Cruise Oct. 14-21. Joining him on the cruise are Trace Adkins, Easton Corbin, Neal McCoy, Lee Brice, Randy Houser, Trace Adkins, Justin Moore and Jerrod Niemann. ••• Wyoming's annual Cheyenne Frontier Days celebration July 20-29 will feature music performances from Reba McEntire with Rodney Atkins and Hunter Hayes, Brad Paisley with Band Perry, Blake Shelton, Zac Brown Band, Journey, and Hank Williams, Jr. with Chris Young. ••• The Craven Country Jamboree (Craven, Sask, Canada) is set for July 13-15. The lineup includes: The Roys, Emerson Drive, Phil Vassar, Blake Shelton, Don Williams, Terri Clark, Billy Currington, Alan Jakcson, Steve Holy, Ronnie Milsap, Dean Brody, Band Perry, Brad Paisley, and more.
Another series from
Gabriel Communications'
popular
Country's Family Reunion
will premiere on
RFD-TV
beginning Jan. 6.
"Country's Family Reunion Salute to the Kornfield,"
features the beloved cast members from the long-running television show
Hee Haw
with
Roy Clark, Buddy Alan
(
Owens
) and
Bill Anderson
, and a stellar line-up of iconic music guests and country bent humor that were staples of this cultural phenomena for over 25 years. RFD-TV will air portions of the show each week throughout the month of January during the same weekly time slots. The entire
"Kornfield"
series also includes appearances by
Clark, Buck Trent, Buddy Alan
(
Owens
),
Don Harron, Charlie Farquharson, Ramona Jones, John Conlee, Lulu Roman, Charlie McCoy, Ricky Skaggs, Victoria Hallman, T. Graham Brown, Gordie Tapp, Mike Snider, Johnny Lee, Barbi Benton, Larry Gatlin, Roni Stoneman, Moe Bandy, Gunilla Hutton, The Nashville Edition, The Whites, Jim Ed Brown, Jeff Smith,
Gene Watson
and
Cathy Baker
is available in a 4-Disc set at
www.cfrvideos.com
or call 1-800-820-5405.
LifeNotes: Billie Jo Spears (74), one of the most prominent female vocalists of the 1970s, died of cancer at her home in Vidor, Tex. on Dec. 14, 2011. Although "Blanket On the Ground" was Spears' only No. 1 single, she recorded 17 popular studio albums over the years. She toured with Irish country singer, Philomena Begley in early 2011; remained popular in Great Britain and had 22 British shows booked for 2012 at the time of her death. ••• Banjo player Edward William "Shorty" Eager (Feb. 13, 1941) passed away Dec. 19, 2011 at Cobb Wellstar Hospital in Austell, Ga, following an extended illness. Eager was a member of Jimmy Martin's Sunny Mountain Boys, replacing J.D. Crowe performing alongside IBMA Hall of Fame member Paul Williams and Zeb Collins. He appeared with the group on the Wheeling Jamboree. He formed Shorty Eager and the Eager Beavers; and Elaine and Shorty – The Grasskats, based in Atlanta, Ga. The latter group was a mainstay on the Southern festival circuit. Shorty and his wife Elaine were inducted in the Atlanta Country Music Hall of Honor in 2007. In addition to his wife, Elaine, he is survived by sons, Scott and Steve Eager; daughter, Shelia Dills; step-daughter, Cheryl Newberry; step-sons Mike, Danny and Charlie Newberry; 16 grandchildren; seven great-grandchildren; sisters, Carol Frankhouser, Lillian "Polly" Messner, Ruby Fryberger; and brother, Melvin Eager.
Beyond the Hits is a compilation album cooked up by syndicated country radio host Blair Garner that consists of songs from some of today's most popular artists that were never hits at country radio, but maybe should have been. The 20-song collection includes Keith Urban's "My Heart Is Open," "Better Than This" from Brad Paisley, "I Believe in Ghosts" from Jason Aldean, plus tracks from Carrie Underwood, Rascal Flatts, Trace Adkins, Tim McGraw, Miranda Lambert, Josh Turner, Toby Keith, Billy Currington, Luke Bryan, Martina McBride, Lady Antebellum and more. The album is available on iTunes and proceeds go to help St. Jude Children's Research Hospital, the ACM's Lifting Lives and the CMA's Keep the Music Playing.
Grammy Camp
for high schoolers, which has been held for the past seven years in Los Angeles, expanded to New York last summer, and is expanding into Nashville this summer. The Music City installment runs June 17–24 as an eight-day residential program. Industry executives and artists will lead sessions at
Black River Entertainment
. The camp takes students through the entire creative process from creating original material to promoting a finished product, and culminates with a launch party. Additionally, sessions run Aug. 6–13, 2012 in NY; and July 14–23, 2012 in L.A. Applications and details available at
www.grammyintheschools.com
.
Sarah Darling has landed a new venture as the first celebrity spokeswoman for the national Crock-Pot Crockstars Confessionals campaign to support recipe sharing for the line of slowcookers. This is no small marketing campaign. Darling's image was printed on more than 1 million Crock-Pot packages that are shipping to U.S. stores. "Crock-Pot was attracted to me because I'm new in this industry, and they wanted to bring on someone who they could grow with," Darling said. "I'm also from the Midwest and I love to cook. It matched up perfectly." The partnership began when John Alexander, VP, Marketing/Artist Management, Black River Entertainment, approached his friends at Crock-Pot's parent company, Jarden Corp., about Darling. Alexander has worked with Jarden products in the past, helping connect Country stars with popular consumer products. Susan Selle, Crock-Pot's VP, Global Brand, Shopper and Customer Marketing, says the company's internal research shows that Crock-Pot consumers engage closely with Country Music and listen to Country more than other types of music. They're also driven by food and fashion. Darling's personality, fashion sense and artistic style matched especially well with Crock-Pot consumers.
Rural Rhythm Records and Musicians Against Childhood Cancer (MACC) are joining forces to release a new album, Life Goes On in 2012. This highly anticipated project will include entertaining performances recorded live during annual MACC festivals over the past several years. "We were excited that the first MACC recording project, Celebration of Life, won the 2006 IBMA Album of the Year Award. "I know this will be a great partnership with Rural Rhythm Records and we will expand the horizon to help St. Jude Children's Research Hospital," said Darrel Adkins, Director – Musicians Against Childhood Cancer. Adkins Productions and the Bluegrass Classic proudly present the MACC annual festival held in Ohio with proceeds benefiting St. Jude Children's Research Hospital in Memphis, Tenn. All performers at the festival generously donate their time and talent to this cause. MACC was founded by Darrel and Phyllis Adkins in honor of their daughter, Mandy who lost her battle with cancer on Nov. 25, 2000.
EVENTS Calendar 2012:
• Feb 12 – GRAMMY Awards, Los Angeles, CA
• Feb 21 – Country Radio Hall of Fame Awards, Nashville, TN
• Feb 26 – International Festival of Country Music, Wembley, UK
• Mar 23-24 – Heart of Texas Country Music Assn. Celebration, Brady, TX
• Mar 30-31 – Heart of Texas Country Music Assn. Celebration, Brady, TX
• Apr. 26 – 29 – MerleFest 25, Wilkesboro, NC
• June 7-10 – CMA Music Festival – Nashville, TN
• July 13-15 – Craven Country Jamboree – Craven, Sask, Canada
• July 20-29 – Cheyenne Frontier Days – Cheyenne, WY
• Sept. 12-15 – Americana Music Assn. Fest & Conference, Nashville, TN
Events and more are listed on our LINKS page!  
www.ifco.org
  PO Box 40328 • Nashville, TN 37204 • Ph. 615-371-9596