Kit Harington on life after Game of Thrones John Snow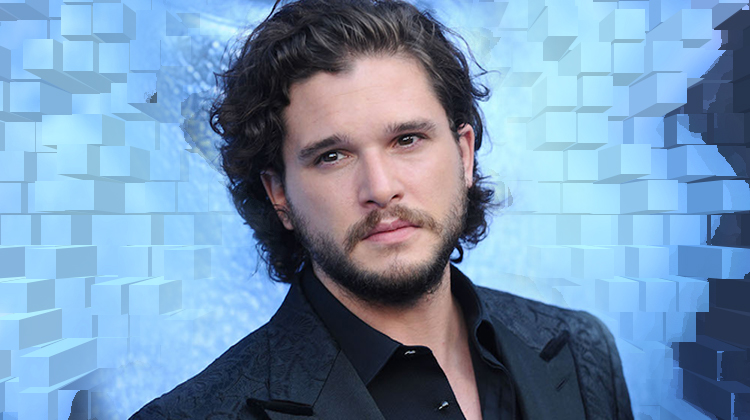 Kit Harington Life After Game Of Thrones
'I'm Not Always Going To Play Swords And Horses'
Kit Harington is reminiscing about his drama school days. "You think you know the world, and you're so overly serious about what you're doing, and how important it is, sitting on the steps, with coffee and a script, in black…"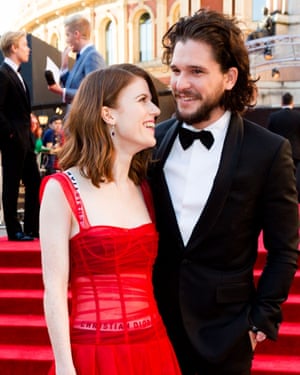 He smiles, but his arms are folded defensively across his chest, and he occasionally brings a hand up to play with his moustache. He's wearing take-me-seriously wire-framed specs and is dressed entirely in black. He looks down and has a moment of recognition, as if he's just walked into a trap. "I am actually completely in black. And I'm talking about important things," he smiles. "I haven't changed at all, have I?"
He might not think so, but at 30 Harington is living a very different life from the one he led at 19. Shortly after leaving drama school, he signed up to shoot the pilot for a promising new television fantasy series, Game Of Thrones, playing a moody young northerner called Jon Snow. It was his first screen role. "We didn't know if it was going to go, and we didn't know if it was going to be any good," he explains. "But it was HBO, and it was American TV, so it felt like a huge deal."
Game of Thrones' first incarnation wasn't promising, however, and the pilot turned out to be a dud. "They made a lot of mistakes. It didn't look right, didn't feel right, had nothing different about it." In it, the nascent Jon Snow was wearing a wig, was clean-shaven and made use of the baby face Harington hides under his beard. He claims that hardly anyone has seen that pilot, not even him, but that the show's creators, DB Weiss and David Benioff, have a copy they use to keep him in line. "They say, if I ever piss them off too much, they'll release it on YouTube. Every now and then, they send me a screengrab, just as a threat."
Weiss and Benioff went back to the drawing board. Harington, then 23, grew his hair long, slapped some mud on his face and surprised himself by sprouting a beard for the first time. The whole show became dirtier, grittier and more grown up. By the end of the first season, millions of viewers who might have balked at the idea of swordfights and spells suddenly found that, when sex and violence were added to the mix, they could get behind a fantasy series, after all. As Game Of Thrones grew into the behemoth it is today, Snow was manoeuvred into the very heart of the story.
Harington is now about to go to work on the show's eighth and final season. How is Snow going to feel when he finds out that the woman he's in love with, Daenerys Targaryen, is also his aunt? "I really hope that he just nods slowly and goes, 'Damned right'," he says, doing a mock-leer. "Something really horribly inappropriate, and you find out Jon's had a really sick mind the whole time. That's the way I'd love to play it. I'll try it for one take, anyway."
He is close to Emilia Clarke, who plays Daenerys, though owing to the series' vast geography, the two did not film together until season seven. "But we were very good friends by the time we got to the sex scene," Harington laughs and squirms. "Which is really weird. Usually, you'd turn up and you'd know the actor, but you're not best mates. The main thing was trying not to laugh. It was like, OK, if we laugh, we'll never get this scene done, so we've got to do minimal takes, then we can crack up about it afterwards."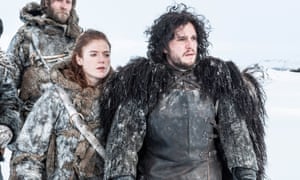 For reasons both personal and professional, Harington thinks the show is ending at the perfect time. He's one of the few cast members who's made it this far, though he did have to negotiate a gruesome death and resurrection to get here. "I wouldn't have wanted to go on for another year, but if it had finished last year, it wouldn't have felt long enough. Maybe the most special year was the first. We weren't being recognised in the street, we didn't know what we were doing, we were having a great time."
Thronesmania is, he acknowledges, "bizarre and weird". "Like, being in Spain and there being a crowd of 500, maybe 600 fans camped outside the hotel every day, and you have to get through them. It feels like being Bieber or something." When Snow became the brooding heart-throb of the Thrones world, Harington became a kind of boyband pin-up, too. "Yeah," he sighs. "I don't particularly enjoy that." He catches himself. He speaks of his "privilege" often and is acutely conscious of anything that sounds like he's whining. "I don't know. Do I? I'm glad I've experienced it, but that's what I mean about it being eight years, then it's done. You couldn't go on for much longer. It's a bit incessant."
Fame of that kind makes him moody, he explains. He's sceptical of all it brings, though he was thrilled he got to take his brother to the Italian Grand Prix recently. When he says the word "celebrity", he makes air quotes. "It makes me snappy and it makes me uncomfortable, and I turn into a grumpy person." It's unfair on his friends, he says, who bear the brunt of it, but the main problem is selfies or, as he puts it, "the photo thing". Now, he'll set himself days where he won't take pictures with people. He performs his rejection spiel, which is polite and apologetic, but can piss people off. "But you just have to, otherwise you start feeling like a mannequin. Especially me and Rose, we never do a photo together. Because then it makes our relationship feel like… puppets." He feels around for the right word. "Like we're a walking show."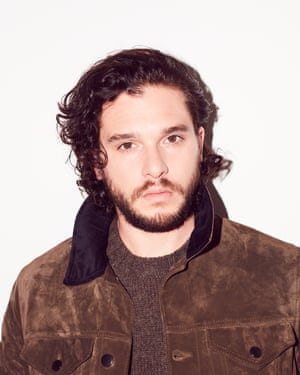 Rose is Rose Leslie, his one-time Game Of Thrones co-star, who played his love interest, the wildling Ygritte, from 2012 to 2014. The pair fell for each other in real life in the freezing Icelandic countryside, but were reluctant even to acknowledge that they were together for a long time. Recently, they've edged out on to the red carpet, holding hands. "We're living together and we're very much a couple," he says, reading from the script. He's nice enough to stumble over why he doesn't want to talk about her, though he's clearly smitten. "I just don't – and I won't say much about it now – but I don't believe in talking about one's relationship in the press because it's… I strongly believe it's her relationship and mine, and anything I say here, she may not want me to say. So I just don't say it. I genuinely think it's our private life." Yet there are Buzzfeed lists dedicated to how cute their relationship is, whole YouTube compilations that show them being nice about each other in interviews. He grins a wide grin. "Are there?" It's adorbs, I tease. "She'd approve of adorbs," he smiles, but that's all he'll say. Two days after we speak, their engagement announcement is announced.
Harington is here to talk about Gunpowder, a grim new historical drama in which he plays Robert Catesby, the mastermind behind the plot to blow up the Houses of Parliament in 1605. Harington's middle name is Catesby; it's his mother's maiden name and Robert was an ancestor. "It's always been a piece of family curiosity, really. 'Do you know, if you go all the way back, your ancestor was the leader of the gunpowder plot, even though everyone thinks it was Guy Fawkes?'" He was so taken with the tale that it became the first project of the production company Thriker Films, which Harington set up with his best mate from drama school. It will appear in the blockbuster Saturday night slot on BBC1.
In 2014, Harington told his agent that, when he wasn't playing Snow, he'd like to branch out: "No more swords, no more horses – and maybe I can cut my hair." Yet in Gunpowder he's a sword-wielding, horse-riding, long-haired hothead. "Yeah. Hahaha. I always say things and end up backing down on them. It was weird, though, because I walked right into it. I pitched a TV show where I have long hair and a beard, and it got made. It doesn't mean I'm always going to play swords and horses."
During his time off from Game Of Thrones, he squeezed in other roles. He was the lead in the feature-length Spooks spin-off MI-5, and the historical action romp Pompeii, though it's the forthcoming Xavier Dolan movie The Death And Life Of John F Donovan that looks most promising. While Harington has got world-weariness down to a fine art in Game Of Thrones, he's also very good at playing the clown: in HBO's silly tennis spoof 7 Days In Hell, he pulled off the dizzy posh Brit player with gusto. "I love playing a thicko," he says, then corrects himself, in case anyone is offended. "That's probably an incredibly terrible term, thicko. But, you know, someone who is wonderfully well-meaning, but isn't… I've always been the kind of person who's well-meaning but slightly vacant at times."
This vagueness has its drawbacks. "Because you don't want to be defined like that. There's an element that I can get, 'Ahhh, sweet Kit, little Kit.'" He's 5ft 6in, he says, and there's that baby face, under the hair. "And I've worked very hard against that. I don't want to be patronised." Do people patronise him? "No, I don't think so. If they do, you shut it down pretty quick." He grows so quiet that it's hard to hear him. "You have to stand up for yourself. But I won't go into that." He takes a deep breath, and shuts himself up. "Mmm."
Harington is worried he doesn't come across well in interviews. He frets that, in print, his dry sense of humour can sound "really fucking arrogant". As a result, he's a concertina of openness and caution. He comes across as more serious than I suspect he might be under normal circumstances. He'll give an answer, and then say, "I don't know" as if warning you not to take what he's just said as gospel.
Last year, an interview he gave was picked apart over comments he made about being objectified, and how the film industry could be sexist towards men as well as women. "I was wrong there, though," he shrugs. "Sexism against men is not something I should have really said. I think what I meant was, being objectified. At that time, I did feel objectified, and now I've learned how to control that." How? "Just shutting it down. Look, I do think men can get objectified. I do feel I have been objectified in the past, sexually as well, in pieces that have been written about me." I've seen a couple, I say, thinking of one article that highlighted the bulge under his loincloth with the aid of several arrows. "Has that made me feel uncomfortable in the past? Yes. Do I think my position is the same as a woman's in society? No. They're very different things, and I should have separated them. I was wrong."
Harington was raised in Acton, west London, and has an older brother, who works in IT. His mother Deborah is a playwright; his dad, Sir David Harington, a businessman. They moved to Worcestershire when Harington was 11. "There was a very good comprehensive school there, and that's why. It's something I'd like to emulate with my kids – when I have kids."
He's already thought about how he wants to raise his children. "Um, they get brought up in London, hopefully, and see a very multicultural society, and hopefully go to a state primary school, and have the first 11 years of seeing the city I love. Then get the beauty of going to the country and being given space and air, and have the beautiful halcyon memories that I have. It's the sense of space, the big open sky, that in those years can be good for thinking and emotions."
The word "halcyon" makes me wonder. Did he, as a teenager, write bad poetry? "Oh yeah," he says proudly, unfolding his arms. "Yeah, I did that. I was a horrible kind of romantic creative, and I had all sorts of ideas about what I wanted to do. Acting, journalism…" It was acting that stuck, in the end, and sent him back to London, to drama school. "Do you know what," he suddenly announces, grinning. "I'm going to stick my neck out and say a couple of [the poems] were quite good. But I haven't written poetry in ages."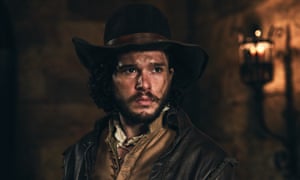 If any fans weren't sufficiently convinced of Harington's glossy-haired, woke-Byronic-boyfriend appeal, then the fact that he writes poetry may tip them over the edge. "I still read a lot of poetry. There's one I read recently by Jack Underwood, called Happiness. I'd urge anyone to go and read it." What's it about? "Just the happiness he finds in his domestic life, and it's beautifully written, and it's profound in its exploration of happiness." He looks as if he thinks he's revealed too much. "I don't know why I went into that."
Harington's dad is a baronet, and he's descended not only from Robert Catesby, but also from Charles II, and John Harington, who invented the first flushing toilet for Elizabeth I: I'm surprised he went to a state school, I say. "Mum and Dad didn't have the money to send us to private schools, first and foremost, but second, they wouldn't have wanted to. They believe in the state system, they believe in the NHS, they believe in state education, and they've instilled that in me." He says his upbringing was privileged – "I was very middle class: not loads of money, not no money" – but that he's not quite what you might think he is. "One's family history is one thing, and I'm very proud of my family history, but it doesn't directly speak of who I am," he says, which, really, is a polite response to being told by a stranger that you're not as posh as they thought.
Harington is keenly aware that there's an ongoing debate about working-class access to the arts, and to acting, but thinks we're kicking the wrong target by criticising Etonian actors rather than drama cuts. "There has to be more effort put in at an educational level, to give people those opportunities. Let's face it, Eddie Redmayne, Benedict Cumberbatch, they are very good actors who deserve to be where they are, and they got there because their educational systems recognised their talent. That needs to happen [in state schools]."
Last year, he read a poem alongside Cate Blanchett and Chiwetel Ejiofor, in support of the UN refugee council. A few months earlier, while playing Doctor Faustus in the West End, he stood up for young theatregoers when one critic slammed them for taking pictures ("If the theatre is going to die of anything," he responded, "it will be from exactly this type of stereotyping and prejudice").
What makes him stick up for the underdog? "I don't know. What's the point of sticking up for the guy at the top? I'm not an underdog. I've been given every opportunity and I've really ended up in a place of great privilege. I do believe it's your duty to try to share that privilege."
When Snow died at the end of season five, Harington spent months fibbing his locks off about how that was definitely it for him on Game Of Thrones; he was done with it, and that, no, he'd never return. At the start of season six, he was conjured back into existence, to live another day, and to have incestuous boat sex with his aunt. Since he lied so well then, how can I believe anything he's just told me? "You can't." He gets up for a quick cigarette and grins. "I might change my mind about anything I've just said. But that's my privilege, I guess."