Cole Swindell Toasts "Flatliner" at Tootsie's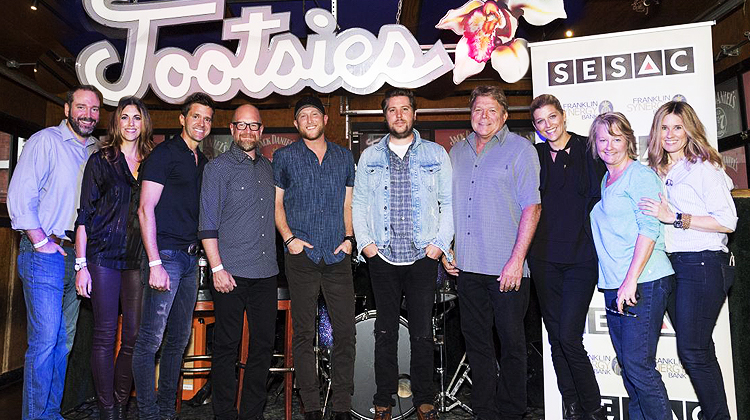 Cole Swindell Toasts "Flatliner" at Tootsie's
Nashville Honky-Tonk Turns 57 with Swindell No. 1 Party
Cole Swindell and his "Flatliner" co-writers Jaron Boyer and Matt Bronleewe took over Tootsie's Orchid Lounge on Tuesday (Oct. 10) to celebrate their hit Dierks Bentley collaboration. The song went at No. 1 on the Mediabase chart and peaked at No. 2 on Billboard's country airplay chart in August.
Bentley couldn't make it to the party to see Swindell, Boyer and Brownleewe get showered in congratulations, praises and plaques. But several members of the Music Row community packed into Tootsie's third floor bar to help them celebrate over drinks, hot wings, chips and salsa. The event preceded the honky-tonk's 57th Birthday Bash, which Swindell headlined.
Sony/ATV's Josh Van Valkenburg, peermusic's Kim Wiggins and Warner Music Nashville's Cris Lacy each spoke about their clients' achievements and the success of "Flatliner" before giving the floor to the night's honorees.
"This was a hit because people freakin' liked it," Lacy said. "And you would think that it wouldn't need to be said … I stood in the middle of a crowd of 20,000 people in Virginia Beach, Virginia, who were raising their beers and screaming and clapping and losing their minds on a Friday night when Cole and Dierks came out to sing 'Flatliner.'
"There have been so many articles written about what is and what isn't country music. I read them. They criticize our music. I want to tell you, that's not an insult to Cole. I've got a bunch of stats that tell you how amazing he is. That's an insult to the people who buy our music. Those people are the backbone of our industry." Swindell agrees. Before the party, he told CMT.com his career wouldn't be what it is today without his fans. His No. 1 priority is making them happy.
"It's about honoring those that didn't make it home that night [in Las Vegas] for me and knowing that these fans, we wouldn't have a career without them," he said. "Our music brings people together and as a songwriter and as an artist, I want to try to put a smile on people's faces.
"Knowing that I'm in the situation to write songs that can help people through tough times, that's what I think about when I think of country music," he added. "It's those songs that got me through tough times as a kid and as an adult."
In just over three years as an artist and a songwriter, Swindell has accumulated six No. 1s on Billboard's country airplay chart, five platinum singles, one gold single, a platinum debut album and a gold sophomore album.
Lacy surprised Swindell with a platinum plaque commemorating "Middle of A Memory."
"Stay Downtown" is the fourth single from Swindell's sophomore album You Should Be Here. He told CMT.com plans for a third album are in the works.
– CMT