Alan Jackson Rolls Down The Honky Tonk Highway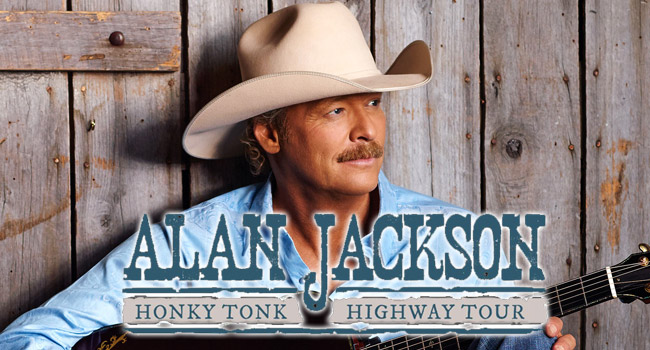 Alan Jackson Rolls Down The "Honky Tonk Highway" In 2017
Country superstar Alan Jackson is taking his 25-plus years of hits and fan-favorites on the road in the new year, as he embarks on his 2017 HONKY TONK HIGHWAY TOUR. Multi-platinum singer Lee Ann Womack will be the special guest on select shows.
Alan Jackson's HONKY TONK HIGHWWAY TOUR will find the country music icon "keepin' it country" as he always has…performing hits that have gained him legions of longtime fans, as well as songs that continue to draw new crowds as a younger generation discovers his music. Jackson's repertoire withstands the test of time; it has impacted a host of artists who cite Jackson as an influence. It's a night a real country music when Jackson comes to town – fans will hear the songs they love from the man who wrote them and made them famous, from his debut hit, "Here in The Real World" through signature songs such as "Chattahoochee," "Drive" and "Gone Country"…the career-defining "Where Were You (When the World Stopped Turning)" and poignant "Remember When"… party anthems "It's Five O'Clock Somewhere" and "Good Time"…and many more.
Jackson's 2017 tour will find the superstar playing arena and amphitheatre shows as well as some of the biggest annual festivals and multi-day events on the country music calendar. Special guest Lee Ann Womack joins Jackson on select dates (with several more to be announced). As a Jackson duet partner of long-standing, Lee Ann has appeared on several of Alan's albums, and the two have shared a number of stages, including the Grand Ole Opry and Carnegie Hall. Lee Ann also honored Jackson at the 2014 CMT Music Awards when he received his Impact Award. Fans will hear hits spanning Lee Ann's career to date, as well as brand new and unreleased songs.
Tickets and information for all of Jackson's HONKY TONK HIGHWAY TOUR dates are available at alanjackson.com, where you can find information about Alan, his tour schedule, music and more. VIP tickets and packages are also available for most shows.
Jackson's most-recent studio album, Angels and Alcohol, topped the charts when it was released…and he's the subject of a best-selling, three-disc box set, Genuine: The Alan Jackson Story.
Alan Jackson's touring history has taken him across America and to places far beyond as his music gained him fans around the globe. In 2017, he'll continue the tradition of playing that music for people far and wide as he travels the HONKY TONK HIGHWAY to a city near you.
ALAN JACKSON'S 2017 "HONKY TONK HIGHWAY TOUR"
(partial listing – more dates to be announced/added)
Friday, January 20 – Tulsa, OK (Paradise Cove) **
Friday, January 27 – Pensacola, FL (Pensacola Bay Center) **++
Saturday, January 28 – Atlanta (Duluth), GA (Infinite Energy Center) **++
Saturday, February 25 – Laughlin, NV (Laughlin Events Center) ^^
Friday, March 10 – Durant, OK (Choctaw Casino Resort) **
Friday/Saturday, March 24/25 – Rancho Mirage, CA (Aqua Caliente Casino) **
Saturday, April 8 – St. Augustine, FL (St. Augustine Amphitheatre) ~~++
Sunday, April 9 – Ft. Lauderdale, FL (Tortuga Music Festival) **
Saturday, May 27 – Forest City, IA (Tree Town Country Music Festival) **
Friday, June 23 – North Platte, NE (Nebraskaland Days) **
Saturday, June 24 – Manhattan, KS (Country Stampede) **
Saturday, October 28 – Minneapolis, MN (Target Center) **
**Date is already onsale
^^Tickets onsale Friday, December 9
~~Tickets onsale Friday, December 16
++with special guest Lee Ann Womack