Congratulations Six Years of UKCountryRadio.com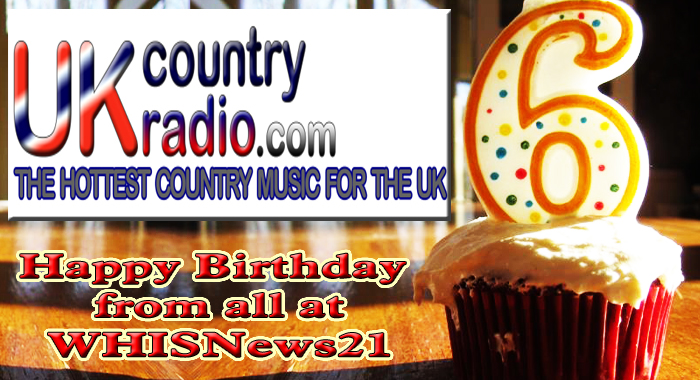 Six Years of UKCountryRadio.com
Today, 1st September, is UKCountryRadio.com's Sixth Birthday. I remember the moment well, on 1st September 2007, when we ceased our test transmissions and broadcast our first show at 10am. We had just four presenters in those early days, myself, Bob Preedy, Graham L.Hall and James Gordon – all of whom are still present on our lineup today.
We have grown considerably over the last six years – and now have over 20,000 country music tracks in play, many of them by UK artists. We have been truly amazed at the vast array and diversity of country music talent that exists in Britain, much of which I was unaware of before the launch of this radio station. Hopefully, we have done our little bit in bringing those artists and songwriters a little bit further into the spotlight.
This month, we will celebrate our first six years with our Sixth Birthday Party on Saturday 7th September. We have a fabulous live concert lined up, along with a three-course celebratory dinner. It takes place at the Best Western Premier Yew Lodge Hotel, Kegworth, Derby (just off Junction 24 of the M1).
Artists appearing include The Annie Duggan Band, The Kerr Donnelly Band, Nashville singer-songwriter Ashley Robertson and our Listeners' Club Award finalists Chris Green Project, Thorne Hill and Wayne Jacobs. Everyone attending has the chance to vote in the final of our Listeners' Club Award, and the winner will be announced at the end of the night.
There are still a few places left but you need to hurry if you would like to come along. The deadline to book tickets is Wednesday 4th September so, if you're not doing anything next Saturday, and would like to come and celebrate with us, just click the link below and order your tickets as soon as possible.
If you're not coming along to the event, you can still enjoy it as we will be broadcasting live for seven hours from our Birthday Party. Join Will Downie for the build-up from 5pm. Then Martyn Williams guides you through the live concert and Listeners' Club Award final which starts at 7pm.