How Long Will It take AC/DC To Be Country?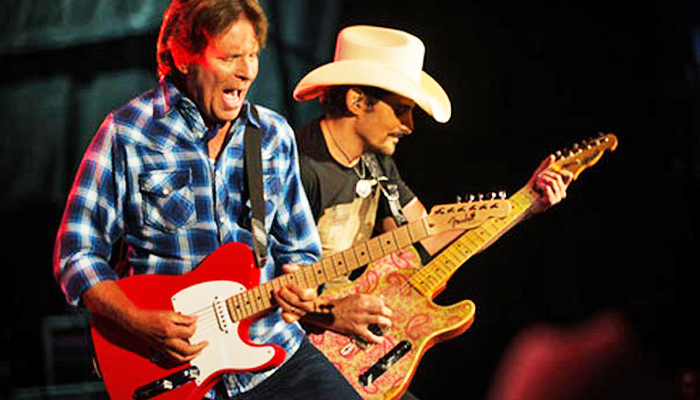 Brad Paisley Joined by John Fogerty, Chris Young in a Wheelchair at California Show
At his Shoreline Amphitheater gig in Mountain View, Calif. on Thursday (Aug. 22), Brad Paisley had a few special guests, among them classic rocker John Fogerty and tourmate Chris Young, who is recovering from a leg infection and surgery which caused him to table a few gigs.
It was quite the busy gig for Paisley, notorious for pranking his tourmates.
But first, the serious stuff.
Paisley invited Fogerty, who is best known for his work in Creedence Clearwater Revival, to perform 'Hot Rod Heart,' a song the two some duetted on for Fogerty's 'Wrote a Song for Everyone' album.
It was a two-fer, since Paisley invited Fogerty back to the stage during the encore, during which they played Fogerty's baseball anthem 'Centerfield' and Paisley's 'Alcohol.' They closed with CCR's classic 'Proud Mary.'
And about the walking wounded Young and his antics? He was wheeled onto the stage by Lee Brice and dressed in a hospital gown, an obvious reference to his recent medical maladies.
Young joked: "@bradpaisley @leebrice decided to help me feel comfortable on stage tonight haha" and "since you were picking on me about being in the hospital…."
The fans at the Shoreline were certainly doubly entertained by all these bells and whistles. Only at a Brad Paisley show. Good times were had by all.
WHISNews21: I love John and Brad's music but it scares me to think that the path Country is movin in we will soon see the rock and metal guitars of, Status Quo, Led Zeppelin, Deep Purple, Nickleback, Rummstein on the Country charts. Yet before that happens the ACM and CMT Awards will soften us up by adding AC/DC, or perhaps even Marilyn Manson to the country lineup. I think the people in control of Country Music's future seem to think that "If The Kids are ok with it, the parents will be blind to it"
So let's announce the 2015  Country Entertainer Of The Year" non other than "Mick Jagger"
We all like some Metal and Rock, and Creedence Clearwater Rivival is my all time #1 group, but why do all our country artists now want to be R&B, Pop and Rock artists, why cant they just be the artists we came to love them for, our Country artists?
Am I alone here, for if I am all is lost……………