Loudilla And Kay Johnson's Latest Tri-Son News


Tri-Son New biggest Little News Sheet In Country Music (Since 1963) • April 2013 Issue
Loudilla and Kay Johnson • P.O. Box 40328 • Nashville, TN 37204 • Ph. 615-371-9596
.
A legendary trio of Country Music Hall of Fame inductees this year: Bobby Bare, "Cowboy" Jack Clement, and Kenny Rogers.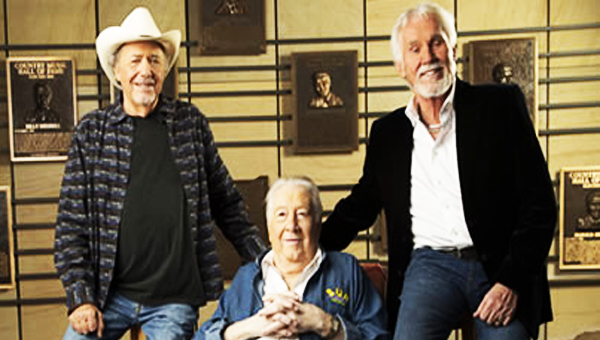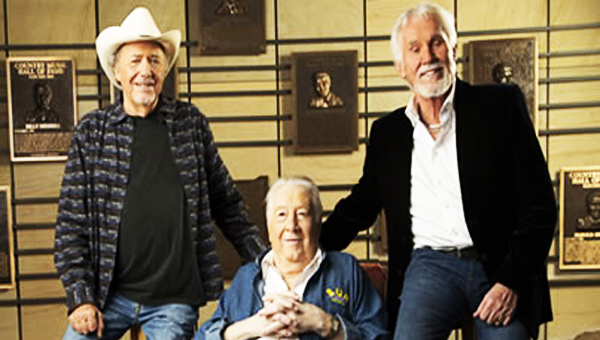 Rogers will be inducted in the "Modern Era Artist" category; Bare in the "Veterans Era Artist" category. Clement will be inducted in the "Non-Performer" category, which is awarded every third year in a rotation with the "Recording and/or Touring Musician Active Prior to 1980," and "Songwriter" categories. Bare, Clement, and Rogers will increase inductees in the Hall to 121 members.  Induction ceremonies will take place at the Country Music Hall of Fame and Museum in the new CMA Theater later this year.
The 3rd Annual Johnny Cash Music Festival will be held Aug. 17 at the Arkansas State University Convocation Center in Jonesboro. The performance lineup will include: Vince Gill, Larry Gatlin & the Gatlin Brothers, Jimmy Fortune (of the Statler Brothers), and Joanne Cash Yates, who will join show host Tommy Cash.  As in past years, proceeds from the event will fund restoration of Cash's Boyhood Home in Dyess, AR, and support a scholarship fund established in the international superstar's name. Already, four young people are attending ASU thanks to the money raised at the previous events. Tickets are available at ASU's Central Box Office and  by logging onto the official website of the Festival, www.johnnycashmusicfest.com.
News Briefs: Taylor Swift will appear in the on May 14 season finale of Fox's New Girl.  ••• Travis Tritt is set to appear on the Barnstable Brown Gala at the Kentucky Derby, marking his 15th consecutive appearance at the diabetes research benefit. ••• Rick Monroe will perform and emcee the 2013 Jägermeister Country Tour with headliner Aaron Lewis. Monroe's new single and video for Just the Same will coincide with the tour which kicks-off May 1 in Glen Allen, VA. ••• Two of the most celebrated vocal bands in America, Rascal Flatts and Journey, will team up this summer to co-headline a one-night only concert in Hershey, PA on Aug.1 at Hersheypark Stadium.  The Band Perry and Cassadee Pope are special guests. ••• Marty Stuart's annual country music throw-down, hillbilly-homecoming rave-up, The Late Night Jam, at the Ryman will be held June 5. ••• Darius Rucker will host the fourth annual Darius and Friends benefit concert is set for June 3 with proceeds from the night going directly to St. Jude Children's Research Hospital. Tickets are available through the Wildhorse Saloon box office. ••• The Bobby Roberts Company has signed Darryl Worley for exclusive booking representation. ••• Collin Raye signed a booking agreement with Brand Entertainment Agency. BEA's roster includes Baillie & The Boys, Andy Griggs, Anita Cochran, Billy Dean, Jamie O'Neal, Moe Bandy, Restless Heart, Tim Rushlow, Ty Herndon and Sweethearts of the Rodeo. ••• George Strait's highly anticipated 40th studio album, Love Is Everything, is due May 14 on MCA Nashville. •••  Brad Paisley's Wheelhouse – Special Edition is available at Cracker Barrel Old Country Store® locations and digitally on their website, as well as select online retailers.
Billy Ray Cyrus has one of the most fascinating life stories in music, and now he's written a powerhouse autobiography, Hillbilly Heart: A Mamoir (Houghton Mifflin). "Cyrus fans have always been able to piece together the details of his life through his lyrics – the ups and downs, adventures and disappointments – but Hillbilly Heart gives them a front-row seat for his most candid performances ever,"  the book jacket tells us. Cyrus
has constantly been one of country's most underrated and underappreciated stars. Long after "Achy Breaky Heart", albums like Trail Of Tears and Southern Rain were outstanding, and his acting chops shone brightly through on series like Doc and his daughter Miley's breakout Disney program. "Hats off to Sandy Friedman and the whole Rogers and Cowan team in Beverly Hills for their excellent work for Billy Ray and dozens of other top clients." ~ Phil Sweetland (Country Insider)
The Country Music Hall of Fame® and Museum will unveil a special Lee Greenwood spotlight exhibit on May 10. Lee Greenwood: American Patriot will incorporate costumes and artifacts spanning Greenwood's 50 years of musical activity. The exhibition will run through April 25, 2014. This year marks the 30th anniversary of "God Bless the USA."  Composed in 1983, it became a Top Ten country hit in 1984. The tune is one of America's most popular and recognizable patriotic songs, thanks, in part, to its popularity during the 1991 Persian Gulf War and during the aftermath of the Sept.11, 2001, terrorist attacks on America. For his patriotic songs and his work with the armed forces, including more than 30 USO tours, Greenwood has been honored with the prestigious National Patriot's Award, presented by the Congressional Medal of Honor Society. In Nov. 2008, President George W. Bush appointed Greenwood to a six-year term as a council member on the National Endowment for the Arts.
Seldom does a Country artist from outside the USA recieve such an honor, but on Apr. 22, the stars of Nashville get together to perform a special Tribute Concert for Ireland's Queen of Country, Philomena Begley, in recognition of her Golden Jubilee 50 years contribution to Country Music. This once-in-a-lifetime event which takes place at The Nashville Nightlife Theatre on Music Valley Drive in Nashville. Performers will include Lynn Anderson, Collin Raye, Moore & Moore, Billy Yates, Leona Williams, Georgette Jones, Jim Ed Brown, T.G.Shepherd, T.Graham Brown, David Frizzell, Stonewall Jackson and more.
Actor/entertainer Randall Franks returns to GMC TV on Apr. 21 in the film Lukewarm.  Franks appeared as "Officer Randy Goode" in the TV series In the Heat of the Night, and he stars with fellow CBS alumnus John Schneider in Lukewarm which is already available on DVD. "Lukwarm" will air on GMC TV Sunday, April 21 at 11 a.m. E.S.T. Check local cable listings to find gmc TV or Dish Network channel 188, DIRECTV channel 338, and Verizon FiOS channel 224.
In a first for Arizona Country Thunder history, festival organizers announced the 4-day (April 11-14) country music lifestyle event was sold out reaching a capacity crowd of 25,000 patrons and filling 5,100 camp sites. 2014 Tickets are on sale now. Country Thunder  in Twin Lakes, Wisconsin, coming up July 18-21 has sold out 4-day event tickets; general admission tickets are still available. Main stage performers in WI will include: Dierks Bentley, Justin Moore, Little Big Town, Keith Urban, Phil Vassar, Lee Brice, Chris Young, Brad Paisley, Joe Nichols, Jake Owen and more.
In October 2012, music lost a good friend and great songwriter when Tim Johnson passed away, leaving behind Megan, his wife of 20 years, and two children, 14-year-old son Jack and  13-year-old daughter Cey.  To recognize Johnson's contributions, confirm his legacy, and hopefully create a perpetually funding endowment for his family, friends of the writer have organized Honor Thy Song, an event that will showcase the writer's  unrecorded material. It is set for May 7 at the Ryman Auditorium. Performers include Joey + Rory, Daryle Singletary, Rob Crosby, Marc Beeson, Brett Jones, Joe West, Will Robinson, Jamie Houston, James Dean Hicks, Jimmy Wayne and more. While admission to the concert is free, it will be a ticketed event.  Each person who attends the concert will receive a CD of Johnson performing 15 of his best, unrecorded songs.
A 7-day luxury Country Music Cruise will launch in early 2014 and sail through the Caribbean with an incredible group of superstars and fan favorites onboard including Vince Gill, Kenny Rogers, Larry Gatlin & The Gatlin Brothers, Patty Loveless, Jo Dee Messina, Ronnie Milsap, and Restless Heart with TV personality Lorianne Crook hosting the entire journey. In addition to the headlining concerts, clubs on the ship will host performances by Andy Griggs, Wade Hayes, Ty Herndon, Jamie O'Neal, The Warren Brothers, Bryan White and more. Chuck Mead from BR549 will be playing daily poolside. Amidst the music, guests will be invited to a beach party on their very own private island, line dancing events, cooking exhibitions, wine tasting, songwriter workshops, spirited trivia contests, exclusive screenings of country music films and documentaries, games and more. The ship will also dock in several ports, where guests can explore the majestic beauty and vibrant culture of Grand Turk (Turks and Caicos), San Juan (Puerto Rico), Philipsburg (Saint Maarten), and Half Moon Cay (Bahamas). More… www.CountryMusicCruise.com
EVENTS Calendar 2013:
• May 25-26  – Bayou Country Superfest, Baton Rouge, LA
• May 30-Ju 2  – Nashville Songwriters Festival, Nashville, TN
• Jun. 6-9   – CMA Music Festival, Nashville, TN
• Jun. 13-16 – Bonnaroo Music & Arts Festival, Manchester, TN
• Sept.21-22 – Country Night Gstaad, Switzerland'
• Sept. 26 – International Bluegrass Music Awards, Raleigh, NC
Events and more are listed on our LINKS page!  www.ifco.org/